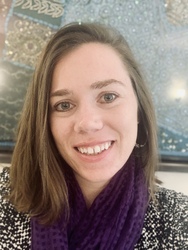 Jennifer Hampshire PCC NBC-HWC

Princeton, New Jersey
Executive Coach, Leadership Coach, Health and Fitness Coach
Gallup Certified Strengths Coach, Duke University Certified Integrative Medicine Health Coach, Cultural Intelligence Advanced Professional
I partner with busy Professional Women who work in globalized contexts to overcome challenges and limitations so they can live fulfilled, successful, and meaningful lives.
About Me
Jenni is a supportive and collaborative coach who loves to partner with her clients as they realize their potential and reach their goals. Her clients have described her as easy to connect with, a careful listener, collaborative, professional, and encouraging. They've remarked how at the end of the sessions they feel empowered and ready to move forward to reach their goals.
She is passionate, not only about helping her clients grow and develop, but about continuing to develop herself as a coach. She loves to learn new ways to better serve those she works with and has many tools she can bring into the coaching session like StrengthsFinders, Cultural Intelligence Assessment, Mindmapping, and Personal Health Planning.
She knows the power of asking "What If…" and how it can shift our perspective and open up possibilities we never before knew existed. Seeing and exploring "what if" possibilities can be a game changer.
Her journey to becoming a coach has led her around the world where she was able to learn from coaches from a variety of different cultures. Her first coach training was in Barcelona, Spain and then later she learned under Indian, American, and European trainers too.
She is available to work with individuals and teams and can work in English and Spanish though she is most comfortable in English.
She believes in helping her clients unlock their potential in order to live the lives they were made for.
In addition to being an Associate Certified Coach with the International Coach Federation, she is also a Gallup Certified Strengths Coach, a Cultural Intelligence Center Advanced Professional, and a Duke University Certified Integrative Medicine Health Coach.
Reviews
35 reviews (5.0)
I appreciated her zest for the work she does, the intentional practices and her thoughtfulness.

Diane, Non Profit Executive Director, Kamloops, BC, Canada
Jennifer is very patient, calm, and level-headed. She is very skilled in asking super good questions in a timely manner. She is good at giving observations and questioning to provoke my thoughts. Not only this but I was also able to carry out the things I said I would do during our coaching.

Pauline, Consultant, Hong Kong
She brings a non-judgmental, grace-filled presence to her circumstances. Working with her helped me reflect on my own biases.

Lori, Seattle, Washington
I have been working with Jenni for the past 8 months and we have been on a journey of leadership skill development. It is my great pleasure to testify that I have always found Jenni not only an expert coach but a great person. I feel no hesitation to recommend Jenni as a coach of choice with expertise in all areas of today's business processes!

Abdul Latif, UNOPS, Kabul, Afghanistan
Entering the coaching I was looking for a certified strengths-based coach to learn how to implement my strengths and talents to achieve my goals and tackle ongoing problems. That's exactly what we were doing with Jennifer. During our sessions we've created several strengths-based solutions which I'm using every day to boost up my performance.

Svetlana, Entrepreneur and Author, Boston, Massachusetts
Jennifer is a wonderful encouraging and yet challenging coach. Her style of coaching challenged and helped me achieve my goals. She pushed me when I needed pushing and encouraged when I needed encouraging. She gave me space to work through things and challenging questions when I needed. She had great timing and fluidity in her coaching. I learned that I can achieve more than I thought I could and be more than I thought I could be. I increased business and confidence.

Carter, Professional Photographer, South Carolina, USA
My work with Jenni helped me see that intention and preparation can guide you forward, while perseverance and an open mind can lead you to places you might not have imagined.

M. W. Educator, California
Jenni was very attentive and compassionate. She has excellent language and listening skills; she was able to capture all of what I was trying to express. She gave me space and patience to allow me to figure out what I needed. I learned to be patient with myself personally and professionally. I am truly grateful for the opportunity to be coached by Jenni. She is a powerful, strong and competent coach and this coaching allowed me to be authentically hopeful about my future. She is compassionate, present, focused and supportive in a way that makes you feel safe to share your deepest struggles. I highly recommend working with Jenni, you will experience transformation professionally and personally. Thank you Jenni!

Charlene, O. D. Psychologist, Florida, USA
Jenni is a great coach, supportive, intuitive and she uses silence well, to help her clients move forward. Her knowledge of Strengthfinder as well as her encouragement to think creatively was amazing. I would highly recommend Jenni as a coach as she creates a warm, environment for clients as they explore their potential!

Maeve, Entrepreneur, Vancouver, Canada
I had the good fortune of getting coached by Jenni. I found her very insightful and her intuition power is very well developed. I found her very keen on benefiting me on my goals. She is a great listener and allowed me to speak my mind, yet mindful of time and asking some very good questions. She made me comfortable right from the word go, which paved way for me benefiting from this engagement immensely. I would recommend her wholeheartedly and wish her all the success in her future assignments. Thanks Jenni for helping me in my journey.

Vikas, VP of Operations, Gurgaon, India
I always looked forward to my coaching sessions with Jenni as they were enjoyable insightful. I left my sessions feeling positive, happier with a plan to move forward towards my goal with renewed energy and possibilities. Jenni is a patient, caring and non-judgmental coach and a good listener; I highly recommend her.

Tracey, Healthcare Professional, Hawaii, USA
Cuando tuve la oportunidad de tener sesión con Jenni, fue una gran experiencia que quisiera volver a tener. Realmente descubrí que había muchas cosas de las cuales no hablaba con nadie, es decir: sueños, metas y aun miedos que con nadie había compartido. Un gran tiempo y muy útil para mi crecimiento como persona y ser humano. Gracias!

Elva, Entrepreneur, Mexico
"She helped me clear my mind on a few issues that had clustered my thinking. I was able to figure out that I was stretched too thin and had to step back and do one thing at a time. That was a good insight and it brought an incredible amount of relief to me."

Nyasha, Accountant, South Africa
"Jenni is a fabulous trainer and we thoroughly enjoyed the Strengths-Based Leadership Workshop she delivered. Thank you!"

Mahesh, IT Professional, Bangalore India
"She is very professional in her approach. She allowed me to explore my issue at my pace and helped me explore it from all angles. I enjoyed her sessions very much. "

Nitin, Educator, Mumbai
Jenni was an amazing coach who helped me realize what was and wasn't important to me in my life. She was very easy to talk to, and never shied away from asking me tough questions. She is brilliant in asking questions in a way that you realize what you've wanted all along. I was able to make better decisions for me on my own because of her help!

M. P., Biomedical Engineer, Michigan
Thank you so much for helping me discover my strengths and for coaching me. My gratitude to you for your support.

Alioune, Ecological Specialist, Dakar Senegal
"Jenni has helped me in becoming more focused about my personal goals, through her asking of good questions and even paraphrasing/rephrasing my own thoughts in order for me to see myself with greater clarity. In addition, she has also been able to help me break these large and vague goals, into smaller and practical steps to be undertaken. Furthermore, as I easily lose my original focus due to the demands of life, she has often been able to keep me reminded of my original intentions. With the greater focus and constant realigning of my motives and intentions, Jenni has helped me pursue goals which are intrinsically me, yet are also so easily blurred by life's distractions."

XJ, HR Manager, Singapore
I was very pleased with my session with Jennifer. She was very helpful and communicated quickly when helping me plan and prepare for the session. The coaching time itself was very insightful and engaging. I felt that I came away with new insights into my personal strengths and ideas for moving forward with developing them. She also followed up with me later and sent more resources and steps for moving forward with strengths based coaching. Highly recommended.

Christine, Educator, Chicago, IL
Thanks Jenni, for an excellent session and much food for thought.

Indrajit (New Delhi, India)
Thanks for the excellent training! The most helpful part was the focus the training brought on each individual employee's strengths and what they have to offer to the team. The emphasis on functioning from your strengths was a wisdom principle that we often forget. The tendency to focus on weaknesses or failures is normal for many of us but your training helped to correct this. I found the Gallup Clifton Strengths test to be an accurate reflection of whom I am and a reminder of what I need to focus on as I move forward in my career. Doing so will lead to greater success and enjoyment as I contribute to society through my unique strengths combination. Thanks for being the catalyst in this process. I would definitely recommend your training to others. It was both enjoyable and enlightening.

Daniel (New Delhi, India)
Jenni is a great listener and responder! I enjoyed our times together, as she encouraged me as I made progress in the areas we discussed.

Brenda (Canada)
She is a deep thinker who is committed to learning, teaching and growing. She is willing to step outside her comfort zone which I greatly admire.

Joanna (Florida, USA)
Jenni was very professional, yet compassionate, kind, patient and encouraging. She was supportive in whatever I needed to work on and empowered me to come up with my own solutions through a range of open ended and closed questioning techniques. With guidance, Jenni encouraged me to draw my own conclusions, which was very empowering. Jenni was always present and spoke in a calm tone of voice. She remembered specific details about me which helped me to develop a stronger trust in her early in our sessions together and a faith in her abilities as my coach. Jenni was encouraging and celebrated my achievements. She remained professional by coming to all calls on time and always focusing on my needs as the client. Jenni was also very personable and well spoken and had a calmness to her presence, making her easy to talk to. Jenni gave me the time and space to talk about what I needed to, before challenging me with appropriate questions or gently bringing me back to the task at hand if I veered off. I felt very safe and comfortable talking to Jenni, and it was very obvious that she enjoyed and was passionate about coaching, and dedicated to helping me to better myself and change. Through working with Jenni I felt empowered, accountable, enthusiastic about change and confident that I can face my challenges and succeed. Thank you, Jenni!

Janine (Australia)
The Cultural Intelligence training that What If Coaching provided helped our diverse team understand each other's values and communicate more effectively. We also identified the cultural issues we're facing as an organization and discussed the cultural values influencing these situations. It was a very enriching workshop!

B. C. (Chicago, IL)
Jennifer helped me gain greater awareness around my strengths and how they influence my thought processes and actions. Her collaborative, supportive, and direct coaching met me where I was and at the same time encouraged me to push past limiting boundaries. Her questions led me to develop strategies that were aligned with my strengths and considered those that rarely show up. Thanks Jennifer!

Maryann (New York, USA)
Jennifer is an excellent coach, listens intently and is totally present for her client during the session. She is also goal focused and able to hold the client to the agenda to work towards their vision. She questions and supports the client in exploring new possibilities and learning. I would highly recommend Jennifer as a coach to any client.

O. C. (Dublin, Ireland)
Jenni listened to me and helped me learn things about myself that enabled me to make the changes I want. The coaching she provided helped me make changes that improve my health now and for the future.

Patti (Nevada, USA)
Jenni introduced me to Strengths Finder and other coaching techniques that were new to me. She provided great clarity and focus around her own coaching journey that inspired me to follow suit.

Helen (New Zealand)
I learned from Jenni's openness and desire to provide her clients with value how important these personal character strengths are in my coaching practice as well.

Margie West Virginia, USA
Jenni provided me the tools to step forward in my own life. Not telling me what to do, but giving me the freedom to think critically about myself. Then being able to process that effectively and tangibly as it relates to me.

Michael (American living in Taiwan)
I appreciated the consultation time, thoughtful questions, and careful listening Jen provided during our session. Although I had reviewed my Strengthsfinder results previously, she helped me understand how each strength interacted with the others, which is a facet I hadn't understood before. I also benefitted from her expertise by learning about each strength on a deeper level. The experience gave me a better holistic understanding of how my strengths impact my daily life, which is helpful both personally and professionally.

L. S. Chicago, IL
Jenni is a great coach. If you want to gain insight on your strengths through Strengthsfinder, Jenni is a trained facilitator and can help you gain insight into yourself and help take you to the next level.

N. G. (North Carolina, USA)
"My coaching time with Jenni was definitely a positive experience! She is so easy to connect with and is passionate and knowledgeable about what she does. Knowing more about myself and what makes me tick through StrengthsFinder has helped me to be more strategic in my approach to life and work. The things we discussed helped me to understand more of how I got to where I am today and fueled me to recognize and pursue what I love."

K. C. (American living in Asia)
I found my experience with What If Coaching Services to be tremendously beneficial and would highly recommend it for you as an individual or for your organization as a whole. Jenni was professional, relational and uniquely cares about the growth and development of her clients. After having a couple coaching sessions with Jenni, I found it to be so beneficial that I asked her do a group coaching session with the team that I lead within a larger organization. The group coaching opened the eyes of my team as to how we can benefit individually and as a team from understanding and relying on each others strengths. Strengths Finder is a great resource but when you add the coaching component, it becomes truly transformational to how one things, operates and leads.

Russ V.
The Smart Way To Find A Coach

1 Describe Your Goals

2 Get Matched

3 Free Consultations
Find My Ideal Coach Now