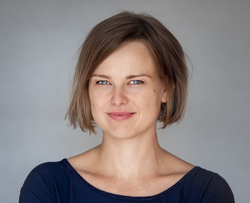 Joanna Hunek

Gloucester, England
Career Coach, Leadership Coach, Life Coach
CPCC, CIPD Cert
people seeking clarity, confidence, self-believe, motivation, structure, career direction, leadership skills and presence, willing to change jobs, positions, step into a new role or a business. Teams
About Me
Fresh, energetic, no-nonsense, positive, challenging, results-driven and fun!
For me, it is about building confidence and courage. It is about helping the people I work with to become risk-takers, conscious leaders and lovers of life.
I work with all types of professionals from start-ups to entrepreneurs, senior managers and private individuals. I try to make the coaching process challenging, honest and, above all, authentic - so I can be direct, occasionally blunt and wholly unafraid of asking difficult questions!
Working with individuals I specialise in Professional and Life Development coaching which covers Career Coaching/Career Change, Career Progression, Professional Growth, Leadership Development, Conscious Leadership, developing soft skills for workplace and life.
Common areas of focus:
- career direction and change
- from bad/no job to a new job
- promotion and stepping into a new role/business
- relationships,
- changing habits,
- work-life balance,
- confidence and self-belief,
- clarity of goals and direction in life
- well-being and fitness,
- life transitions,
- leadership development
- improving effectiveness and performance
- personal growth and overall satisfaction in life and at work
- coaching for coaches
For nearly a decade I have been working in a global corporate environment, internationally. I have been involved in challenged brought by business transformation and digitisation, driving change and growing talent and skills able to respond to the needs of the demanding and competitive markets.
I am CIPD (Chartered Institute of Personnel Development) qualified and received a comprehensive coaching training from world leading coaching schools - CTI (Coaches Training Institute) and CRR (Centre for Right Relationship).
Certifications:
CPCC - Certified Co-Active Coach
ACC - Accredited Certified Cach (by ICF)
Reviews
7 reviews (5.0)
Through working with Joanna I now have a much clearer understanding of who I am, what's important to me, and the confidence and structure to pursue my dreams. I cannot recommend Joanna highly enough, so if you're feeling stuck, a bit tired of the day to day, like you're missing out on life, and want to drive a change Joanna is the perfect partner with the skills to help you on your way.

Tamla, Business Transformation Manager, Social Enterpreneur
Joanna is a formidable coach, tenacious yet gentle, able to help her clients reach awareness and insight that creates new openings for the possibility, and new ways of thinking. It was my pleasure to be coached by her.

Karl, VP in Pharma Industry
The coaching sessions have really helped my confidence, enabling me to challenge myself and step outside my comfort zone. This has led to me achieving more and attempting more than I thought I was capable of.

Carlos, Retail Manager
Joanna Hunek is one of the most professional persons I've ever met. Her personalized approach, being at the same time challenging and warm is more than impressive. We were meeting half a year and thanks to these conversations I realized what my unnecessary limitations are. I didn't believe in my advantages – presenting and negotiation skills; I was concentrated too much on my weakness. She opened my eyes on easy true – there are things that are out of our control. And proper attitude and believing in ourselves open the door to anything we dream of. Thanks to relevant skills of Joanna I have just found a new, very ambitious job and director's position. Wish anyone such a coach!

Tom, IT Director
I can't overstate how much value I have taken from my time spent with Jo. As a business leader with over 20 years experience, and having actively driven my personal development, which included having worked with coaches at work over the years, I thought that I was a well rounded leader and initially had my reservations as to how much value I would take from these coaching sessions, but I have taken more value from 12 coaching sessions than I ever thought possible. I was challenged, taken out of my comfort zone and driven to better understand myself and my values. Not only do I now think that I am a more effective leader, but my personal time is so much rewarding. 5 stars from me

Lee, Retail Director
I love to do a lot of things and it seems that all of them are important for me... so I have been coached by Joanna and she has helped me to focus and find a direction in my professional life and building a plan to go for it!! She has bringed me more clarity related to who I am and what I will love to work on!!

Ainhoa, Consultant
Joanna's coaching helped me greatly last year as I looked for a new and challenging role. She kept me focused and provided me with tools and strategies to let me shine through the interview processes. It's nice to have a boost button handy when you need it!

Peter, IT Consultant
The Smart Way To Find A Coach

1 Describe Your Goals

2 Get Matched

3 Free Consultations
Find My Ideal Coach Now