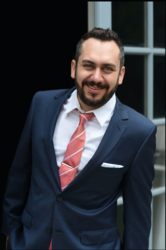 Jon Jacobs

Los Angeles, California
Life Coach, Career Coach, Spirituality Coach
BS, MA
I coach artists, creative professionals and anybody else looking to build a more bold life through transformation, growth and accountability.
About Me
I'm a certified coach with 13 years of professional experience in the entertainment industry.
Through a space of openness and acceptance, I will partner with you to gain clarity and determine your needs. I believe in my client's potential to find creative and inspiring solutions for themselves.
We will identify your vision for different areas of your life and create solid action plans and implement accountability to help design your life.
Our past is history. The good news is each day we have the ability to create and design our lives. I look forward to guiding you on that journey!
Your success is my success.
Through focused listening and powerful questioning, I love witnessing my client's moments of discovery and growth.
I enjoy helping my clients work through the noise of the mind and focus on their victories, their strengths and their joys. From that space, we partner to create actions to push your life forward.
I have worked with clients addressing all sorts of life challenges: - Career Clarity & Action Plans - Increasing Income - Developing/Improving Communication Skills - Work/Life Balance - Spiritual Growth - Positive Habit Development - Breaking Through Creative Blocks
Reviews
9 reviews (5.0)
With Jon's help I was able to set and see my goals and the blocks that I put in the way of achieving them. It's clear he follows a tried and true method as well as adding his own intuitive advice. He was also able to show me a different perspective than the old habitual one I had. He values my time and is very communicative. I highly recommend him!

Lily L., Freelance Photographer, Los Angeles, CA
I have had several coaching sessions with Jon. He has helped me to uncover some of my limiting beliefs and move forward with my goals. Jon is very skilled in communication and easy to talk to. He is solution oriented and has helped me find clarity in my life and business endeavors. I highly recommend Jon to anyone looking for a great life coach!

Ambra B., Entrepreneur, Wellness Educator, Kansas
Jon is a top coach! If you are looking for a safe environment that is also open and at times comically relieving, this is the coach that you've been looking for. I'd definitely recommend Jon to friends, family, and anyone who is looking for a new life perspective that will give you a boost in life.

Therese F., Los Angeles, CA, Assoc. Director of Annual & Special Giving, UCLA
Before I worked with Jon, I felt unsure about how I wanted to proceed in my career. We explored different options I had been thinking about. After working with Jon I felt better about what my next course of action was going to be in regards to achieving my goals. He helped me gain some clarity into what I really wanted. He also gave me some great tips to build my confidence and offered some great ideas on how to achieve great things.

Rina K., Los Angeles, Post Production Coordinator, NBC
Jon is a top notch motivator and has really helped me find the time and a game plan to pursue my goals within my busy life. For anyone needing help to create a plan of execution to reach your goals, then he is the coach for you.

Jason D., Mammoth Lakes, CA, Story Producer/Writer
Jon helped me to develop an action plan to increase my sales and a schedule to execute it .

Patrick T., Paris, HR Professional
Jon is a great listener and offers out-of-the-box and specific solutions. He is friendly, warm and personable.

Meryl B., Los Angeles, Writer, Freelance
I was unsure what to expect from a life coach session but Jon made me feel very comfortable and helped me think about simple steps to lead to greater accountability and potential obstacles to overcome in getting there.

Anna P., Los Angeles
Jon is a friendly listener who challenges you with insightful questions that help target your true goals and challenges (hint: they may not be what you think!) Once determined, he helps set clear, incremental goals for the next session. Excellent follow up and accountability. Quite helpful!

Tara P., Los Angeles, Writer, Freelance Projects