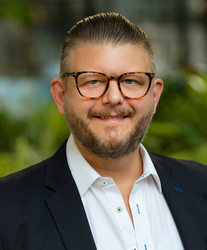 Jonathan Mather

Phuket, Phuket
Life Coach, Leadership Coach, Executive Coach
MBA
I mentor good men who have tried everything to rebuild their relationships and business. I guide them through an empowering step-by-step approach to become the confident man you were meant to be.
About Me
Do you want more out of life?
More inspiration, more confidence, more connection, more impact, more clarity, more affection, more love, more sex, more success, more money?
My clients want to get more and are willing to go the distance to get there.
I work with inspiring people who want to make an impact.
I'm a man who has walked in your shoes and hit the wall at high speed in relationships and life. I've had my career, family and marriage crumble all at once leaving me raw and vulnerable. And I've survived.
While I'm a playful, fun loving and hopeless romantic at heart, I'm also a serious corporate refugee who loves to think deeply, feel powerfully and connect with people authentically.
I help you discover your lost values, regain your passion for life and reignite your confidence.
I've struggled with those 3 things on my journey in both my work life, social life and my romantic relationships. Coaching changed my life so much that I've made it my mission to help you move from anxiety and uncertainty into an amazing world of clarity and confidence.
Reviews
Jonathan is very authentic. I know him on a personal level. He brings great wisdom, depth and a lot of intelligence with how he engages with others. He is a thinker, takes time to understand, relate and connect with people. His experience and real world examples are very valuable to others.

Don Grauer