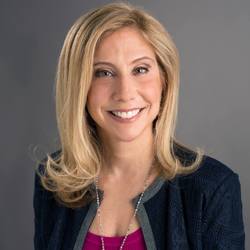 Julie Ketover

Voorhees, New Jersey
Executive Coach, Leadership Coach, Life Coach
JD
I coach female professionals to own the full range of their leadership in their work and in their lives. I support my clients to create balance, break up imposter syndrome and own their power.
About Me
Julie Ketover is a professional certified coach. She coaches high performing professionals around leadership development and fulfillment in life. Julie has nearly two decades of experience in the legal industry. Before turning to coaching, she held a number of positions in the field of law, including as a practicing attorney, business operations professional and talent developer at law firms. She also served as both law school career and admissions counselors. Julie's choice to immerse herself in Accomplishment Coaching's year-long intensive coach and leadership training and development program came from her awareness that she was most fulfilled throughout her career when she was able to work with other people to bring out their best. The decision to pursue coaching with a high level of commitment and dedication aligned with a lifelong passion of Julie's to support other people to maximize their personal and professional potential. Julie brings to bear both keen understanding and relatability that facilitate trust and effective collaboration. In her practice, Julie works with high performing women in demanding professional environments. Her clients learn to challenge and trust themselves, to own their power, to express themselves fully and to achieve their goals with purpose. Julie coaches, guides and supports female leaders to up-level their leadership, own the full range of their power and voice, fully self-express and create extraordinary and fulfilling life experiences.
Julie is married and lives with her husband and two daughters in South Jersey. She leverages the flexibility of her business to serve on a non-profit board, to spend quality time with friends and family, and to support her children to be empowered, confident, well-rounded and kind human beings
She graduated phi beta kappa and summa cum laude from Yale University, where she majored in psychology as an undergraduate. Following college, Julie received her law degree at NYU School of Law.
Reviews
4 reviews (5.0)
Julie has been such a wonderful influence and powerful force for good in my world since we began working together. She takes a nuanced, highly intelligent approach to problems, understands the core of where youre coming from and tackles them with insight, love, respect and a bit of toughness and grit. She provides complex yet workable responses on the big picture visions, the mundane daily skirmishes and all the in between. Shes been immensely helpful to me in all aspects, and I greatly enjoy the time we spend together.

Ava
As a small business owner I value relationships. I have not had many that could be compared to my relationship with Julie Ket over. She is the cornerstone to a lot of my success, and focus toward business development. Julie's ability to help me discover blockages and/or opportunities for growth is exceptional. I would not hesitate to recommend her to any professional. From both a personal and business perspective, Julie is someone that you want on your side. There is a value to coaching that cannot be matched by any other investment in yourself, or your company.

Jeff Boldizar
Julie was my coach for 2 years and in that time I was able to build a lucrative and successful business because my coaching experience helped to reshape old and limiting beliefs that were holding me back. Julie is kind, loving, insightful and challenges you to think differently. I would highly recommend her.

Joanna Kleinman
My journey with Coach Julie began with her asking me several questions: "What do you want to change in your life? What's stopping you from changing? What is your true essence?" For me, answering those questions at the beginning was easy, "I DON"T KNOW!" That answer alone was reason enough to begin my work with Julie. It's true, there are somethings we don't want to learn about ourselves: #1 We are the one standing in my own way; #2 We are the only one who can change our lives. There is no magic pill, no amazing book, no list, no cheat sheet, only YOU (and this case a great life coach!). I made a 6-month commitment and investment in myself. Julie empowered me with group discussions, encouragement, acknowledgment, as well as tools that helped me on my journey of understand what I wanted, how I wanted to live, and what I needed to do to get there. She never gave up on me, even when I wanted to give up on myself. She supported me each step of my journey, and she truly believed I could reach whatever goal I set for myself. My journey continues daily, now more intentionally and with conscious effort to come from my true essence whenever possible, and believe in my personal power. I face life, conversations, and everyday situations from a different place now. I am open to be guided by the journey, not by fear. Advice to people who are thinking about investing in coaching (investing in themselves): DO IT! Do the work, answer the hard questions, feel the tough feelings, and take control of your SELF (NOT your situation). Then you can re-write your story the way you know it should be.

Frances