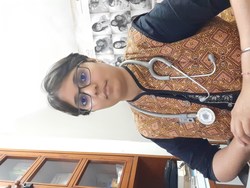 Dr KANIKA VASHISHTHA

New Delhi, Delhi
Leadership Coach, Health and Fitness Coach, Relationship Coach
BHMS, PGDM, NLP Master Coach (ICF, ABNLP, IACCT)
Are you judged for who you are. Are you afraid to speak because people will call you too 'emotional'. Wear mask of 'detachment' when you just want to be heard! Become the Master of your Emotions.
Details

New Delhi, Delhi
Hourly Rate: $120 to $150 US Dollars
Gender: Female
About Me
Are you judged to express yourself?
Are you judged to show that you care?
Are you judged to be vulnerable?
Do you just want to talk and express yourself but all they say is "Ahh! you complain all the time"
You feel alone among your own people and don't know who to talk to?
QUALITY OF YOUR LIFE IS THE QUALITY OF YOUR FEELINGS.
You are creating your life every single moment and you have the ability to reform and redesign. Life Mastery (Emotional Mastery) is unleashing the leader within you.
To live an extraordinary, exceptional, outrageous, fulfilling, passionate life, you must know the answer to these three questions:
What do you really want?
What's preventing you from having it?
How do you change your life now?
I will help you in creating your own mastery because I was there! For a very long time! and now I have made it my mission to heal!
I am a successful Alternate medicine physician with more than 10 years of my clinical expertise in treating various chronic and acute diseases. In my clinic with my patients, I follow, "Homeopathy for healing body and mind".
I am also a strategist of healthy living hence apart from medicines, I provide my patients with tools and techniques which I have learned myself from gurus and mentors all across the world.
Through my learning I have created customized techniques which works, not just once but EVERY SINGLE TIME!
I have done my trainings with Institutes affiliated with International Coaching Federation (ICF), ABNLP, International Association of Coaches, Counselors and Therapists (IACCT), and have graduated from many of the Tony Robbins courses and seminars.
I believe, any habit or pattern can be changed in a heartbeat, with only ONE condition- THE INTENT TO CHANGE!
I am not only your coach but we become one family with one cultural mission- To make this world a better place to live!
It starts with one person! One at a time! Spread goodness, spread love, it will be contagious!
Reviews
6 reviews (5.0)
The words here are less than what I am grateful for Kanika. She has changed my life in a way that I can never see myself going back again. In a coach, I have found a friend for life. Her work is tremendous and she takes so much pain with me. Cry with me, laugh with me, helping me through all my challenges, anytime. Though I took only 20 sessions with her, but those 20 are more than the number of years I have lived! Thank you Kanika

Marcus Lopez
I'm very pleased with the way Kanika works with me. She makes me feel very comfortable. He exercises are very sweet and very effective, in the sense that I feel a lot of change instantly. But she always says to practice to make it last, which is completely justified. I love her to core. She changed my life and helped me meet then man of my dreams. And I am getting married! Thank you Kanika. Your asked me feedback, I will give you in a heartbeat!

Akriti Singh
Dr Kanika is not only my doctor, but my lifelong coach. I was suffering from severe neck pain almost everyday of my life and I went to many doctors and they never used to catch hold of my actual cause. I went to Dr Kanika via a reference, and she first listened to me very carefully and with full attention and then took a deep look in my history. After 2 consults, she was able to uproot the cause of my problem. I had a very long and deep history and when I found someone who could listen to me, well, I was overwhelmed. Next thing I know, I was able to perform well in my work as well and all that cloud of "What will people think" just faded away. Now, I have my own business and I did more than well during the lockdown period, helped my clients beyond my capacity, because of the courage I unleashed within myself, through regular sessions with Dr Kanika. She works with client through day and night, until she is satisfied! That is really commendable. Thank you Doctor!

Rinky Dutta
I went to Doctor Kanika for my treatment of a medical problem which I was facing for almost 10 yrs. She is not like regular doctor who will just ask symptoms and keep giving medicines, but she really studies a patient. Looks so young but is really talented. She took my case for 1 hr and dig really deep in my history and made me uncover things I had totally forgot about. I actually uncovered my fears. Long story short, she gave me medicines and gave me some exercises to do also, which I did and still do, while at work or at home or just anywhere, because she customised it as per my needs and I was able to feel the change in myself within first 15 days only. She is a doctor for my whole family now and when she asked me if I can give a review, I had to make sure that I return some favor for what she did for me. I was in pain for almost 10 yrs and now I really enjoy my life. Thank you Dr Kanika.

Donald Lister
A Wonderful Coach and a hard worker. Really got me off my comfort zone and made me realize what I was doing day and night to not be successful. I started off my company but was running always in loss. Dr Kanika made me realize, through series of steps (Yes! indeed a lot tedious at first, but hey so was walking when we first started! eh!) but by the time I was done in 45 days, I realized my own shortcoming and what I needed to do to get me on track. Yes! She worked with my family as well because they are a big part of my identity! Now, I not only have my own business in Melbourne but I also expanded in Wellington in NZ. Thank you!

Darren Schulz
A very well versed and down to earth, logical coach. Breaks pattern easily and with fun and makes me realize what self sabotage circle I was in for so many years. I am happy to have a coach who has become my go- to person. Very caring and giving person, gives more than what she actually asks for.

Priya Sharma
The Smart Way To Find A Coach

1 Describe Your Goals

2 Get Matched

3 Free Consultations
Find My Ideal Coach Now