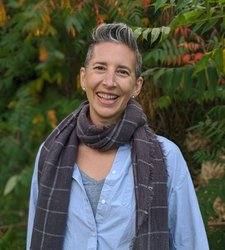 Kendra Kusturin

Etobicoke, Ontario
Life Coach, Career Coach
MSW, RSW, Certified FEEL (Facilitated Equine Experiential Learning)® Practitioner
I work with clients in transition to reconnect with their wisdom and wholeness while designing a path to a joyful life, purpose-driven work and fulfilling relationships to self, spirit and community.
About Me
"Tell me, what is it you plan to do with your one wild and precious life?"
- Mary Oliver
You know the feeling. That nagging sense of aimlessness or frustration that's been lingering in the background of your life. Or maybe you've awoken to a sudden sense of uncertainty about who you are and whether you're living the life you're meant to.
Whether we're contemplating career changes, beginning or ending relationships, navigating the transitions of midlife or impacted by times of social or cultural upheaval, we can all find ourselves feeling adrift and disconnected from our true selves. But cultivating authentic happiness is possible!
I work across all domains of holistic wellbeing (mind, body, spirit, career, relationships, community and environment) guided by teachings and practices from mindfulness, positive psychology, somatics, and neuroscience. Through my transformational approach, you will be supported to:

- deepen self-knowledge through "me-search" on your values, strengths and purpose;
- befriend all parts of yourself and bring that whole-heartedness to other relationships in your life;
- dismantle self-limiting beliefs and nurture a growth mindset;
- develop your mental and emotional fitness;
- discover or strengthen spiritual practices aligned with your personal beliefs that ground and nourish you.
If you're an animal lover who enjoys being outdoors, you can add Equine-Facilitated Learning (EFL) sessions to your coaching journey. With EFL you unlock your potential through specialized learning activities with my horse partners. Working with me and the herd, you can strengthen mindfulness, emotional agility, leadership skills and more.
My professional services may be eligible for coverage under your extended health benefits if you are an Ontario resident and your plan covers services provided by a MSW/RSW.
Reviews
Kendra doesn't have any reviews yet.