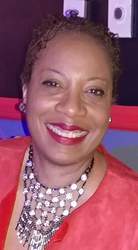 Kim Rennick

Waldorf, Maryland
Health and Fitness Coach, Life Coach, Spirituality Coach
I coach individuals to self-improve transforming their relationship w/self, to improve all other relationships in their life. Develop a healthy heart. And, successfully lose weight, & keep it off.
About Me
Hello, Welcome to my Noomii page. Look at my picture, envision me giving you a huge hug with a kool-aid smile thanking you merely, for showing up for yourself. I became a Coach, after my Mom transitioned from atrial-fibrillation.
I once could eliminate limited beliefs on my own. In my early life, bad habits stifled many of my dreams. I describe my life; the hazy maze with a little bit of dance and a little bit of praise. Dancing was my peaceful place of serenity, since I was a little girl. I danced to the Doobie Brothers [Michael McDonald], & Michael Jackson; listening to them on my little AM radio. I knew I couldn't dance LOL, I didn't care, I just loved to dance.
I'm a people's person, individuals gravitate to me to discuss their depressed stress. I taught beginners Tae-Bo, I was a kick-boxer and I consulted individuals on 'Alkaline/Vegan', foods; before it was named 'Alkaline/Vegan'. I never realized, I was telling people all the things, I wanted someone to tell me.
Starting from my early teens, I always felt like a failure, I didn't know my self-worth. I didn't belong anywhere, not with friends and not with my own family. I learned later, people gravitated to the light that shined within me; which I couldn't see, but others could, even though it was dim, it was visible.
I grew up in the church as well as in church ministries, yet, I still felt alone and unloved. This lack of feeling loved, led me to waver. I ran to the streets, searching for something, I could hold onto.

My Mother was always, my biggest fan, she'd always tell me; "put Christ first". When my Mother transitioned; I went to counseling, I went on a spiritual journey, I did a life change. I incorporated my non-dancing happy-feet ;-) into every aspect of my life. Not who I once was, or how I once was, but BETTER, than I'd ever been before. I spend time with Yahweh in mediation, I validate me. I see 'my' light, I gravitate towards it, on purpose. I gift myself, a relationship to me ;-).
Reviews
3 reviews (5.0)
Kim was born to be a coach. I think shes more of a Spiritual coach than anything else. My experience with her was right on time. Id just given birth to my second child, Id taken on a new Managers position on my job, and life was a little overwhelming for me. Her coaching techniques were and are, that of a surrogate Mother; tough love demeanor with a lot of nurturing and love, no judgement and a means of protection. When I started talking to her, she helped me with self-awareness; receiving and accepting ownership to be able to fix certain areas in my life. Ive never experienced a life or spiritual coach before. I recommend Kim to anyone whose looking for an evaluation of self, who may potentially need to hit the reset button. Dont be afraid to invest that time in oneself, its worth a lifetime of benefits.

Tanika
Coach Kimmy is my Life coach and shes my Health coach. Shes been my life coach off and on for 3 years. Shes helped me overcome overwhelming aspects in my life regarding family matters as well as looking inward. My Mother recently passed away, because Coach Kimmy traveled that road already, she helped me journey this path whenever I felt I was all alone. She showed me how to give myself permission to heal, to relax, to unwind and to release things that are of the past and no longer matter pertaining to where Im currently at and where Im going. I know my Mother is always with me, shes in my heart, I cherish all her memories and all she wouldve wanted for me, continuously. As a health coach, Kimmy has worked with me in correcting how I looked at food as it being a place of comfort and not as it being nutritional. I wasnt trying to lose weight and I didnt lose weight, my choice of foods has currently resulted in a healthier cholesterol and healthy gut. Coach Kimmy will be in my life, for life Love her Dearly!!!

M. Robinson
I gravitated to Kim and started a rapport with her before I knew she was a Life coach, she always been a inciteful person to talk to. Prior talking to Kim, I felt stuck. I felt I needed advice on my career, my personal life, and growth, as a person. Kim helped me triumph through many obstacles. I was able to remove anything that clouded my judgements/views, allowing me to put one foot in front of the other and was able to plan my life/career-education accordingly. My time with her was enduring and momentous. She's one of those anchors I'll have down the road and passed along to others whom is needs a sense of clarity.

D.Mitchell