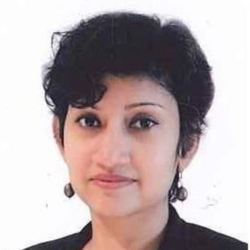 Lakki Nair

Bangalore, Karnataka
Executive Coach, Leadership Coach, Team Coach
ICF -PCC, EMCC Team Coach, TAM-Practitioner
I work primarily with Emerging Leaders and Individuals undergoing career transition. Get in touch to translate your thoughts into action, inculcate consistency and become more purpose-driven!
About Me
My coaching clientele are leaders, entrepreneurs and executives from both start-ups and scale-ups who are driven to push boundaries. I also coach teams that are at various stages in their formation.
Coaching for me is about being a catalyst in bringing out a clear purpose and focus in people (and thereby organisations). For over 15 years I was in operational and consultancy roles in various blue-chip companies, leading transformation projects across MENA and South Asia. This, along with my coach training and coaching experience allows me to connect at a deep level with my coachees.
I encounter clients who are at crossroads; feeling uninspired at work; or zooming ahead without stopping to consider possibilities all around them. Are you one of them? Do you also struggle with
- dealing with your board, peers, or team?
- making decisions assertively or standing by them?
- managing yourself and your calendar between the demands of job and life?
- frequently second-guessing yourself and asking for validations?
- the thought of that promotion or role you wished to pursue but never did?
If doubt, overwhelm, stuckness or anxiety are the dominant emotions when you think of your job, you are most probably facing one or more of these challenges. And this is where I come in! Through my award-winning research in 2016 involving 21 corporates in UAE on employee behaviours, I got a closer look at how workplace patterns impact well-being and deter people and teams from operating at their highest calibre. My clients tell me how my CALIBRE coaching model helped them achieve a sense of purpose by decluttering and narrowing down goals, while exploring alternatives and working on self-imposed limitations. In my 7-month program, I map your natural preferences and partner with you as you make small changes that ultimately fuel your growth.
If you have the intent to succeed, think no more! I am here to support, provoke and cheerlead you to achieve at your highest potential.
Reviews
4 reviews (5.0)
I am a professional leading a team of 18 people and I have been looking for support in improving my management and leadership skills. My most valuable take away from this engagement with Lakki has been recognizing my blind spots and changing the way. Lakki was patient with me through the engagement and used to take time to help me think and understand the situation or context through her questions. I would recommend coaching for every individual who is interested in growth and balance.

Gowthami Dannina
There were many things I was planning or thinking of doing for a while, like writing and public speaking. Coaching with Lakki helped me to start executing them and introspect and become more self-aware. I believe introspection helps in life across personal and professional domains. One of my major focal areas in my sessions with Lakki was Communication. Some of my major take-aways are, the importance of empathetic communication and it being critical for leaders; putting thoughts in writing, through journaling for example, to get clarity; being mindful about my tone and words while communicating; listening patiently and actively. All throughout the sessions Lakki used to actively listen, observe, and nudge, enabling me to take necessary steps. I would recommend coaching to everyone as one generally tends to forget to take a pause and reflect on their strengths and opportunities to improve. It is a good tool as you get an experienced helping hand like Lakki nudging you to become more self-aware by thinking, planning, and executing better. I believe it is not just useful for professional career but life in general.

Sushant Bhatia,Investment Manager,Bangalore,India
My team has been a high performing team for a while. However there were aspects that needed addressing mostly around relationships, confidence and a general lack of cohesion. Through Lakki's sessions, we explored how we can align better as a team and discovered our worth was not only in meeting sales figures but also in the value we bring to patients and other stakeholders. The team started putting in focused attention and is now more aware and sensitive of our approach / interaction with not only the doctors and patients; but other indirect stakeholders too. The TAM profiles which Lakki took us through were an eye opener in understanding why some of us within the team choose to do things the way we do. When Covid hit initially in 2020, having a highly driven coach like Lakki with us for a few months was highly valuable and a relief. She helped us bring the same energy and focus on ourselves and the team as well. Accountability is higher now within the team and I notice a heightened sense of belonging among the team members. I am hoping to re-engage with her soon!

Vinod Venugopal, Regional Manager, Medtronic Diabetes, Chennai, Tamil Nadu
Lakki has been my career and life coach since mid-2019. Beyond being a doctor, I am part of the administration of the hospital I work at, with an increasing leadership and administrative role. Our coaching engagement has been an eyeopener for me in terms of getting a perspective about where I need to get to and how I need to get there with targeted focus on short as well as long term goals. For example I used to spend a lot of my time trouble-shooting daily hurdles in each administrative departments, until Lakki helped me focus on the broader goals and spend time mentoring and reorganizing the team which helped streamline the overall work flow and less need for daily trouble shooting. Not only has Lakki been giving patient listening and essential nudges during the sessions, but the best part is her keen involvement and dedication to follow-up on the progress outside of session hours too and challenge me to make aggressive path corrections where needed to ensure a successful trajectory. Dr.Anand Marthanda Pillai Director Interventional Cardiologist Ananthapuri Hospitals and Research Institute Trivandrum, Kerala

Dr.Anand Marthanda Pillai, Director & Interventional Cardiologist, Trivandrum, Kerala