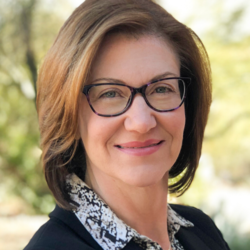 Leslie Bosch

Tucson, Arizona
Health and Fitness Coach, Family Coach, Life Coach
PhD, Certification in Integrative Wellness Coaching
I coach individuals who seek optimal health through sound lifestyle routines in seven core areas of health including sleep, nutrition, movement, relationships, resilience, spirituality, & environment.
About Me
I work with clients to address a variety of health issues including weight loss, stress management, improving diet and exercise, and adjusting to a life-altering event.
As an integrative wellness coach, I draw upon a variety of scientifically proven methods for change including behavioral psychology, motivational interviewing, positive psychology, adult learning theory, and solution-focused theory.
The coaching process includes four stages. First, we clarify your values and dreams to reveal why your health is essential. Second, we perform a self-assessment of the 7 cores areas and select an area of focus. Third, we create a powerful plan of action that sets you up for success. Finally, as you work your plan, we meet regularly to account, celebrate, and troubleshoot.
I received my certification as an Integrative Wellness Coach from the Andrew Weil Center for Integrative Medicine at the University of Arizona. In addition, I have a PhD in Family Studies and Human Development from the University of Arizona.
Discover more at Bosch Integrative Wellness.
Reviews
6 reviews (5.0)
I'm 78 years young and all my life I thought stress was just something you had to put up with. But Leslie showed me how to take control of and manage my stress. I thought the process would be difficult, if not impossible. Leslie really took an interest in my situation and provided a number of fresh perspectives. If I'd known this information years ago, the quality of my life would have been greatly enhanced! Working with Leslie was well worth the time, money, and effort!!!

A. Madsen
Integrative wellness coaching with Leslie Bosch has been a transformative experience. At the beginning of our process, I was reluctant to admit that rejuvenation was needed in my life. Before I viewed relaxation as a waste of productive time instead of an essential part of life. I learned new techniques and dropped old habits which allowed me to rejuvenate without negative judgment. Now, I feel much happier with my work schedule which leads to more productivity. Leslie helped me develop skills on how to nourish my overall well-being. Now I view rejuvenation as an essential part of my regime and enjoy it greatly.

Jennifer W
As a social worker, I work long hours with really sick people. I was feeling exhausted. As it turns out, I was nature starved. I live in a really beautiful neighborhood with spectacular views of the Catalina Mountains. And yet, as a busy professional, I struggled to find the time to get outside and relish it all. I was reluctant to try coaching because I just didnt have time for yet another obligation. But I knew and liked Leslie so I decided to give it a try. Im so glad I did! Leslie worked with me to clarify what I wanted most to change, specifically. Creating and sticking with a focus can really be challenging but it makes all the difference. Being accountable to Leslie kept me on track and helped me put my self-care first. At the end of the day, if you want to be successful, you need to give your health care goals the time they deserve. Being in nature really helped me rest and rejuvenate so that I could better serve my patients. If youre struggling to make your health a priority, coaching with Leslie can really make a difference. I highly recommend her services. Kathleen Pickrel, Licensed Master Social Worker,

Kathleen Pickrel
Through my working with Leslie, I gained a new perspective to a long term circumstance. Now I have a particular level of insight into something that I can totally control on my own - I learned more than I ever thought possible. Thank you, Leslie!

Amy Blackburn
Excellent life coach experience!

Kerry
Dr. Bosch is incredibly knowledgeable, helpful and inspiring. Her breadth of knowledge is astounding and she applies it in very helpful ways that targeted the changes I needed and wanted to make. I can't recommend her services enough!

Rebecca