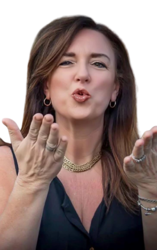 Maria Fontana

Avon-by-the-Sea, New Jersey
Life Coach, Entrepreneurship Coach, Spirituality Coach
Integrative Healing Arts Practitioner
I help Coaches, Creatives, Holistic & Spiritual Entrepreneurs start & grow a business. So that they can live on purpose sharing their gifts, skills, and talents while creating impact and money.
Details

Avon-by-the-Sea, New Jersey 07717
Send Message
Hourly Rate: $200 to $250 US Dollars
Gender: Female
About Me
I am a Multi-Passionate Entrepreneur ~published Author, Business Coach, Educator, Speaker, Entrepreneur, with over 25 years of experience in transforming and healing my clients, friends, and family. My passion is helping Entrepreneurs become the best version of themselves, inside and out. All while discovering their own innate Light, power and potential to be truly authentic, happy, successful and thriving in a passionate, purpose-filled life and business.
My own experiences in dealing with and overcoming anxiety, panic attacks, co-dependency, childhood/ adult dysfunction, and a painful divorce all while being a mom to two awesome humans, an entrepreneur of two business's and continually working on myself. These chapters of my life have guided and compelled my passion for helping other women grow, heal and succeed with real-life and business solutions. I have been through hell and just kept on going. We all got shit, you got to turn that shit around. I did and still struggle some days, but I continuously work on myself and heal while sharing my success with other women. You hold the power to thrive and be happy deep down in your soul, trust me. I am honored to serve you.
Reviews
16 reviews (5.0)
Maria is full of knowledge which she shares with complete enthusiasm. She has also acquired wisdom through her own life experiences. Maria is genuinely interested in watching her clients grow and succeed. She is warm, compassionate, and always professional. It's a blessing to know her. She is a burst of fresh energy to help with your business, with a never-ending smile.

Laurie Hoch
Maria Fontana is a wonderfully compassionate coach, who invites you to grow in a gentle, yet direct way! She delivers the exact nudge you need to move your business forward! Thank you, Maria Fontana!

Angie Morgan
Maria is an amazing intuitive that helps you grow in the areas you require. Her skills and knowledge are from personal experience and she shares these skills with you. If you want to grow your business she will get you there. I highly recommend Maria.

Leah LaManna
Roni Pall recommends Intuitive Business and Empowerment Coach - Maria Fontana. January 6 at 8:37 AM Maria gives excellent spiritual coaching and business advice! Thanks for the love, Maria!!!! Roni Pall Broker Lawyer...

Roni Pall- Attorney
Testimonial for Maria Fontana I have been in business for many years and have used numerous Business Coaches in that time frame. Never have I had the experience of working with a woman who knows her craft inside and out. She without hesitation turned my business plan on its head and made it, not only better, but workable and freed up a mountain of time for me to really work it effectively. She taught me how to be efficient and how to make my services duplicatable! If you are serious about moving your business to the next level or are just looking where and how to get started, don't delay and sign up today! It is the best time, money I have every spent. Maria sees what you can't and teaches you in a way that you can easily understand! She is the reason my business will grow in the way I knew I wanted but couldn't figure out how to get it there! Penny Hounsome Elite Health Coach PDHealth.

Penny Hounsome- Elite Health Coach
I met Maria at a workshop, I felt as if she was speaking directly to me and I actually felt emotional. After much fear and hesitation, I hired her. I had been talking about making changes for years, but never had the courage. I have been working with Maria for 2 months and I can not believe how much better I feel, the shift in my mindset and just how I approach the day is mindblowing. I have doubled my income from my at home business, am able to stay home with my baby and feel good about myself again. Investing in my Maria has been a life-changing experience, I am grateful to her. Down to earth, real life help for busy moms.

Anna Chaulers, Entrepreneur, Stay at home mom
At a time of my life when I felt very confused and lost I met Maria at a workshop at the Library. I was immediately intrigued by her story and wanted more. As I began to work with her I learned so much more than I ever knew I could. I have made major improvements to my life, relationships and started a massage and essential oil business after dreaming about it for over 10 years. Working with Maria has changed the direction of my life, income and how I feel about myself.

Susan O'Malley Hirst , Entrepreneur, NJ
Truly the best investment of my life! She appealed to me through the noise of the online world, her spiritual touch, the intuitive insight backed by all the business experience was a deal breaker for me. I was able to leave my job in banking, start my business on a budget and create a six-figure income. Maria worked with me on all levels, mindset, business and empowered me, I found my power, she was right and I listened. I will be forever grateful to her and her honesty. If you are on the fence about getting a coach, Maria Is your gal!

Judy Sanchez NJ
I took a chance on the discovery call, I never imagined what a huge help and inspiration Maria would be. I could not believe how I changed and became so much more in my power, I finally am moving forward with my life and now starting my own home business. I highly recommend her, she is a kind, true blue chick who really cares about her clients. Thank Maria!

Maxine Scalillini
Maria is beyond lovely and so knowledgeable about personal development. . A true gem!

Marissa Marguitez
"All I can say is WOW! I was able to open my first business on a budget and be my own boss! I love the way she is real, no-nonsense with tons of experience." Thanks, Maria, you rock!

Lily Jean
Maria made me feel safe, she understood my pain and shame and knew exactly what I needed, I was a skeptic, but after reading her book, I took a chance on a free call and now I am so glad I did! She is so real and gets what I need. Thanks

Rita Marie Terrone
This wonderful Coach in the heart of Wall Township is truly an oasis of Angels meets earthy getaway. Maria makes you feel like you're a Guest in her practice, She explains everything about the strategies she uses during your session. My package included beautifully blended spirituality, healing, and Business -I'm hooked!

Lina Gerardo
I met Maria a year ago, when I spoke with her to discuss a mid-life change in my career path. Feeling a little lost and confused, Maria told me her inspiring story and gave me amazing tools to use on my path to self discovery and change. Since then, I have had the privilege of listening to her speak in 2 motivational workshops for women. She has inspired and helped ignite growth and belief in myself. I am so grateful and honored to have met and worked with Maria! She is an amazing individual who has such light and insight into women and the world! If you have an opportunity to meet and work with her, you will forever be touched! Thank you Maria! ??

Kim Sambade
am a hairstylist of 8 years and hated my job, Maria helped me start my own solo business, not only did she take me step by step through the process, but I gained a great stress coping skills as well. You see I am a single mom and she knew exactly what I was going through. I am doing well now, and it is thanks to her. I got so much more than I expected. I love her and her humility

Terry Woods
She understands single moms Maria over delivers in her positive yet effective approach, I was skeptical of coaching, but it has helped me find clarity and do what I need to be successful and happy!"

Angie Dergoatin
The Smart Way To Find A Coach

1 Describe Your Goals

2 Get Matched

3 Free Consultations
Find My Ideal Coach Now