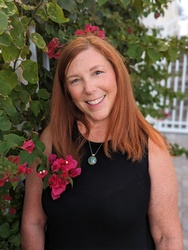 Mary Hirsch

Palm Beach, Florida
Life Coach, Health and Fitness Coach, Performance Coach
MSW, CCM
I am here to assist you in finding your power and unblocking obstacles to help you achieve your goals. I work with people to make SUSTAINABLE changes in life, health, spirituality and business
About Me
Are you ready to make lasting changes in your life? I am here to help. I am uniquely qualified to assist you in finding your power and unblocking obstacles to help you achieve your goals. I am an acclaimed Certified Professional Coach and MSW, with a lifetime of experience successfully making and sustaining big life changes in the areas of health, career, religion, and relocation.
I believe that sustainable change starts with creating a safe and supportive environment. I will work with you one-on-one to create a personalized coaching plan that fits your needs and helps you make the changes you want to see in your life.
Find your power and take control of your life
Unblock obstacles and overcome challenges
Set and achieve personal and professional goals
Improve relationships and communication skills
Increase confidence and self-esteem
Find balance and satisfaction in your life
I am a Certified Professional Coach under the Certified Life Coach Institute. This organization is APPROVED through the ICF or International Coaching Federation for coaching certification. This is THE GOLD Standard for coaching certification. Coaches are trained in skills that support GROWTH based interactions.
This is NOT therapy, WE are MAKING THINGS HAPPEN IN YOUR LIFE!
Reviews
6 reviews (5.0)
I had the pleasure of participating in a workshop given by Mary Hirsch. Mary is a very talented woman, able to bring a group of women together to share in an entertaining and most enjoyable project. I look forward to future workshops with her.

Sheila Russo
Mary is a fantastic speaker. She is captivating and passionate about her topics, and presents in a way that allows you to immediately implement positive changes in your personal and professional life. Mary's energy is contagious, I left feeling motivated to change!

Jack Orlov - President at Right Healthcare Ventures
Mary has the ability to present information in a unique and engaging way that adds value. Despite having differing levels of previous knowledge, my staff always reported walking away with new insights. She makes information approachable and useful.

Elena Silberman Scott - LCPC, CADC
I have had the pleasure of knowing Mary for years. Recently, I asked Mary if she would serve in the capacity of a coach for me. I was navigating some big life changes and I knew that her insight and compassion would give me the safe space I needed to be vulnerable so I could find the right path for me and my future. I am happy to recommend Mary to anyone that is ready to explore change in an environment of structure, accountability and results.

Michele Parker
Wow! After feeling stuck and doubtful, Mary guided me towards eye-opening realizations that encouraged me to identify the actions needed to achieve my goals. She was patient, kind, and wise beyond words. I highly recommend Mary, who is a pleasure to work with and an excellent listener.

Sophie Henner - Certified Professional Coach
Mary's coaching helped me access answers within myself to make better choices for my career path. I felt respected, empowered, and safe in her presence and walked away with clarity and actionable steps.

DS - Certified life and health coach, IFP practitioner.