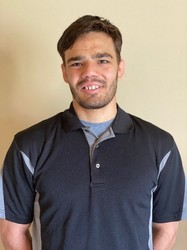 Mason Miller

Boynton Beach, Florida
Health and Fitness Coach, Life Coach, Performance Coach
MS
I coach frustrated, stressed out people who really want to achieve their health and wellness goal but just can't find the motivation for it. I transform everyday people into highly motivated warriors.
About Me
What if you could be highly motivated all the time and use it for any of your life goals? Do you dream of living a healthy lifestyle, permanently? My name is Mason Miller, and I am the founder of Champion for Life Training: Mindset and Performance Coaching, where I transform stressed out, unmotivated people into highly motivated warriors who absolutely dominate their health and wellness goals. I live my life and preach by a code: to achieve all that is possible, you must attempt the impossible; to be as much as you can be, you must dream of being more; your dream is the promise of all that you can become.
We are told as children to dream big and reach for the stars, but as we get older, we realize there is so much more to attaining dreams than just simply wanting them. Most of us come to believe our dreams are too hard to come by, that we just never had the right opportunities, or something else got in our way. We know what we want, but the sad truth is most of us are ill equipped to handle the difficulties and obstacles along the way. Our minds are so powerful, yet most of us don't know how to use it to its full potential. It's like having a sword but not knowing how to wield it. At Champion for Life, I will help you develop and master these tools so you can maximize your own potential and become that person you've always wanted to be.
I've spent years studying and researching the power of the mind to get the most out the body. As a former collegiate wrestler and coach, I understood that limitations are set by ourselves and that they can be overcome with the right mental techniques. I've taught these techniques to numerous athletes resulting in a number of state champions and national all-Americans. The reason I founded Champion for Life was to help everyone, not just athletes, learn these techniques and maximize their potential. The process I've developed is designed to help YOU discover YOU, to scrape away everything you are not to reveal who truly are.
Reviews
4 reviews (1 verified) (5.0)
Madi Highland
I really enjoyed working with Mason! He did a great job of getting me to look internally and challenge myself differently everyday! I highly recommend him to anyone whos looking to improve their quality of life!

Madi H
Since starting Mason's mindset program, I have learned a lot of mental tools that have helped me manage things which had previously consumed my life. I have seen so much growth, and it has helped me be more consistent and stick to my goals. I was drawn in through his Motivation Builder program, but I have grown in so many more areas than just motivation. I really recommend Mason if you need help being motivated and being better with self-control.

Evan Heard
Mason and I have worked together on creating mindfulness workshops for clients (I am a health coach).The knowledge, mindset, and experience he provides creates a sort of atmosphere where positive change is inevitable. And he makes difficult topics so easy to understand, and he does it with such a huge amount of compassion and kindness. I highly recommend Mason as a coach for you!

Devin