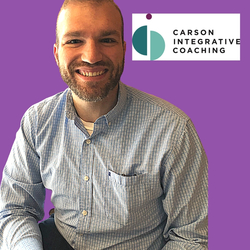 Career Coach, Life Coach, Performance Coach
cHT
Looking for a new direction? I help professionals find greater satisfaction with their life & career, identifying new possibilities and going beyond goal setting to find fulfillment in the present!
About Me
Feeling stuck, unmotivated, anxious or overwhelmed? These are a few of the heavy and disappointing feelings many of my clients come to me to resolve. It's easy in today's busy world to lose track of purpose. It can be scary if not impossible to consider reconnecting to your sense of passion, excitement and curiosity as change can often be.
Perhaps you're spending most of your time doing things that don't fulfill you or keep you from really digging into new ideas and projects that do bring you joy, lightness and happiness. You might be asking the question, "how can you help me?"
I blend a variety of unique evidence-based modalities and practices that get at their core beliefs and values, many of which have been unintentionally abandoned. I'll teach you rapid, effective and easy mindfulness and self-hypnosis techniques, based on research in neuroplasticity, emotional intelligence and mind-body psychology. This is what is unique about working with me, and you'll see this in reviews left by my clients, I'll teach you how to cultivate your brain and nervous system, think of it as a full-body mindset change, to be compatible with the life you're called to live and the work that you are inspired to do.
I've made over 15 major life\work changes over the last 10 years. That much change may sound daunting or overwhelming to you, whether you simply want to make one change or many, I tell you a bit about my story to help you understand how I can help you make smooth transitions in terms of how you live, work or experience the life or job you're already in. I've moved to new cities, changed careers from education to technology to coaching, went from technical support specialist to director of technology for a large organization, taught seminars in intuition, lost and kept off over 150 pounds using mindfulness and self-hypnosis, and started my own business.
Interested working together? Contact me to setup a complimentary discovery call today...no strings attached!
Reviews
4 reviews (5.0)
I had the pleasure of being coached by Michael for an extended agreement. During our sessions, he coached me on areas related to my career and spiritual growth. He is a very attentive listener and is grounded in life coaching strategies. As an intuitive healer he asks powerful questions to help the client explore meaningful issues. I highly recommend Michael for someone who is looking for a holistic approach to life coaching.

Kim
Michael Carson has an effortless way of coaching that provides deep introspection and insight. His thought-provoking questions offer you the space to ponder your problems in an entirely new way. He has the added skill, as a hypnotherapist, to take you on a deep internal immersion where you can find your own solutions, with his gentle and elegant guidance. I highly recommend his coaching and hypnotherapy services. Its a win-win for you.

Lani Buess
Michael helped me find out what my body already knew, but my head didn't. I came to him looking for direction and he showed me that I already knew what to do - I just needed to learn to listen to myself. I would absolutely recommend his coaching skills.

Camilla Jensen
Michael is one of my favorite practitioners to work with. He is knowledgable, compassionate and a true healer. He is attentive, acknowledges where youre at, all while guiding you to where you want to go. I look forward to working with him again in the future. Whether it be a hypnosis/coaching session, past life regression or intuition focused, he holds space eloquently and invites you to stay curious.

Amanda Carson