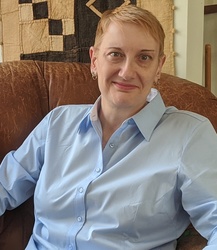 Michele Stills

Asheville, North Carolina
Performance Coach, Leadership Coach, Relationship Coach
CTA Certified, Conversational Intelligence® Enhanced Skills Practitioner (WBECS), Emotional Intelligence For Coaches, New Life Story Licensed
I help people radically improve communication skills and increase their emotional and social intelligence. My clients rock leadership positions, public speaking, and personal relationships.
About Me
WHY A CONVERSATION COACH
Something happened when you were talking, texting, or chatting online, and now you feel a disconnect. Maybe you wonder if something about the relationship has changed, and you wonder what you can say or do to clear things up. Our conversational abilities and communication skills affect our ability to:
Initiate conversations
Ask for promotions and raises
Deliver effective and dynamic presentations
Ask for what we need in relationships
Bond with others
Have effective leadership skills
Handle confrontation
Connect socially
Initiate conversations
Work well with others
Control our anger and other emotions
Human beings crave connection, and when we interact in conversation, every single time, we can deepen our connections and strengthen our relationships. Unfortunately, the opposite is also true and a conversation gone awry can leave us feeling misunderstood, confused, invalidated, angry, or hurt.
We sometimes think of our everyday conversations as "just talking," but a conversation is a place of vulnerability, so when a conversation with someone has turned out badly for us before, it can become difficult to have that, or any discussion with them again.
I use emotional intelligence, Conversational Intelligence®, and cognitive-behavioral neuro-coaching to help you find and change the patterns in your communication style that are bringing you pain and frustration.
Reviews
3 reviews (1 verified) (5.0)
I worked with Michelle over the last four weeks on my communication skills! She was wonderful! Her techniques helped me to take a breath before I react when communicating with family members. I highly recommend her!

Angela Vale
It was 110% positive.

Quinn River Kent
Michele is simply a brilliant communication coach! I had recently started a small business and quickly realized that I needed to improve my communication skills when interacting with my customers and suppliers. Working with Michele has dramatically changed the way I think about communication and I can see the results with every conversation! In addition to being introverted, I'm also on the autism spectrum, making conversations difficult for me in ways I thought were impossible to fix. But from our very first meeting, Michele was easily able to see my perspective. Michele is supportive, encouraging and incredibly knowledgeable. Her ability to see the subtleties in any type of conversation unlocked the key to understanding and connecting with, not just my customers, but everyone in my life. Thank you, Michele!

Alison L, small business owner and entrepreneur