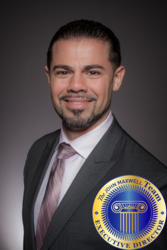 Mike Almeyda

Charlotte, North Carolina
Executive Coach, Business Coach, Entrepreneurship Coach
Executive Director and Certified Speaker, Trainer, and Coach with the John Maxwell Team
I work alongside individuals who have a desire to lead with Integrity, Humility, Courage, and Fearlessness. Together, we will cultivate a relationship that empowers your Faith, Family, and Freedom.
Details

Charlotte, North Carolina 28273
786-972-9086
Send Message
Visit Website
Hourly Rate: $350 to $450 US Dollars
Gender: Male
About Me
What will my clients tell you about me?
♦ That I am a solution-oriented, creative, and high-performing Coach with an energetic spirit and a meticulously curated suite of experiences spanning over 15 years of transformative leadership in enhancing performance, creating collaborative team environments, and executing innovative solutions to drive success. As early as my time at West Point, I've been recognized for my ability to cultivate an atmosphere of excellence while demonstrating a highly developed penchant for advocating, advising, counseling, problem-solving and mentoring.
Why should you engage my services?
♦ Because I am an effective communicator with a strong track record of success in personal development, leadership development, organizational development, public speaking and group presentations.
How have I helped past clients?
♦ Team Leadership & Staff Development - I leveraged expertise to conduct a range of robust, comprehensive training initiatives aimed at improving individual performance, workflow efficiency, and staff productivity.
♦ Sales Productivity & Performance Optimization - I fostered a result-oriented, collaborative, diverse and quality-focused workforce environment by conducting robust training that promoted team building and individual performance strategies.
♦ Public Speaking & Communications - I provided a consistent communication channel between customers and company in order to set proper service-level expectations.
Where can you find me?
Right here on Noomii or @ the number above to schedule your complimentary coaching session - I am always interested in connecting and I stand ready to help.
Still not convinced? Take a look at my areas of expertise and give me call.
▫ Consultative Sales
▫ Strategic Planning
▫ Social Media Marketing
▫ Counseling & Mentoring
▫ Neuro-Linguistic Programming
▫ Project Coordination
▫ Teambuilding & Training
▫ Community Outreach
▫ Public Speaking & Presentation
▫ Leadership Development
Reviews
6 reviews (5.0)
Wow! What an awesome experience! I have been a part of this speaking group now for 1 year and prior to joining this group, I knew I needed to learn a new skill of speaking, cause what do we do every day? We speak! Whether it be in front of our spouse, our kids, our boss, or friends, we speak. And, if we don't know how, we can cause a lot of confusion. I was constantly having to clarify and when I would speak, I would get stared at like I was an alien. My Facebook videos were also needing this new skill, and wow, what a difference this group has made!! I am now able to communicate more clearly, understand the importance of speaking clearly and am able to deliver my messages with confidence. Being able to implement the tools and skill sets has opened doors to better opportunities and I am more confident knowing that what I am learning is paying off! Mike is a very patient, encouraging coach and he continues to serve wholeheartedly and shows up with a willing, joy filled spirit! He listens, gives great feedback, is extremely humble and has integrity. Each week, I look forward to coming to the group to continue to grow, learn new skills and get filled up to be able to give to others. For this, I am extremely grateful and look forward to awesome, amazing things to take place!

Tiffany Quinones, Social Media Coordinator, Social Q's Consulting, Nipomo, CA
I was privileged to be selected into one of Mike's "Real Man" mastermind groups. Frankly, no written recommendation can do justice to the actual experience of being mentored by such a leader and deeply insightful man as Mike! As a former Marine, special agent, and business owner, I can attest that Mike is LEGIT! If you're looking to be held accountable, to grow personally / spiritually / relationally, and identify your developmental needs, please do not hesitate to go 100% "in" with Mike! I was blessed in countless ways (my relationship with God, my business, and my workplace, etc...) as a result of Mr Almeyda's mentoring, consulting, and advocating.

Maury Abreu, CEO of Omega Protective Concepts, LLC, Wayne, NJ
Mike brought tons of value! But most importantly the value he pulled out of the group!

Dennis Lee, Business Owner, Prairie, MS
Mike takes time to know each person, for me I was 325 pounds and lost 34 pounds by myself. Mike introduced the Beachbody fitness routines and the Ultimate Reset. I have lost 40 pounds in the last year and just begin TurboFire. Mike has been an asset in my road to fitness and its so important to have such positive, supportive, trained people to help.

Barbara Doland, Senior Data Analyst, TIAA, Charlotte, NC
Mike is great coach and a leader. He sets the bar high and leads by example always offering encouragement along the way. He is a great communicator and motivator so I can highly recommend him as a coach and friend.

Michael Hagee, Program Manager - Physical Security, SERC, Charlotte, NC
Mike is an exemplary coach and trainer that always seeks and achieves the best for whomever he is training. Mike goes beyond what most people would is leading individuals and groups in the achievement of their physical and mental goals in both wellness and physical perfection. A born and trained leader, Mike is an asset to any team or person looking to accomplish more than they ever dreamed of.

James Rowan, Program Manager - Security, NATF, Charlotte, NC