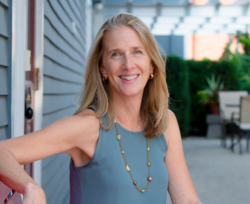 Mitzi Bockmann

New York, New York
Life Coach, Relationship Coach, Performance Coach
Life Coach Certification from Coach Training Alliance
I work with men and women who are struggling with being happy and with a low self esteem, especially around relationships. We often lose ourselves in relationships but it doesn't have to be this way.
About Me
My name is Mitzi Bockmann, a certified life coach who works exclusively with women and I am here to change your life.
I truly believe that a woman's happiness affects not only herself but all those around her: her partner, her kids, her friends, her co-workers.
I believe that women who are struggling to get out toxic relationships can in fact do so with support and building their own self self-confidence. I specialize in helping them do just so.
I believe that if a woman is happy her relationships will thrive, her children better adjusted, her friendships stronger and her work more successful. It is with this belief that I started coaching.
My process involves:
1) an assessment to define exactly where you are in your life
2) an identification of where you want to be in your life
3) creating a plan to get your from where you are to where you want to be
4) I will work with you and hold you accountable until you reach your dream through homework and continued text message support between sessions.
I have had 51 years experience as a woman and 10 years experience coaching them to identify their dreams and then reach out and grab hold of them.
As for me, I have two very tall red headed children who are both off at college.
I love where I am emotionally and physically and have a career that is flourishing. I have lived all over the world and been around the block a few times.
I am a Certified Life Coach, certified through the Coach Training Alliance, and I am a member of the International Coach Federation.
I would love to work with YOU, to help your dreams come to fruition, to better your life and that of those around you.
Reviews
16 reviews (1 verified) (5.0)
Mitzi is amazing she really is putting in 110% effort with me and it means the world to me

Mark Aakjar
Mitzi is truly a one-in-a-million life coach. I reached out to her after something very upsetting and confusing happened in my love life. From the first moment, my conversations with Mitzi helped me to unravel my complex emotions and come up with ways to move forward. Even when I felt so lost, each appointment uplifted and inspired me. Her feedback and suggestions are life-changing. Mitzi is so good at getting to the heart of the matter, and giving you actionable steps to take. She will quickly become your great supporter, your cheerleader, and your advisor. She is warm, incredibly caring, very smart, hilarious, and just an AMAZING life coach and person. Don't waste precious time: make an appointment with Mitzi if you need support in a time of transition, or if you are just looking for actionable advice on how to take your life to the next level. I am forever grateful that I found Mitzi - she has made a huge positive difference in my life.

Alyona
Mitzi is great! She came along at a time in my life when I really needed someone and her advice and concern for me has been a Godsend!

Anonymous
After only one session, I thought that Mitzi Bockmann understood me and my spouse and us better than anyone else ever had. She is truly insightful, caring, supportive, and knowledgeable. She has worked to get to know me personally to help me as an individual with a unique set of needs and circumstances. Mitzi gets my highest recommendation.

John Doe
My coaching experience with Mitzi has been very positive. My likes: Her real-life experience and willingness to share it, her wisdom, her friendly yet direct advice (which is spot-on), her professionalism. I also like her perspective from a woman's point of view, which is very helpful to me since I am a man. My dislikes: none ! I can't speak to other life coaching issues (yet) but if you are a guy looking for relationship advice I encourage you to reach out to Mitzi... you will be glad you did. I plan to continue working with Mitzi to address other areas of my life which need improvement. (Yes, she IS that good, that I am going to explore other areas of my life with her).

Grateful Gary
I had never used a life coach prior to working with Mitzi. I was desperately in need of a change and the family surrounding me didnt know how to help me, I didnt know how to help me either. Mitzi was able to break down what my needs were, she helped me create a plan to change what I was doing. After our calls she would recap in an e-mail what we discussed, give a quick list of things to work on between calls. She held me accountable without criticism and helped me achieve my goals. Mitzi often came from a place of experience, I could connect with her. She is like working with a really good HONEST friend that has no other agenda but ME. Mitzi was always looking out for my best interest and her guidance was honest, straight forward and spot on. That sometimes meant not telling me what I wanted to hear but what I needed to hear. She was the light in a dark tunnel for me. I trusted her judgment and still do, listened to her advice and now I am in a much better place in my life. I have achieved several of the goals I have set for myself with Mitzi's help. I would highly recommend her if you are looking for a great life coach!

lauriep
Mitzi came into my life at the perfect time. She has been an excellent source of advice, motivation, and inspiration during bad times, and during good times. Ive learned so much about myself, and those around me while working with Mitzi. If youre looking for a sign, this is it.

Janine D.
I started working with Mitzi when I was at a real crossroads. I was going through through a devastating breakup and I had to figure out my next moves. I needed to talk through my heartbreak and work on finding what makes me happy outside of a relationship. In the year plus since we've been working together, I'm dating again, I have a new job and a new apartment. I'm still a work in progress and she's so helpful as I navigate my new path. She's called herself a friend without motive and I completely agree with that description. The texts in between calls are really helpful when I need some perspective and guidance. I'm so much better off now than I was a year ago and I have to share a lot of the credit with Mitzi Bockmann.

Rachel S.
Back in January 2018, I felt like a lump. A lump of a human who couldnt find the motivation to get out of bed in the morning. My new relationship had hit a wall, my career was stalled in the comfort of an office job, and my family life was a disaster. I knew I needed some form of help, but something different than what therapy could offer. I want to be proactive, but didnt know the steps on how to get there. I was 26 and felt like I had no where to go. One sleepless night, I decided to quickly google life coach and Mitzis profile was the first one to pop up. I inquired, and we spoke the following day. My first session was LIFE CHANGING. I explained to her my situation, what I wanted, and we started to get to work. She was practical and honest with her guidance, but her patience allowed me to come realizations on my own. After we spoke, I was glowing so much I could cry. I had the motivation I needed to kick start my life again. Over the last year and half, Mitzi has helped me overcome more than just my lack of motivation. Shes helped me navigate career shifts, family dynamics, my relationship, anxiety, passing of loved ones, and pretty much anything that Im stressed/confused about. Her dedication to her clients astounds me, and she continually checks in on me whether we have a session scheduled for not. Mitzi helped me turn my life into what I want it to be, and to focus on my own well being first and foremost. I am now attending my dream grad school program, Ive worked past a lot of stressful family dynamics, and my boyfriend and I are happier than ever. If youre on the fence with life coaching, give it a try, especially with Mitzi. Shes a gem, and I would guarantee shell change your life.

Stephanie
I have been working with Mitzi for almost 2 years. Shes been a tremendous help and support to me during one of the most difficult times in my life. I always felt she was there for me and it was wonderful to speak with her in the privacy of my own home. Mitzi is very insightful, understanding and kind. I look forward to my conversations with her. My depression was preventing me from living my life and Mitzi was instrumental on getting me on the road to recovery.

Jackie Bonhomme
I am having a wonderful experience with Mitzi Bockmann as my life coach. Since the time I have started working with her I have seen my personal (and professional) development in the areas we work on with very noticeable progress. I will continue to work with her as I see the importance for my own personal self-care and self-growth.

K.M. Kalaitzis
I highly recommend Mitzi as a life coach. I worked with her for over 6 months and she helped me launch my new business. She helped me design my website, gave me networking ideas, encouraged me, and helped me have a positive mindset. I also loved that Mitzi is so available to her clients, as you can contact her in between appointments for short feedback or encouragement. Mitzi is passionate about coaching and helping you thrive in all areas of your life. She is very intuitive and I felt totally understood by her. She was open to talking about any topic and has gentle wisdom and direction to offer.

Julie, California
Mitzi is friendly, approachable, helpful, and dedicated. She is a fantastic listener, and provided me with very useful tips and advice for my career. She truely cares and follows up often to make sure that I am happy. I plan to continue to work with her, as she helps me change my life for the better.

Joanna, New Jersey
My experience working with Mitzi has improved my life in many ways. From our very first session to now (3 months in) I've always left feeling a greater sense of empowerment and energy to tackle the challenges we outlined together. Every time we talk I see myself accomplishing goals that I had previously believed were out of reach. She is consistently the catalyst in my successes and without her I would likely be stuck in my old ways of letting my surroundings determine my actions instead of actively choosing a better outcome for myself. She is constantly the conversation topic of family dinners and coffee chats with friends. I truly believe everyone should consider the positive impact a Life Coach can have

Kate, Texas
I started working with Mitzi at the beginning of 2017. I was at the cross-roads of several major transitions: my marriage, career, parenting, and moving to another state. I felt like I had really crashed and had nothing left. In my professional career and other parts of my life, I am the person who people come to for advice and encouragement and I just didn't feel like I had a person in my life who I could turn to. I am so grateful that I found Mitzi. She has been an amazing life coach who has exceeded all my expectations. She is focused, insightful, understanding, and encouraging. In Mitzi I feel like I've found someone who can really help me see the path through the forest so to speak. She is an expert communicator and a true empath. The difference it can make in your life when you have someone who is truly supportive, an active listener, and someone who works with you to create specific action steps to get where you want to go is amazing! I would definitely recommend making this small investment in yourself as the rewards are great.

Denise, Iowa
I spent months talking to a psychotherapist with no results. The moment, I started talking to Mitzi, I began piecing my life back together from what felt like no-return. She listened, she suggested and she helped me devise and carry out a plan for my own success. She is always accommodating and encouraging. I would've spent years trying to fix what had become a mess of my life without Mitzi. If you're looking for that encouraging voice of reason to help you get through or get to the next phase of your life, call Mitzi. I can't say enough about how far I've come since I met her.

Connie, South Carolina