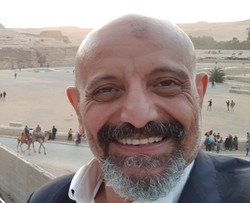 Muhammad Hijazi

Cairo, Al Qahirah
Life Coach, Spirituality Coach, Business Coach
CPC, CPT, CBIP, BBSS
I help my clients successfully maintain continuous business and knowledge growth without sacrificing other important life aspects.
About Me
Helping and supporting people and business to grow, and keep growing, in a balanced manner, is one of my utmost burning desires. I have already helped many people and companies around the globe. I genuinely and authentically furnishing my knowledge, experience and time to inspire, motivate and guide every single life on this planet.
My coaching process is so simple, yet so effective. It really varies from client to client, however my first ever step is to build a warm, genuine relationship that's full of trust, confidentiality, fun and positivity. Then, we start with end in mind where we imagine and analyze the Goal(s) together. Following that we check the current situations, how to bridge the gaps throughout an actionable plan fully executed by the client with me following up.
My clients are always in a very safe atmosphere where I don't judge or advise, rather I let them explore themselves, their believes, potentials and consequently their own goals!
Executive and leaders in different industries always in strong needs to keep motivated and inspired, aligned with project deadlines, milestones and budget and innovatively design solutions and architectures. Most importantly lead other staff to stay in top performance with excellent mood. My role as a coach is to guide and support those leaders and executives in all these activities while maintain work-life balance.
Reviews
8 reviews (5 verified) (4.88)
He is areal terrific coach whose make me feel energized, supporting me to reach my goal. With him i started working on my own business as a coach. Thank you to follow up with me.

Nadia
I felt comfortable with him and i think he is professional and with good knowledge of his tools

Moustafa Ahmed Hussein
The experience and maturity of this coach reflects in the way he leads the coachee, by breaking down his challenge into small manageable parts and then addressing each part in a simple, pragmatic manner. His professionalism and objectivity shows up in his words and body language, his interjections and above all his questions. I strongly recommend him to anyone seeking to grow in any aspect of their life.

Sudhanshu Mishra
Listener and wise

hesham eladawy
Coach Hijazi helped me alot to reorganize my life and achieve my goals. My sessions with him were funny, energetic yet so fruitful.

Dr. Ahmed Sabry
I have really enjoyed working with Muhammad. He offers a genuine style of coaching which left me after each session feeling, heard, validated, and empowered in my personal choices. I hope to continue to work with him in the future as life is constantly evolving.

Cee
Very good listener, asked good questions opening ideas in my mind. Goes to areas I have not reached before, which showed me paths to tackle.

Riham
Excellent coaching session with a very intelligent coach!

Dr/Ahmed Sabry