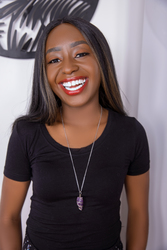 Nelly Resian

Nairobi, Nairobi Area
Life Coach, Spirituality Coach, Relationship Coach
MBA
I coach adults in the 27-60 yr age bracket who are ready to transform their lives to become the best version of themselves. We work together on their mental, spiritual and emotional well being.
Details

Nairobi, Nairobi Area

+254746141640

Send Message
Visit Website
Hourly Rate: $125 to $200 US Dollars
Gender: Female
Training: Destiny Life Coaching Kenya
About Me
I am a teacher of alignment. I guide my clients to align with their goals and be in harmony with who they really are to the core of their being. I guide them to their true power, so they can turn their life around, mold themselves into the version they want to be and create a happier, fulfilling life. I help my clients get UNSTUCK in any aspect of their lives. How I approach this is by focusing on my client's mental, emotional and spiritual states, identifying limiting beliefs that have been holding them back, guiding them on how to understand themselves better and how to carry this habit into their future, working together to tailor solutions, perfect for their unique selves and circumstances. All through this journey, I am their accountability partner helping them articulate new habits and beliefs.
I received my life coach training from Destiny Life Coaching and I'm affiliated with ICR.
Reviews
14 reviews (3 verified) (4.93)
Nelly has been a God-send! She has been exactly what I needed and I've learned so much about myself and about the world. She is a great listener and knows exactly when to push me beyond my comfort zone, and when to place a topic aside. She surprises me often by bringing in details I shared many sessions ago into the current session to tie in observations when she notices a pattern. I appreciate her candor, her compassion, her skills in knowing when I need a coach, vs. when I need a teacher, vs. when I just need to rant, and her authenticity. She might have an idea of what she wants to cover in a session however she's flexible and allows the conversation to steer in the direction it needs to go at the time. Our sessions have sometimes gone over the allocated period (which is I found other coaches limit significantly) and she allows it to flow to a close naturally. I'm not sure when her services became a Need and no longer a Want. I'm grateful to her for helping me though a really dark time in my life.

Emmelea
My experience was 100% positive and helped me to start my journey to my objectives. The way she is following to understand each other create the smooth relationship between us in the process. Her kind and caring heart make me to miss her after the completion of the journey. She is so professional and very good listener, her smile was heart warming. It was very positive though I couldn't able to finish as planned due to my personal reason.

Tsegenesh
It has been awesome experience and I am learning alot

Grace
Sometimes early this year 2022, I was in space where I felt stuck and unsure of my decisions about my career, purpose, and relationship with my friends. I needed someone to hold my hand and guide me through that uncertain phase of my life. I went on a crazy search on the internet using the key phrases of what I needed guidance and Nellys name popped up. I went through her profile and instantly I knew she was going to be my trusted guide. My 12 weeks journey with Nelly has been more than what I had hoped of and fulfilling! Im now more than confident to make informed decisions that aligned with my purpose and Im stepping out courageously to build a purpose-filled life of impact. Nelly is authentic, patient and always ready and available to guide. The tools she uses are impactful and well researched. I know I had initially signed up for a 12 week self discovery and clarity journey with her but Im sure this was just the beginning our life long journey together. Thanks Nelly for giving me the clarity that i desperately needed, God bless you so much!

Jemma
I was in such a rut when I first started working with Nelly. I was stuck and didn't know what to do to move forward towards my goals. Nelly, helped me unlock a part of my brain that I didn't know existed. She showed me the power of the mind and the exercises she taught me are what I use to figure out life situations. She is patient, real, helpful, and compassionate. I would choose her as a life coach over and over again.

Shallom
I had one of the best experience with Nelly Resian as my coach, I was going through a difficult time in my life and I didn't quite know how to re-structure my issues or even how to address anything. When I started my Coaching sessions with Nelly, she helped me not only realize where i was but also she played a big role in helping me discover some great resources i have within me and especially in the area of leadership. I still do call her once in a while to celebrate with me some of the mile stones i have made due to her great and professional support, i have always recommended her as a wonderful life coach.

Ken
Nelly is an amazing coach. She is an excellent listener. She has helped me transform my life and the change is AMAZING!!! She helped me uncover my purpose, be more grounded in my spirituality and work on my relationships. I can honestly say that this is the best and most confident I have felt in my entire life and I know that things can only get better. I highly recommend Nelly as a coach.

Millie Gathuku
Nelly is a great coach. Very approachable with a great personality. I really enjoyed and appreciate how she personalizes her trainings. Each session is special and the packaging is great. Am Very happy to have met her and look forward to a long coaching relationship. Be blessed!

Alex Kunni
I am very grateful for Coach Nelly. I worked with her during a difficult period in my life, and despite my confusion, she led the way, and things have gradually clarified. Her approach is professional, yet enthusiastic and supportive. Every week we could work on a goal and it really helped to have a trusted accountability partner. She provided a safe space, asking questions that helped me see my own solutions, and still didn't hesitate to come in there with me. It was also pretty awesome to find someone with whom I could chat about deliberate creation. My life is better because we walk together. Thank you Coach Nelly.

Tony
I was coming out of a failed relationship. I was stuck in my studies. My life and my psychological status was full of chaos. That was when I started having sessions with Nelly. We worked on my spirituality which was very illuminating to say the least. She guided me to align my energy to higher frequencies and to allow my soul to shine. She worked hard to untangle me from my self sabotaging ways and has helped me to be the master of my life. I connected deeply with her spiritually and I can proudly say that I feel the light within me giving me guidance and confidence with every decision I make. I think she is an amazing energetic soul healer that everyone should try.

Aloise Thigiti
I had a very rough time dealing with a lot of things, but thankfully a friend recommended me to Nelly. Since then I have become a strong willed individual and nothing shakes me as before. Now I can easily handle the daily life stresses without falling apart. I would highly recommend her services if you are serious about becoming a better version of yourself daily. Coaching is not a one time thing it takes a while but if you follow your coach faithfully and actually think and practice the things you learn during the sessions, you will begin to enjoy and live a full life-with Nelly as your coach I promise you are in good hands.

Dorothy Malala
Nelly Resian was recommended to me from a close family member. The life coach sessions I had with Nelly Resian were life changing to say the least. She helped me reach my core, understand where I was, come into terms with what was not making me happy and most importantly face my fears. Nelly Resian aided me in breaking the barriers that prevented my success, remove the social constraints that limited my progress and guided me to attaining new courage to face the future. Today, I am living a fearless life because of the life coaching sessions I had with Nelly. Nelly Resian is my earthy guardian angel.

Mary Wamae
Great coach! I recommend Nelly highly to any one with limiting beliefs and would love to get unstuck and become better.

Yuhi
She literally changed my life in 12 days!Would definitely do it again.

Linda awero