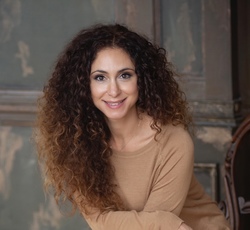 Odette Coronel

New York, New York
Life Coach, Relationship Coach, Family Coach
Do you feel stuck? Afraid of change? Want deeper connection in your relationship? I help my clients re-connect with themselves in order to create the life & relationships they want.
About Me
I am a Certified Life & Success Coach, specializing in personal development and relationship coaching.
I am passionate about helping people who are feeling unfulfilled create the life and relationships they want, by deep-diving into the relationship with themselves.
By guiding them to cultivate self-awareness and ensuring their goals and actions are in alignment with their values, I help clients create a life filled with meaning and purpose. I am dedicated to empowering my clients with tools for living to their highest potential, becoming the best version of themselves, and creating deep meaningful relationships.
Reviews
7 reviews (1 verified) (5.0)
This coach was a good listener. She was thoughtful and positive with her comments. The first session had me take stock of some components of my life. Each week worked towards goals we outlined at the beginning. It was a good experience.

Deb
I am so thankful to have the opportunity to work with Odette! She is an amazing coach and I have grown so much in our time together. I highly recommend her services. She really cares about personal development and has a number of strategies to help you create the life you want. In moments when I was feeling discouraged, she provided consist support and encouragement. I love where I am now and look forward to continuing my work with her.

Anonymous
I met Odette when I was in a very intense introspective journey. I am so grateful that the universe sent me Odette as a guide through this journey. She led me to insights I was probably reluctant to see with compassion and her own brand of assertiveness. Thank you Odette for the breakthroughs that I had. They are life transforming. I will always be grateful for your guidance.

Smitha Shetty
I enjoyed so much working with Odette! I felt from our first session that I can trust her and be open about what I was going through. She immediately made me feel safe and heard. Not only is she really sweet and kind, she has such deep and incredible wisdom! I experienced several breakthroughs and I was able to take immediate action. This helped me to move forward and grow tremendously! Moreover, I had so much fun during our sessions, which reminded me to take it easy on myself and allowed me to be more relaxed and flow with life events. My relationships and the relationship with myself improved remarkably. I have faith and enthusiasm in my goals, trust in myself and the process. Thank you, Odette! You are a fantastic coach and a wonderful human being.

A. G.
Odette is a joy to work with. She is a great listener and makes her clients feel valued and supported. Her coaching skills are exemplary because she is also very devoted to living a goal oriented and conscious lifestyle. Odette was able to help me pinpoint priority health and financial goals that I had set but wasn't fulfilling. She was able to help me prioritize a few of my essential health goals and also incite us to create foundational financial goals. I'm grateful that her heart is into making wisdom go viral and helping people discover their highest potential.

Brandon
Odette has a warm personality and the ability to put people at ease quickly. As the session progressed, I was very impressed by how Odette handled the conversation and her ability to ask poignant questions. She helped elicit some great "ephinanies" in my area of concern and how I can move myself to a better place. It certainly made me a believer in the power of coaching. While Zoom sessions are an excellent way for us to connect in the new world of Social Distancing, we forget about the loss of the personal connection found in face to face communication. Odette can make the session feel like we were in the same room, even though we were over a thousand miles apart. I would highly recommend Odette as a coach for anyone looking to make changes in their life.

C. M.
I highly recommend working with Odette. As a result of our coaching sessions, Odette has helped me make positive changes in my life and become a better version of myself. It was a wonderfully eye-opening experience.

Nan F.