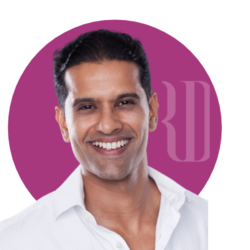 Rajeev Daswani

Dubai, Dubai
Leadership Coach, Executive Coach, Performance Coach
Founder of AHCC Wellbeing Consultancy, Leading Transformative Coach & Speaker, Mapstell Behavior Tool Ambassador & Guide, Barretts 360 Tools Certified
Many leaders, executives & aspiring entrepreneurs feel overwhelmed, stressed, demotivated, and as a result unfulfilled. I work with them to find clarity, be purpose-driven & create positive impact
About Me
My team & I work with leaders, top executives, aspiring entrepreneurs, and Working professionals who are struggling with feeling demotivated, overwhelmed, and stressed which leads them to feel unfulfilled and unhappy. Science shows that many top-level executives feel isolated and lonely, find it difficult to trust their teams, and are constantly having to put out fires. The need to continuously motivate their teams so that they can increase engagement and reduce manpower turnover which is not only exhausting but can be demoralizing for any leader. Finally, if that is not stressful enough, add the need to ensure financial success and growth
Does this sound familiar?
What if I told you that this reality can change the minute we make a choice, and begin to measure where we are?

To transform we must measure where we are and how we show up using assessments and tools. These tools can help us gain clarity by closing the gap on how we see ourselves and how others see us too. This inner work allows us to find balance and clarity while becoming purpose-led, empathetic, compassionate, trustworthy, and most of all impactful. Studies show that once we are aware and lead through purpose we tend to outperform and be more successful in life.
So how can we begin this transformation?
We go on a journey of answering Who we are? Why we are here? How we are showing up? Where do we want to go? Why its important and what difference will it make?
We answer this through measuring and benchmarking hard data using international assessments, and personality tools that give us a 360 view. We work together to gain clarity on your purpose, values, strengths and weaknesses, your natural behaviors and emotional quotient, your fears and limitations but most of all we can answer why your life counts and how you will make an impact through your life.
Some of the tools we use at AHCC Dubai, Mapstell Behavior Maps, Barretts 360, HIS Assessments: Purpose, Resilience, Wellbeing, Healt
Reviews
Rajeev doesn't have any reviews yet.