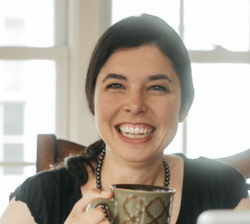 Rebecca Fraser-Thill

Maine
Career Coach, Leadership Coach
CPC, MA in Developmental Psychology, 10+ years coaching experience
Experiencing some "career soul searching"? Using design thinking, I help clients around the world develop career clarity, job search effectively, and become happier, more effective workers and leaders
About Me
Are you feeling lost, confused, disillusioned and/or frustrated by your career?
Do you wish you could figure out which career path would be a better fit for your strengths, interests, and preferences?
Are you looking to have structured, grounded support as you explore different career possibilities and decide which to move into?
Addressing these goals are my specialty, and have been for a decade's worth of coaching practice. Combining coaching skills with a background in psychology focused on identity development and the creation of meaning and purpose in life, I offer a unique approach to not only pondering how your career could be better but actually making it that way!
I work virtually with clients around the world from my office in Portland, Maine, USA, using design thinking and the Pivot Method, in which I'm certified, to guide clients through finding their optimal career direction; developing and implementing an effective job search strategy; and/or engaging deeply and meaningfully within a job (i.e., no more Sunday Scaries!). I also work with many upper-level managers and C-suite executives on deepening their authentic leadership style and resulting impact.
For 18 years I taught psychology at Bates College, a highly selective liberal arts college, and led the design of their Purposeful Work program, an industry-leading approach to preparing college students for lives of meaning and impact.
I'm the Senior Contributor on meaningful work for Forbes.com, and my work and writing have been featured in Business Insider, the BBC, Bloomberg Businessweek, Dow Jones' MarketWatch, Chicago Tribune, the New York Post, Quartz, Oprah, Optimal Living Daily, among other outlets.
I hold a Master's in Developmental Psychology from Cornell University and am a Certified Professional Coach, earned from the Certified Life Coach Institute.
Please visit my LinkedIn profile to see many reviews from clients.
I'd love to talk with you and help you make more of your career!
Reviews
5 reviews (5.0)
Working with Rebecca was an absolute joy! Her approach to coaching is very impactful and helped me understand the necessary steps I needed to take to grow and move forward. She is very knowledgeable about both making career "pivots" and career "leaps" and her insights are very helpful in strategizing for these events. I felt I learned so much during every session with Rebecca. Would definitely recommend her to any of my friends or family looking for a change!

Justin McFadden
Rebecca was like a life raft for me when I was trying to figure out what I was going to do with my career, and how to get there. She gave me actionable items to help me get a clearer picture and was fantastic about providing feedback. Whether it was through questions I had between sessions via email, or during sessions (she takes incredible notes), she always was there to help me figure out how to proceed forward, no matter how difficult it may have seemed. Looking for a job, especially a meaningful one can be scary, but with Rebecca by my side every step of the way, a lot of my fears dissipated. I cannot recommend Rebecca highly enough, I truly came out of every single session feeling elated and more determined than ever that I was heading in the right direction and that things were going to work out. If you need help from a career coach, I cannot recommend Rebecca highly enough!!!

Becca LeBow
When I started working with Rebecca, I was confused and frustrated with my career path. I knew I wasn't happy with my current job, but couldn't figure out why, or what to do next. What did moving forward even look like? How would I know a good opportunity when I saw one? Throughout the next few months, Rebecca helped me understand what I value in a job (and in life) and what I need in order to be satisfied and successful at work. Her patient guidance and wisdom gave way to much needed clarity, and together we created a clear path forward for me. She provided the tools and structure that I know I will use throughout my life to make intentional decisions about my career to ensure that I'm doing the right thing for me. Plus, her wit and kindness made our sessions something to look forward to. For the first time in many years, I feel focused and energized to find my next role, one that I know will align with my values and take me in the direction that I want to go. I only wish I had thought to work with Rebecca sooner. I cannot recommend her enough for anyone who's struggling with their professional trajectory. You will not regret it!

Kathleen Bradley
Rebecca is the best! Truly instrumental in navigating career ambiguity and helped me tremendously in honing in on what gives me energy, passion, and purpose. For anyone (of all ages/career stages) looking to make a next step that provides meaning and fulfillment in their career, Rebecca will help tremendously.

Michael Weber
Rebecca has immensely helped me during our sessions. She guided me in recognizing my values, my strong points and my weaknesses. She did so much more than originally promised: not only did we followed the a structured process to map my next steps, but she also gave me practical advice on how to tackle issues that came up as our sessions were progressing. Moreover, she is a great listener and her optimistic outlook in life is contagious. I can highly recommend coaching with Rebecca!

Athena Gaki