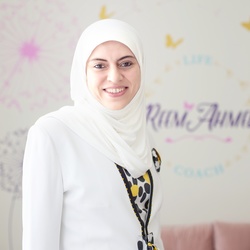 Family Coach, Relationship Coach
BS, MS, Relationship Systems Coach
I am relationships coach who help couples and families build a happier and healthier relationship with each others. If you aspire for a happy relationship, I'll be there to support!
About Me
I coach people who are striving to build healthier & happier relationships in their lives.
Do you find yourself constantly choosing the wrong partner?
Do you feel rejected and confused?
Are you engaged and feeling hesitant about this major change in your life?
Are you newly married (0-3 years) and finding it difficult to sustain the same level of happiness & joy in the relationship that once existed?
Do you feel stressed & confused while dealing with your 0-8 years child?
It does not have to be that way; you deserve to feel happy and have harmonious & healthy relationships in your life. The reason you haven't had it yet is because you did not have a clear vision on how you wanted your relationships to be & how to connect with compassion & acceptance.
This is where my coaching comes in, I'll work closely with you to release your frustration & help you define how you want your relationships to look & feel like. Then I'll work with you to set up healthier boundaries and have the happy relationship you are striving for.
My coaching helps clients reduce frustration in their relationships, they start feeling more hopeful, calmer & happier. It helps them eliminate negativity & start becoming more proactive rather than being reactive and complaining, they become more focused & positive with regards to their relationships and start making better choices.
I have 18 years of experience working in different fields, and 200+ official training hours in coaching related field, certified NLP Practitioner & Professional Coach and trained in Transformational Hypnosis & in Relationship Systems Coaching. My rich & diverse background helps me connect with and understand my clients in a uniquely deep and empathetic level. I appreciate the uniqueness of every person and their life journeys as they work to create meaningful change. I work with my clients as a partner, and help them find relief, acceptance & self-awareness while working towards building happier &healthier relationships.
Reviews
2 reviews (4.5)
The experience was amazing. I started the sessions before my position was made redundant at Emirates. However, the sessions taken helped me deal with my redundancy...i now have my goal set and i am achieveing it. If anything will stop me, it is me. Thanks to God because i could meet an amazing coach like Reem who took me from the dark thoughts causing a wall in my life to a more driven and goal oriented person. Thank you Reem once again and i pray that you continue to bring change to many lives

Andjou Armel Mea
Coach Reem Ahmed is a very pro, smart, and kind coach. I was a very complaining person to the extant that i give up after one failure and abondon my plans.. Till I got the intensive "commitment" coaching sessions with her then i achieved it completely right! She has her intelligent confident way of coaching that assures you are focused with her and on reaching the desired goals!

Maya Abbas