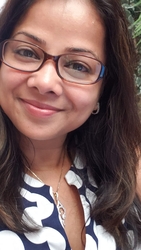 Reva Banka

Alpharetta, Georgia
Life Coach, Leadership Coach, Spirituality Coach
BA, Psychology, Certified Life and Leadership Coach
Are you at a point in your life where you just do not know what is right for you anymore? Do you have nobody left to talk to about what matters to you? If yes, talk to me, your CRISIS COACH.
About Me
I was born with a silver spoon. Had a childhood that I will take back anyday and trade anything for that. Unconditional love, unlimited support, ultimate care, all were offered by my family. I was free to dream the biggest of dreams with assurance of my parents care for what mattered to me.
It was only when I grew up, got married and came to USA I started to learn what real life challenges are. In my 1st year arriving to USA I had a major skydiving accident and you know that if you come out alive from such accident, how painful and challenging life is from there on. That was just the beginnig of a normal adult life challenges which made me realize how much support I needed from another adult who was sensible and who cared for me.
Unfortunately, that is when I also learnt that all the love, care and support which is generally avialble to a child are not necessarily available for adults. Ironically, kids who have child size problem which they may outgrow naturally,have optimum support, whereas adults may have these mountaneous challenge which could definitely use some sincere adult support, support is scarce.
Over the course I realized how much resilience and willingess for a good life I had. I learnt that anything is possible when you put your heart and mind to it. I also learnt that there is a mandatory need of adult support for all adults.
This belief sank into my blood and bones long before I went onto my coach's training. I believe that happiness and sorrows are equal parts of life and change is the only constant.
There should not be any crisis which is there to stay forever. There is nothing that you can not do because xxxx.
If you are experiencing any crisis, I will love to partner with you in changing that back to a place where you can rethink about your life, redesign and go for it.
Noomii users can book 1st meeting for $99. Which can be reimbursed if you choose to continue coaching with me. Let's talk!
Reviews
3 reviews (5.0)
I am a certified professional coach, have taught coaching courses, and have been coached by many. I can say with confidence: Reva is not your typical life coach. In our sessions she is calm, smart, and courageous. She is familiar with a lot of great exercises, and knows when to use them. She doesnt act bothered or overly attached to whatever story I am telling. And she is willing to go to difficult places. She is accredited by the ICF and although anyone can call themselves a coach and be great at it, the ICF has some important standards that she follows. She doesnt jump in with advice, she asks challenging questions, and she takes detailed notes and listens very well. If youre here looking for a pal to gossip with, well shes probably good at that too. But if you want to do real work on yourself and in your life, pick Reva.

James D
Reva is a wonderful coach, caring and thoughtful. I felt very supported by her kind presence, and her questions and exercises came from this deep care and non-judgment. She gave me space for self-reflection, and then gave me feedback (with permission) on what she noticed. I enjoyed the visualization exercise at the beginning of each session, which helped to ground me and bring intention to the call. At the start of our coaching Reva led me in an exercise called "Foundation", which highlighted key values and qualities of mine. She also did not shy away from my choice of topics, which took what experiences I was having and related them to my deeper goals. Professionally, I saw how the different insights from the calls could be tied together by the coach to form a greater truth for the client. And for the coach to find what style is most supportive to the client. Personally, that the gifts and values that I hold are the most important thing when moving forward with my professional and personal life. I became more clear on the direction I want to go professionally. I was reminded that when challenges come up, they are continued opportunities for personal growth. And to appreciate the many ways that I am supported in being in my integrity.

Susan B
Reva Banka has been such a positive influence in my life. I am a person who is introspective in general, So I am really grateful when she is able to connect dots in my values, my beliefs and my behavior which is causing me challenges. This helps me to resolve issues that I have been grappling for ages. I look forward to more self-awareness and progress through coaching sessions with Reva. Thank you Reva! You are the best!

Smitha Shetty