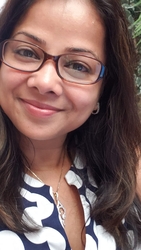 Reva Banka

Alpharetta, Georgia
Life Coach, Leadership Coach, Spirituality Coach
Psychology, Certified Life and Leadership Coach
Are you a working parent, stressed out, trying to be everywhere and make everything work? With my Coach-Approach to Life program, I will help you juggle it all with less hassle and more satisfaction.
About Me
HI, are you a working parent who is striving hard everyday to do the best at their work, be a responsible and caring parent, be a loving and involved spouse, be able to celebrate holidays with bells and whistles, take care of their extended family, go on fun vacations, do cool things with friends, be at your son's basketball game and do not want to miss your daughter's ballet recital?
Being a working parent myself, I know these are only a few from your long list of things that you SHOULD be doing. After all your juggling, you want to able to enjoy your life with loved ones and have job satisfaction too.
I am an ICF certified Life and Leadership coach. With my degree in Psychology and my personal life experiences, particularly being an immigrant for nearly 20 years, a wife for 18 years, a parent for 10 years and now a coach for 5 years, I have just the right mix of understanding and expertise to know what does it take to make it all happen and make things work.
With my Coach-Approach to Life, I can help you diffuse stress, find your strengths, find your purpose, gain new insights about self and existing life, create short term and long term goals, create action plan and build accountability and wrap it all with championing.
I will be deeply honored to partner with you in creating a more fulfilling life for you! AT this time I would like to invite you to a complimentary 30-minute phone call to discover what is possible.
Work and Volunteer Experiences:
Founder and Coach at Can&Did
Online Program Director at ICF Georgia Chapter
Active volunteer at my son's school, local library, temple and community.
Ideator and Founding member of a play school, Indo Kids in Mumbai, India
I enjoy –
Spending time with friends and family, travelling, movies, my mom duty, nature, reading, meditation and volunteering.
I love-
Coaching and helping people.
What makes it work-
My belief is success and abundance.
Reviews
2 reviews (5.0)
Reva is a wonderful coach, caring and thoughtful. I felt very supported by her kind presence, and her questions and exercises came from this deep care and non-judgment. She gave me space for self-reflection, and then gave me feedback (with permission) on what she noticed. I enjoyed the visualization exercise at the beginning of each session, which helped to ground me and bring intention to the call. At the start of our coaching Reva led me in an exercise called "Foundation", which highlighted key values and qualities of mine. She also did not shy away from my choice of topics, which took what experiences I was having and related them to my deeper goals. Professionally, I saw how the different insights from the calls could be tied together by the coach to form a greater truth for the client. And for the coach to find what style is most supportive to the client. Personally, that the gifts and values that I hold are the most important thing when moving forward with my professional and personal life. I became more clear on the direction I want to go professionally. I was reminded that when challenges come up, they are continued opportunities for personal growth. And to appreciate the many ways that I am supported in being in my integrity.

Susan B
Reva Banka has been such a positive influence in my life. I am a person who is introspective in general, So I am really grateful when she is able to connect dots in my values, my beliefs and my behavior which is causing me challenges. This helps me to resolve issues that I have been grappling for ages. I look forward to more self-awareness and progress through coaching sessions with Reva. Thank you Reva! You are the best!

Smitha Shetty