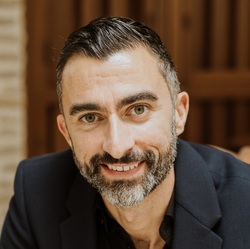 Richie Kyriacou

London, England
Life Coach, Performance Coach, Career Coach
Master Certified Professional Coach
I work with hard-working professionals holding back their true value. My clients often begin with frustration, self-doubt, overthinking and stress and finish with ultimate clarity, calm and confidence
About Me
Are you working hard but feeling you're not moving in the direction you want?
Is it all leading to frustration, doubt and depleting your confidence?
Richie specialises in helping professionals that are holding back their true value. He has helped clients all over the world struggling with self-doubt, overthinking, confidence, fear, imposter syndrome, stress and more. His intuitive style of coaching is known to deliver life-changing results in a hugely positive way.
His gift lies in his ability to listen deeply and see what you're not seeing. His technique for better living comes highly recommended as being effective, simple and sustainable.
Richie understands these struggles first-hand. They were holding him back both in life and the corporate world. He was desperate for change. He always sensed there had to be another way to be that returned more peace, happiness and confidence but didn't know how. Throughout a decade of continuous studying, practising and experiencing these positive emotional states of being, his life and career progressed in the direction he always wanted. He now devotes his working days to helping others find theirs.
Reviews
18 reviews (5.0)
Richie helped me put things in perspective and gave me the awareness and the tools to apply positive changes to my mindset and my life. He brought invaluable insight into our sessions that was unique to my situation and supported me through every challenge and every win. What an amazing journey, I had no idea how much I could benefit from this and its sometimes hard to believe how far Ive come in just a short period of time. To those of you who may be feeling stuck and have thought about working with a coach I highly recommend you take a chance on Richie. His skills and desire to help others reach their full potential is without a doubt profound and I will always be grateful to have had this empowering and life changing experience with him as my coach and my mentor. Whoever may be fortunate enough to cross his path, I have no doubt he will make an impact on their life as he did mine. Thank you, Richie!

Sharisse L, Canada
Richie was great to work with, very understanding and relatable. Before starting, he made sure I had explored the other coaches I had contacted before choosing him, that said a lot for a start. Richie helped me deal with some past experiences and current challenges and brought my thinking into focus and realignment, giving me the confidence in myself and assurance, to face the future and deal with situations. Without this help I would not be in a good head space to face life's current challenges. Thank you Richie.

Scott B, New Zealand
Richie has been amazing to work with! He is attentive, patient, and knows how to help nudge me into knowing what my brain is trying to do. He is very knowledgeable and has great coaching technique. I know I am a better person, husband, son, leader, and team member because of the time I have spent with him. Amazing job!

Brett L, US
It is no overstatement to say that Richie has had a massive impact on my life in a hugely positive way. Before we started working together, I felt trapped in my career and life and unable to escape the hurts of the past. Thanks to the commitment of Richie in helping me to work through some of the most challenging aspects of my current mindset and circumstances, I now feel liberated and that the future is filled with infinite possibility and that I am in control of my destiny

Paddy O, United Kingdom
I found Richie at a challenging moment in my life, at a crossroads, unsure in what direction I was heading. From the first session with Richie I began noticing the positive changes in the way I approach the day to day, with a different point of view that focuses on the task to hand. I was surprised at how quickly the tools provided by Richie were able to positively impact not just my life, but those around me too. Thank you Richie for releasing the better version of me

Matthew H, United Kingdom
I was fortunate to discover Richie and his coaching service. He provides the space to discuss the challenges. I am amazed at his attention to detail when he plays back to confirm his understanding. He guided me by helping to introspect the challenges I faced through insightful questions, and in the process, I had aha moments which opened possibilities for resolution. He additionally provided techniques which have benefitted me hugely. I am grateful for all the help and guidance received.

Jackson P, United Kingdom
I've had a fantastic experience working with Richie, he has given me the tools that I need to deal with challenging aspects of life, I could see and feel in myself the benefits of each session, I'm very happy that I took the step and sought out Richies coaching.

Greg M, Ireland
Richie helped me come up with solutions for issues I had. Before contacting him, I spent time trying to solve them on my own. I didn't believe I could find a solution. Richie helped me see things in different ways and then the solutions were obvious. Thank you, Richie! - Heidi

Heidi, United States
When I posted my details on Bark I was at an all-time low. Richie reached out to me. I felt lost and had little direction. Firstly, we discovered a routine for me to build on. Fast forward two months I have gained some real clarity and now on my new path. What a great guy!

Jack D, United Kingdom
I am so glad I went with Richie for my life coach. I never had a life coach or therapy before so obviously I was a little nervous but Richie on the first meeting made me so at ease, his calm, empathetic presence. I was able to be free to speak about my goals and ideas, it has been a worthwhile investment in myself. It has been life changing, so thank you Richie!

Lydia S, Ireland
Richie is an exceptional career coach. Calm, reliable and an amazing listener. Under his guidance I have become a better leader, and have also learned to strike a meaningful work-life balance. I highly recommend him.

Thomas E, Australia
Richie has been an absolute champ to work with. I often had the tendency to over-analyze everything and get overwhelmed easily with workload. Richie always managed to guide me to approach these issues with clear perspective. He is genuine, calm and compassionate - truly invaluable.

Diana W, Australia
Richie was a great leading hand in coaching me to understand and navigate my place of work. Among many other things Richie taught me the importance of how people's perception of me plays a key role in my personal brand and how to effectively present my best self. Richie's guidance has had a very positive outcome in my career progression to date

Darragh K, Australia
I started with Richie because I knew I needed a "pull up" in life. I wanted a new way of living. I am a coach myself so I know the importance of a coach. To say the least, beyond what I thought would happen, did. I had some short-term hard obstacles to overcome, with some long-term ones in mind. With the support of Richie, we managed to hit all the goals, long and short term in a short space of time. He's my rock. I'm grateful every day for his consistency and professionalism.

Sharon R, Ireland
Richie has been a really supportive life coach over the past few weeks and has asked thoughtful provoking questions which has really made me reflect on my life and take proactive steps moving forwards. To anyone who is unsure on how to move forward in their life I would recommend speaking to Richie.

George B, United Kingdom
From the start I felt welcomed and cared for. I have a lot of big goals and dreams for myself, before working with Richie- I just couldnt get started. He helped get the ball rolling. He helped me push past my comfort zone, and created a clear plan so simple to follow. He believes in you, when you dont fully believe in yourself. Richie is definitely an amazing coach.

Jesse F, Canada
Richie is thoughtful and calm. He created a safe space for me to discuss my concerns and then helped me identify my next steps for meaningful action. Working with Richie enabled me to change some underlying beliefs and then change my behavior, with my ultimate goal being to create new habits.

Heather T, United States
I am so glad I had the opportunity to work with Richie. I had been struggling with confidence and procrastination. Working with a Richie has led me to significant realizations that have completely shifted my perspective about myself and life in general. His attention to details and ability to ask the right questions is truly amazing. The fulfillment, confidence, and inspiration I gained through working with Richie was priceless.

Andrew K, United States