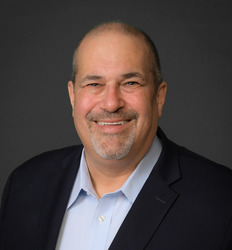 Robert Grossman

Agoura Hills, California
Business Coach, Leadership Coach, Executive Coach
Vistage CEO Chair, 360 Solutions, Team Management and Leadership Program
If you are a business leader/owner and want to become a better leader, build strong teams, improve profits, and create a long-term vision for your company, let's set a time to talk about your dreams.
About Me
I started my first company in 1993, and by the end of the first year, I was not sure if I would make it to the end of my second year. I was scared, frustrated, unsure of what to do next, paralyzed by fear of losing all of my own money I invested in the company.
Then a dear friend with an extremely successful business urged me to meet with his business coach. I did not know exactly how I was going to pay for it, but I engaged him after a one-hour meeting. I went home that night and had the first decent nights sleep in many months.
Over the next few months, with my coach, I redefined my mission statement, created company values and focused in on closing more and more business. I started to hire people, and my coach taught me how to lead, hire, fire and how to build leaders in my small company. I identified new services and products to sell, and my revenues and profitability soared. I even started taking vacations again.
My business coach was my champion, mentor, confidant, and teacher. He pushed me even when I believed I my business might be over. He challenged me over and over again as my own limiting beliefs began to dissolve and were replaced with excitement and enthusiasm. My leadership skills and confidence opened up new doors of opportunity. Most importantly, he coached me to work on my business, not always in my business.
Twenty years later and two successful businesses, I chose to sell the companies and start a new venture as a business and leadership coach. It is hard for me to believe ten years have passed since that pivotal day in my life and I have not looked back once. By the way, my business coach trained and developed me to be a powerful and highly effective coach myself. And yes, he is still my coach and he continues to push me hard, challenge my limiting beliefs and gets me out of my way.
Reviews
7 reviews (1 verified) (5.0)
Robert made me think and had great insights. I also really liked the work he challenged me with between sessions. He also made the business of working with him easy. I'd recommend him to anyone.

Matt
Robert provided an engaging seminar on Developing a Culture of High Performance for our senior management team. The team learned quite a bit in just a few days and we are now "speaking the same language" when it comes to accountability for our individual and team efforts. I am certain that any team will improve using Robert's methods. We have definitely increased our efficiency post-Robert's seminar and we are eager to learn more.

Tom Gilman, CEO, BioSero, San Diego
Robert is a powerful and highly effective business coach. I worked with Robert to clarify my goals, next steps, and to break through the barriers preventing me from taking decisive action. With Robert's help, I was able to identify a career path that would truly satisfy me and quickly secured my dream job with my dream company. Robert is both a rigorous and compassionate coach who only has the best interests of his clients. I've also participated in his webinars and programs which are designed to develop participants to become better leaders who build High-Performing Teams. I recommend Robert without hesitation.

Jennifer Leighton, Luxury Manager, The RealReal, Westlake Villiage
Robert was a wonderful business coach to me as my Vistage Chair in 2007-8 time frame. He helped me see things more clearly and make better business decisions to grow my business. I am super grateful for all Robert did for me!

Ellen Kaufman Wolf, President & Owner | Wolf Group L.A.
I hired Robert to help me figure out the best possible outcome for a difficult situation with a client. I thought for sure the client relationship was going downhill and I was going to lose the account. He helped me get a clearer perspective and consequently see options I could not see on my own. Robert helped me devise a plan that allowed me to communicate my terms and conditions without being adversarial. I saved the client relationship and it is actually stronger now that we worked through a difficult patch together. I'm sure I would not have been able to achieve the same results if I had not solicited Robert's coaching.

Marc Levin, Tax & Business Planning at Sandler Powell Jacobs & Berlin, CPAs
Robert is amazing and hiring him to help me with my fledgling law firm was the best decision. He has made my business grow and gave me the confidence to re brand my business in a way that produced immediate results. He is an amazing resource and knows what he is doing!

Silva Megerditchian, Owner, The Law Office of Silva L. Megerditchian, Experienced and Skilled Criminal Defense Attorney
I engaged Robert to guide me as I took my business in a different direction. Robert provided a blend of coaching and leadership development which played an important role in my professional growth. Robert provided an empathetic ear and challenged me in ways that will have a lasting impact. I highly recommend Robert and Black Diamond Leadership!

Shirley Wiliani, CPA, MBA, Founder and President, Wiliani & Associates, Inc.