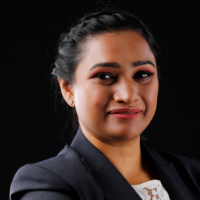 Ruchira Chakravarty

Bangalore, Karnataka
Executive Coach, Leadership Coach, Performance Coach
Gallup Certified Strengths Coach, Psychosynthesis Coach, Emotional Intelligence Coach, Acceptance and Commitment Therapy Coach
I coach Executives to move up the value chain, transform &unlock their potential. My specialization are confidence, communication, strategic mindset,empathy & team dynamics. My expertise is human Will
Details

Bangalore, Karnataka
Hourly Rate: $125 to $300 US Dollars
Gender: Female
Training: Coach Masters Academy
About Me
I work with synthesis of the human Will. Nurturing human potential to create impact on individuals, business and society is my aspiration. Working with business leaders and executives allows me to realize this aspiration by unlocking their hidden potential by synthesizing them towards their Will. Executive and business leaders are not lacking in tools, SMART goals or business plans to achieve their strategies and targets, they are energized souls who still want to do more by being more. They however, are not always sure how to unlock the next orbit of growth, move to escape velocity and address their 'Call of Self".
As a psychosynthesis coach, I help my clients unify with their Higher-Order-Self. This sets them on a transformational journey of disruptive processes that dismantles their cherished belief systems, challenges limiting self definitions, and uncovers deeply embedded patterns of perception. Through strengths based and psychosynthesis techniques, I assist my clients to explore deeper into internal resources to anchor and create awareness of new possibilities. This allows clients to naturally manifest the inherent capacities of who they truly are, beyond the normal understanding of a limited self theory, becoming more and claiming their own internal unifying center.
My work as a Transformational coach is based on the bedrock of Transpersonal and Positive Psychology.
I have established two product startups, which are now in different stages of revenue and valuation. One, Software Product organization with a revenue upward of 100 million dollars and recently an early stage tech start in Enterprise SaaS Software upward of 1 million in revenue. I have also singularly conceptualized and given shape to an industry term called HPA; Human Process Automation which is Trademarked in Singapore.
I am an Applied Psychologist, ICF and Gallup Certified Coach. A Ted speaker on Emotional Intelligence. A Psychosynthesis practitioner of Transpersonal psychology
Reviews
5 reviews (4.8)
Ruchira was super helpful in helping me transition from a mid-level management to a leadership position. During the intense coaching conversations that I had with her, she was able to push me thinking on my feet on several business dimensions that I haven't been able see before. Here are the key learnings, mental shifts and reflections of this 8-months learning journey, categorized as Lessons/shifts from the executive coaching and Leader as individual contributor At first, I had to break through the following myths which are my own mental blocks in appreciating leaderships big-picture-thinking As a leader, Im expected to know every damn thing in detail to have great control over things and my people When a leader throws a roadmap or big pitch, I often smile quoting he/she doesnt know the ground reality and probably disconnected/misaligned? If Im great at tech which is my primary core competency, I dont need to necessarily care about other aspects of the company (ex: business/product etc.) If I get my teams on my side, most of the org dynamics and top-level alignment are automatically taken care With the intense coaching conversations and with the help of my 360-degree feedback and Gallup strengths finder report, my perspectives and attitude towards leadership got changed immensely I have come to terms with myself that to be an influential & impactful leader, I must partner, embrace and value on the following 4 dimensions: The business & the ultimate goal the org is marching towards to The organization dynamics and culture My people/team(s) My technical/domain expertise Once I started realizing & accepting that the top-leaders/execs obligation is to lay down the vision and not necessarily knowing the nitigrities, Ive developed deeper empathy towards leadership and the big-pitch no longer sounded unrealistic or uncomfortable, rather, started sounding like lets embrace the unknown As a leader, it is impossible to be an SME across multiple technology areas. Ive learned to accept the unknown areas as opportunities to learn & grow, known areas as the opportunity to mentor/groom my people. After all, a great leader is someone who puts her[his] best team in solving the "known" & bring herself[himself] in solving the "unknown". Ive built and started operating with my own mental-models i.e. Im the chief, signing up to shift my thinking hat across multiple roles as needed. As I was going through this learning journey, I spent significant time defining the attributes of growth mindset and instilling several of those within me and in my future leaders (as I mentor them). It was very interesting to see that all the necessary skills/strengths that are required to be a leader are already within me. Merely those mental blocks / tags / biases that I put on the leadership were blocking me to act like a true-natural-leader My exec coach pushed me hard to speak, act and run like a leader. She also pushed me how important for a leader to create the hope and operate from the belief of a hope vs fear. Pindrop silence used to be the defining moments in my coaching conversations which only indicate a fierce thinking and deep self introspection for finding the strengths within me. Well, one might need these introspections to be facilitated at some point in his/her career? Have realized how two of my strong strengths i.e. individualization and relator were operating in basements wherein I was looking for endorsements and seeming to be lenient towards certain things (ex: handling low performance). When I learnt these blindspots that are only known to me, Ive stopped looking for endorsements and have started leading things with natural flair and conviction. Having gone through several real life situations at work and a few mocked situations thrown at me (by my coach), Ive learnt to recognize that two of my strengths i.e futuristic and connectedness happened to be my signature strengths. As a leader, it is important to constantly evaluate our sphere of influence & sphere of control. While it is important to go down a few levels and demonstrate to our teams that I understand your world better and can fix issues, it is equally important to think/perform at least 1-2 levels beyond your current level. I consider this as operating with a growth mindset. Through intense conversations with my leader then[AJ] & exec coach, it comes to me quite natural as to when to delegate vs do it myself.

Masthanaiah Cheekavolu
I reached out to Ruchira Chakravarty when I was feeling blocked and stifled in my career, and on very uncertain ground indeed. Right from the start, she showed keen insight into my problems, and shared very effectively how I was being perceived by my colleagues and bosses. By going deep into my situation, and creatively showing ways that I could empower myself, she changed the game for me - and my situation significantly improved too. Ruchira's remarkable insight into people and how organizations work, and her clarity and expressiveness turned our Zoom calls into a transformative experience. She is also very powerful at coaching how to synchronize life and career trends for best results in both. I ve been working with Ruchira for about 15 months now and am in a much different place in my career. I'm more confident, clearer in thoughts and expression, overall leading to better results going forward. I'm truly grateful that I was fortunate in having Ruchira as a coach, and I highly recommend her for those looking for ground-breaking results. Wishing her all the best. Sushmita Majumdar, Advisory Software Engineer, Cupertino, California, USA

Sushmita Majumdar
Coaching at the right time is equalent to give re birth of our Thought process. It happened in my life through my coach Ruchira . I got the light rays on my hope and clarity on my thinking capability . Now I am here Because of her personal commitment towards my growth . Thanks a lot Ruchira.

Thiyagarajan B
One of my favorite learnings going through the rigor of academia early on in my career - The journey is the destination. This perspective has freed me to focus on the learning, and Ruchira's coaching has a similar effect on me. My sessions with Ruchira have been very intense, invoking such transformation in me, that it became impossible to revert to the old mindset. She has very strong questioning skills and lots of patience - relentlessly approaches me without an opinion until I understand the issue at hand with clarity. Her emotional intelligence is high and she is able to understand a variety of people and backgrounds. Her constructive feedback has helped me understand and break perceptions that were holding me back. I am able to take strong forward steps as I face new challenges. Better understanding of my strengths has given me confidence, peace and inner happiness and I feel prepared to balance my career and priorities with a positive mindset. As a coach, she is inspiring, patient, non-judgemental and gives me freedom and comfort.

Subathra
Ruchira is truly an inspiring coach. She helps you clear your vision towards your goal and partners with you to achieve your dream. and gives you clear idea and positive person. She never advised me what directions to take in my life. She instead taught me how to choose my own directions and grow as a person for unlimited happiness. I discovered the need to set goals, achieve them and celebrate. With her coaching I became more confidence. I've achieved challenging career objectives, made two career transitions, improved personal and professional relationships, and found greater balance in my life. Her techniques allow your strengths to be realized, your journey to be appreciated and a greater sense of purpose to be obtained. I am a more confident and fulfilled individual today as a result of Ruchira's coaching. I highly recommend Ruchira as a coach

Pallavi
The Smart Way To Find A Coach

1 Describe Your Goals

2 Get Matched

3 Free Consultations
Find My Ideal Coach Now