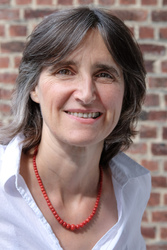 Ruth Friedman

Bruxelles, Capital Region of Brussels
Life Coach, Business Coach, Relationship Coach
BS, MS, Certified Relational Whole Body Focusing Guide
I help motivated professionals at risk of burnout. If you suffer chronic stress, anxiety or overwhelm, I can help you stay engaged at work, better manage your feelings and improve work-life balance
About Me
I coach motivated professionals at risk of burnout. Symptoms include chronic stress, overwhelm and disengagement. You often feel anxious or bored, because you don't follow through on the great ideas you have
Does that sound like you?
It doesn't have to be that way. I can help!
Burnout is a physiological response to chronic stress so it needs to be addressed physiologically. I provide simple, easy to learn tools to calm down the nervous system. Then I coach my clients to help them understand themselves, and their situation better. They learn to take better care of themselves, re-engage at work and at home, and to follow their own priorities
We all fit somewhere on the burnout spectrum. If you find it hard to say No, or hate making mistakes, then you are more at risk of a hard burn out. This is where my Burnout Prevention Program comes in
Burnout is a complex problem so we tackle it from multiple angles. Drawing on neuroscience we connect the body and the mind. We use self-reflective exercises, mindfulness and coaching to bring more awareness. We use self-compassion to bring more self-acceptance and kindness, and to welcome all your feelings, whatever they are. We also work with the body because it can change your thoughts, feelings and behaviour
My clients tell me they feel more engaged, they have the tools to manage their stress and all their feelings
My professional experience is diverse: as a scientist, an environmentalist and in project management. I have worked in corporate IT, in consultancy and for not-for-profits. I am a Certified Coach, and have been coaching since 2017
I went through my own burnout some years ago and I spent decades doing my own personal development work. I am trained in the Science of Burnout, Embodiment, Mindful Self Compassion, Focusing, and Nervous System Regulation...
The best way to find out how I can help you is to do a free 30-minute, no-obligation session. Click the 'Request Free Consultation' button above to book yours now
Reviews
5 reviews (5.0)
I went to see Ruth as I had a few things that were bothering me, and I couldn't figure out how to deal with them on my own. I had recently broken up from a rather toxic relationship and was struggling to move on and leave the negativity behind. Ruth helped me to understand the important questions to ask and assess what it was that really bothered me about the whole thing. She also helped me to stand up to my ex on a very basic level but which made me realise that I could do that with anything, not just with him. As regards work, she helped me to identify that I was quite reactive to situations and asked me to put into practice a more proactive approach which has allowed me to develop areas of my work that I enjoy more. All in all, a very useful exercise which has helped me to become a happier, more assertive person.

Sarah
I have been fortunate enough to have had a few coaching sessions with Ruth now. Each session has been really satisfying and helpful, even surprising becasue though I often start off with something in mind, working with Ruth, things come to mind that I had been unaware of and this helps me to unpick underlying issues within myself or even to appreciate other peoples perspectives. I like the way Ruth asks me to take a moment, at the start of each session, to prepare. I take this to mean, take a breath, clear my mind - or still it, breathe out, this makes me feel more unified in myself. And so, when we begin, while I do have a topic or issue to discuss (much like one might go to a doctor with a symptom) the act of bringing it up, explaining it, hearing Ruth say what she heard, thinking to myself 'Is that right? Is that what I meant? Is that what it is?' allows me to begin to discover where it might be coming from. Ruth is s good listener. She is perceptive and is able to get me to ask of myself 'what is going on here?' And this sets the stage for me to consider what I might want to do about it. I would say to anyone who feels that they are a little stuck in themselves or at odds with the external world, that Ruth is a kind and wise guide to have by your side.

Catherine
I first went to Ruth because of feelings of anxiety and loneliness, I had a hard time being alone and accepting myself as I am and I was quite critical of myself and of not being where I wanted to be in life at that point. I was specifically interested on the mindful self-compassion approach which Ruth has been trained on and which teaches you how to be kind to yourself in difficult times. With Ruths guidance my life has transformed. I learned to manage feelings of loneliness and accept my life as it is and somehow everything has come together and Ive never been happier. I am amazed that at every session I learn something new about myself and I have something to think about and work on. In a non-judgemental and compassionate approach, Ruth has given me a different perspective on my issues and has shown me how to calm myself down when Im upset and how to interpret different triggers. By teaching me to be mindful, present and kind to myself, Ruth has helped me understand and love myself at a deeper level. I have stopped being critical of myself and when I am sometimes, I am well aware of it happening. I have learned to cultivate self-love and accept the love of others. Its not an easy journey, but with Ruths help I now feel that I have the tools to manage my feelings better and embrace life with mindful awareness.

ES, Project Manager, Brussels
I arranged my first appointment with Ruth six months after I started struggling with anxiety and occasional panic attacks at work. This experience was completely new to me. I was very unhappy with this situation and developed irrational thoughts about not being able to do my job to the extent that I would eventually lose it. My emotional reaction to these uncomfortable physical symptoms resulted in a spiralling down state of body and mind at work. In our first session with Ruth we defined my objectives together: being able to handle anxiety if it arises and arriving at a state of being comfortable at work again. Over the next couple of months Ruth has taught me a few very useful techniques to accept and improve upon my situation. She followed up on my progress meeting by meeting (scheduled every two to three weeks) and carefully adapted her advice to my personal circumstances at the time. Steadily, after a couple of sessions, I have been feeling better in many of the professional settings that used to cause me great emotional stress before. Ruth also helped me to overcome a major setback in my professional progress due to a tragedy I experienced in my personal life. I would like to acknowledge here the excellent coaching Ruth has been giving me! I am now perfectly comfortable with occasionally feeling uncomfortable and I fully enjoy my job again. I'm looking forward to working with Ruth in the future on some new personal development projects!

Fanni, Chemical Engineer, Brussels BE
I have had a very constructive and life-changing experience working with Ruth. When we started our sessions it was very difficult to express myself and to be able to communicate effectively how I was feeling, largely because I was unable to connect with all my emotions and I felt overwhelmed by them. Fortunately, thanks to our work in mindfulness, I have managed to connect more with my whole being, and consequently, value myself, recognize my needs and acknowledge the importance of being more kind and benevolent to myself. This in turn has allowed me to be more present and feel part of a whole that connects me with other people and with my environment at the same time. I have seen this change reflected in many aspects, mainly in my daily life and in how I face different situations. Overall, it has really improved my well being and my relationships, starting by taking care of myself.

Catalina R-P, PhD student
The Smart Way To Find A Coach

1 Describe Your Goals

2 Get Matched

3 Free Consultations
Find My Ideal Coach Now