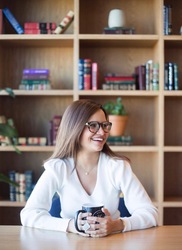 Sami Toussi

Los Angeles, California
Career Coach, Business Coach, Entrepreneurship Coach
UCLA, Board Certified Coach (BCC)
I help creatives step outside of their comfort zone, be more assertive, and find their voice to make a meaningful impact in the world. I'll help them get organized, get a plan and get it done.
About Me
As a UCLA graduate and former Project Manager from the corporate world, my coaching and consulting program is results-based. I have the highest training as an International Board Certified Coach (BCC) trained in psychology and business and through the Tony Robbins Strategic Intervention program.
Every client is different. Through my customized coaching program, I partner with you to achieve your business and life goals by focusing your strengths and passion into strategy and action. We work to break through negative habits and step into a more successful you through SMART action steps and accountability techniques. Each goal is placed into a small actionable step, and these are measured and tracked to get you consistent success.
Many of my clients while successful, know that they are not tapping into their full potential. Through coaching, they have landed their dream jobs, launched and expanded businesses, become better managers, negotiated higher salaries, and felt confident in their communication skills and beyond.
Below are just some success stories from clients:
"Sami is great at calling you on BS stories that are holding you back, energy management through mental exercises and accountability for hard skills like scheduling, time management and lead follow up" - Will, Founder and CEO
"Without Sami's guidance I would not have been able to successfully pivot my business model. Sami helped me find who I really am and to feel proud of who I'm working to become!" - Joanna, Director
"She helped me unveil my passions that have always been there, but I never recognized. I finally feel like I'm enough and am starting to feel fulfilled in my work, relationships and every other aspect in my life." - Bella, Real Estate Broker
"She helped me massively grow business by creating a plan around finding investors, international partnerships, and helped me communicate more effectively with my team." - Niels, Founder and CEO
Reviews
59 reviews (1 verified) (5.0)
I had a great experience with Sami. She helped me refocus my job search and determine what was really important to me in an employer. I now have a position in a great environment with fair compensation, a positive atmosphere and promising room for growth.

Katy Carmichael
When I started working with Sami, I was at a turning point with my independent software business. I had built a great base, but I knew the next steps for me were to define and market my business more clearly, and I was stuck on this step since the decisions felt very abstract. Sami made this intimidating work approachable by focusing on who my clients and customers are, and how the work I do to makes them successful.

Kevin James
Before Sami, I was struggling with getting an overall vision together for the growth of my company. Samis showed me just how important it is for my business to have a concrete plan and vision and how to implement and follow that plan. With Samis help I know time block and plan for every part of my business from the smallest task to the largest goals. She is so hands on with her approach and really helped bring out my best potential. If you are looking for a solid business coach, I highly recommend Sami as your first and only options.

Mike Tohikian
Sami is AMAZING! I am so happy that I decided to invest in my personal and professional growth and hire a professional coach. I have accomplished more in the past 6-8 months than I have in the 2 years prior to working with Sami. I give her my highest recommendation.

LaTonya Horhn
I started Samis programme in July last year. Since the first contact I had with her I appreciated her kindness, warmth and positive attitude. Throughout the process Sami helped me in my personal and professional life growth. She was very understanding, attentive and guided me to give my dream a chance and make it real. Courageous International was created and I could not thank her enough. It makes my heart sparkle and I could not be more grateful for having Sami with me. You will be always part of Courageous team! BIG thank you!

Ligia G Carrillo
I first reached out to Sami in May of 2020. Having lost my 9-5 at the beginning of the pandemic, I was ready to change my life and take my career and growth into my own hands. I had always wanted to start my own business but had been overwhelmed by the idea and did not really know how to go about accomplishing it. There was a lot of work to do before I could get to that point, and Sami made sure to focus on me as a person first and foremost, before we dived into my business goals. She challenged me to set new and healthier habits for myself, so that I could find joy and balance between personal and professional life. In just six months I picked a name, branded, and registered my LLC; set up my website; had my first sale; and made a lifelong friend. I am sure I could have eventually accomplished all these things without her, but it would have taken so much longer without her guidance and the time management tools she has taught me. She never told me what to do, she coaxed it out of me like a true coach. There is still so much room to grow, and I thank Sami for giving me the tools to face that growth with excitement, curiosity, and kindness.

Andrea Espinoza
Working in music (an industry that's generally quite volatile) definitely has its challenges. When I brought Sami on, my business was quickly and steadily losing revenue, as the entire industry started to collapse. Sami however, kept me encouraged and motivated and helped me re-shift my focus. Through simple, yet effective exercises and thoughtful discussion Sami helped me build a goal oriented road-map and gave me the tools to find both professional and personal success again. To have someone who can keep you accountable and get you back on track is so unbelievably valuable. So grateful for Sami!!

LC
I wanted to start my startup but before signing on to work with Sami, I had no idea what to do and had no experience launching a business. Sami with her sunny disposition and enthusiastic can-do attitude helped me achieve so many goals such as the following: Created business plan, Marketing strategy, Pitch deck, Strategy for identifying investors, Website development/user experience, Tools to hire staff, registered the business in 2 countries, applied for IP patent, set up all social media presence, prepared business documentations, press releases and so on. Apart from all the business progress I have made, I have also benefited on a spiritual level. I have learned the importance of positivity, affirmations, numerous self-help sources, letting go of the past, forgiveness, visualizations, meditation and so many other important spiritual tools. People should not worry about the cost and commitment and such trivial hesitations. They should know that if they want to achieve something, make some changes in any areas of their lives, launch or improve a business and so on, she is the best person to help them along this journey and get them to their destination. Signing on to work with her and hiring her services is one of the best decisions I have ever made.

Marty
Sami is an incredibly helpful and resourceful career coach coach. I initially sought out Samis help during a career transition in a new city (Los Angeles). I was particularly looking for help on the best to approach to jobs I wanted and was qualified for (resume/cover letter help, and job interview preparation, etc.). Sami was far more helpful in all of those areas than I could have possibly expected. However, she also offered excellent bigger picture advice and strategies- on time management, goal setting, and changing lifestyle habits and techniques- all of which helped tremendously. Her guidance helped not only in the career transition process, but also in changing overall habits and lifestyle to be more productive and at-my-best. She listens extremely well to your individual situation- your skill sets, strengths & weaknesses- and targets her advice and instructions to your particular case and the strategies best for you, as opposed to just generic advice. I cant recommend Samis coaching skills enough.

Shap Sweeney
Sami is a wonderful coach. She doesnt make any assumptions or ask leading questions. She is totally receptive to where you are now and will help you help yourself make the changes you want for your career or business. Before working with Sami, I was always working in my business with no time to assess my systems and operations. I was running around without any clear vision, hustling to keep my head above water. It was working, sort of. But I knew things could be better. Of course, I had doubts about coaching before starting. Would it be worth it? Could she actually help? Looking back on the last year, I can say that I have no regrets at all. Working with Sami has been one of the best decisions of my career. She has helped me in so many ways including: ~ I now have clear goals to work towards and accountability to meet them. ~ She helped me let go of limiting beliefs around making money and holding a position of power in society. ~ Sami helped me sort through complex relationship with my father and the ways his success blocked me from doing my work. ~ Sami gave me the confidence and clarity to make big transitions away from low-paying jobs that werent serving my career vision. ~ She has helped learn how to promote myself and my work without hesitation or feeling salesly. ~Shes given me the confidence to scale up and really express myself and my message to the world. ~ She has even helped me navigate relationship challenges in my marriage. Through our work together, Ive created space for the next stage of growth and feel great about where Im headed. Please take my word, Sami is excellent at what she does. Give her coaching a try and I dont think youll be disappointed.

Jeff Siegel
Sami has been a godsend. I was looking for a kind, but a sharp-minded business savvy woman. That's what I found in Sami! She is professional, understanding and knows her stuff. She is very intuitive and pushes me to be my best at everything I do. Her advice and presence have given me such confidence, that the other parts of my life, the non-business parts, are positively being affected as well. I'm so happy I found Noomii and really happy I found Sami Toussi!

Elizabeth G.
Before I started working with Sami, I knew the direction I wanted to take but did not have the tools or the confidence to put it into action. It was just an idea in my head. This has been an extremely new and scary experience for me my very first assignment was to come up with a business name and not long after to announce it on social media! Not long after that, I put together a clear unique value proposition in place, mastered my contract, pricing strategy, created marketing material, and got my first paying client! Sami has truly helped me stay focused, confident, accountable and manage my time between a full-time job and starting my own business, all while making sure I am taking care of my well-being. I would not be at this point without you. Thank you so much for continuing to support and believe in me while helping me believe that I can make my dream a reality!

Hannah Goetz
Sami makes you take a look at the hard stuff-- the stuff you would rather ignore and generally the catalyst of what is holding you back. She does so without judgement and with an immense compassion that makes you feel comfortable to transition through whatever obstacles you are currently facing. Her genuine care for your wellbeing makes her sessions seem more like a conversation with a friend. If you are feeling a little lost or slightly off path with you career-- Sami will help you find your way.

Lindsey T., Founder at Elevate PR Consulting, Bali, Indonesia
Sami has hosted some of our Girspace events and her workshops on goal-setting and time management leave you feeling motivated and excited for life! Her workshops always resonates with the women who attend because she's an amazing speaker whose beautiful smile brings comfort to the group. She's very approachable, relate - able and willing to offer 1:1 coaching consults to anyone who's interested to participate in her program (huge perk!) She offers you to look at things in a new perspective! We have even more events coming up in the new year and I can't wait!

Emmarie D., CEO + Owner GirlSpace, Los Angeles, CA
I was seeking out career counseling services and decided to give Sami a try. I'm so glad I did. Sami did a great job of helping me determine where I want to go in my career using hard tools like personality tests combined with the soft touch of one-on-one sessions. She is also incredibly easy to get in contact with and flexible should the need arise. For anyone who needs Career Counseling I can't recommend Sami enough.

Lucas H., Project Manager, San Diego, CA
In only a few meetings with Sami, I feel I understand and can confidently take my life in the direction I want in 2019. Our discussions have given me the tools and strategies to allow me to achieve my dreams. Sami's sympathetic, dynamic personality helped me greatly. She focuses not only on why things aren't working but how they can be made better and quickly. Her patience and listening skills make her an excellent coach for professionals, entrepreneurs and small business owners. Do not pass up a chance to meet with her.

Louis B., Writer, Los Angeles, CA
I initially started seeing Sami because I was feeling completely lost and unfulfilled in my work and life. I didn't even know what I wanted to do or what my passion was. All I knew was I needed someone to point me in the right direction. I knew I needed a change. Sami has done that and more. I have learned so much about myself and who I truly am, and why I am the way I am. I feel like every session we have together, I have a tremendous breakthrough. She helped me unveil my passions that have always been there, but I never recognized. I finally feel like I'm enough. I am now on the path to living my best life and am finally starting to feel fulfilled in my work, relationships and every other aspect in my life. I'm not sure where I would be today without her; I probably would still feel completely lost. I think everyone could benefit from a life coach like Sami.

Bella L., Actress, Los Angeles, CA
When I learned of your coaching program, I was really struggling with my career. I had graduated from NYU years prior, and working at a stressful job when I wanted to start my own business. At the time, it sounded like a near impossible endeavor, but thanks to your coaching I have now started my practice and am working toward my dream career! My confidence in what I'm doing has grown immensely and I am ready to take control of my time. Thank you! Thank you! Thank you! You really gave me the push I needed to believe that I had the power to take the reins and change the trajectory of my career and my life. I frequently find myself thinking back to our conversations and drawing strength from the guidance you gave me. I can't thank you enough for helping me get the confidence to take the first step and holding my hand on this journey. It's been an incredible ride!

Niloo Y., Owner - NilooSLP, Los Angeles, CA
As I've worked with Sami, I feel like I've gotten more clarity and direction in where I want to take the next year of my life! I have the tools and strategies to remove habits that are no longer serving me and move into a plan of action that will help me achieve my dreams. Sami is very motivational, dynamic, and above all her workshop helped me find the structure I need. She focuses not only on why things aren't working, but how we can get things better and quickly. I highly recommend her to professionals, entrepreneurs and small business owners.

Mallory K., Project Manager, Los Angeles, CA
I met Sami while she hosted a 50 people presentation in Bali. I wanted some personal coaching on how to work on the 8 areas of life, in order for me to be more balanced in my life. Sami understands exactly what I'm talking about and immediately directed me to the right exercices. I feel like I'm taking huge steps towards my goals right now.

Vadim P., Business Owner, Brussels, Belgium
I decided to get back into coaching when I realised I needed a little motivation and accountability. I found Sami through a friend. Her sessions have been very flexible around my busy lifestyle. Sami's approach is to ensure you own your own driver's seat while she helps nudge you towards your goals. It has definitely helped me what I set out to achieve.

Kellie A., Airside Systems Safety Manager at Dubai Airports, Australia
I attended Sami's WeWork Houston Workshop this year. I found it very enlightening to concentrate and focus on specific aspects of my year by identifying priorities and goals while also attacking known imminent hurdles. I appreciate Sami's approach to living life to the fullest and giving us tools to achieve great things. I hope everyone is able to reset and stay fresh personally and professionally, best by attending Sami Toussi Coaching events!

Evan R. I International Trade & Business Development I Houston, TX
I was going through a lot of change, new country, new role, etc. My perspective on life changed and the possibilities became endless. I quickly became excited but overwhelmed with everything. I needed someone to help me focus, manage my fears and move forward. In retrospect, I believe coaching does not encompass what I experienced with Sami. It was much more than that.  I wanted to accomplish a lot in a short space of time, a track record of personal projects left a few months into them and experiencing a lot of uncertainty. Working with Sami, I was able to identify my thought patterns, progress my career, develop holistic skills, define my personal values (I started with a list of 35, prioritized to only 5) develop my entrepreneurial pursuit, enrich my interpersonal interactions and stay focused (all the while staying calm!) Our calls each week would give me much to reflect on that was richer and much more outcome focused. It did away with what I later recognized as "the counter productive thinking" I spent a lot of time on. It was bite sized that allowed me to move forward and it all came back full circle to the bigger picture. Most important aspect of all this is Sami was fully there, for the period we worked together. She was meticulous, connected details, her eye was always on the bigger goal (she has refined the meaning of focus for me) and worked with me like a friend I could entirely trust.

Jaz A. I Account Director I Dubai, UAE
Sami listens with her heart and thoughtfully provides valuable feedback. A true gem to work with her!!!

Bev R. I Director of Nutrition I San Francisco, CA
I decided to hire a life coach because I was in a transitional period. I was done with my 9:00-5:00, working freelance jobs, and needed someone to help me take big action towards my dreams. I interviewed a few potential people, but I knew Sami was the coach for me right away. From day one I have loved our conversations. Each session leaves me feeling energized, and ready to conquer all that's ahead of me. Working with Sami has allowed me to get clear on my goals and has pushed me to take action towards my dreams. I am currently building my own business that makes me excited and gives me the freedom I desire. I also have grown in my personal relationships with friends, family and my significant other. Sami has helped me make this reality possible. I am so thankful for her and the awesome encouragement and guidance she has given me. I don't know what my life would look like today if I hadn't hired Sami - and I definitely do not want to find out! Sami is the best kind of cheerleader and should be first on your list if considering hiring a coach.

Rachael K. I Founder of Roadmaps by Rachael I Phoenix, AZ
With Sami's support, I became more consistent and disciplined when making a career change. I was feeling overwhelmed, not seeing what my next steps were and everything just felt very big. Sami helped me focus on small but highly effective steps like creating a daily routine and visualizing my goals. Sami has a natural ability to make you feel completely comfortable during the sessions because she comes from a truly non-judgmental place - and that's rare to find.

Mariana N. I Guest Relations, Marketing and Event Producer I Lisbon, Portugal
Thank you, Sami for your workshop on mastering time. It was great. Practical, easy to follow and very eye opening. Hope you come back to Portugal for another one soon!

Thuha N., Consultant, Lisbon, Portugal
Lovely workshop in Lisbon - super professional and happy vibes :) A nice mix of theoretical learning and practical tasks. We couldn't have packed more value into the hour!

Julia N., Photographer, Lisbon, Portugal
I attended Sami's "How to Master Work-Life Balance" at the Rotaract Club and left feeling inspired and excited to evaluate and make positive changes to my life. Sami is a naturally talented coach with a contagious energy for life that makes you want to strive for your best self. Our exercises helped clarify the most important priorities in my life. Since then, I've been going to the gym and feel healthier and overall happier.

Amr S., Pharmacist, Dubai, UAE
I absolutely loved Sami's workshop on balance and goal setting at Dojo Coworking in Canggu, Bali. I left feeling inspired and motivated. Sami cares so much about other people. I love you Sami, you are awesome!

Jade A., Yoga Instructor, Paris, France
After Sami's WeWork workshop, I decided to have sign up for a one-on-one session. She's remarkable and is very in-tune with what it takes to grow as an individual and a leader in order to reach your business goals. Thanks, Sami!

Candice L., PhD + CEO 10e5 Solutions, Houston, Texas
Every time I finish a session with Sami it feels like a weight has been lifted from my mind and heart. She gets it. As a business owner, author, development manager, mom and wife, I was feeling overwhelmed and stressed before I met Sami. Sami gave me the most rigid accountability I've ever truly had to to dive into my dreams. Together, we created well-thought out strategies to up level my business and emotional well being. Thus far, I've launched a strong business plan, strategies to connect with publishers, and she's reminded me to find my inner strength and let it shine.. She's also helped increase my sense of making my dream happen and was inspiring to me. Sami is truly one-of-a-kind, and I would recommend her to anyone looking for a highly qualified, motivational, and inspiring career coach. Call her NOW!

Diala H., CEO - www.cookwithsousou.com, Dubai, UAE
Sami has helped me in many ways; I feel like I have evolved a lot personally and professionally. She's helped me focus on what was important and trust my instinct. I've gained a lot of self esteem and self love, and I have learnt to follow my heart. I have started a website, launched an online store and made my first sales. I've taken a lot of life changing decisions and started planning some projects that are very important to me. I've discovered what I want to achieve in life and found my first clients as a freelance photographer/film maker. Sami is a very genuine and and friendly person. I did not feel judged once, I felt understood and listened to.

Nour, Filmmaker and Business Owner, Paris, France
I came across Sami when my business was in a period of growth and I felt like I needed to ensure that I was ready to handle what was going on. I also hadn't achieved a couple of personal goals that I felt I'd let myself down on. Over the months that I've worked with Sami, I've implemented new routines and thought patterns to help me focus on what is really important to me. Sami has helped me stick to my goals, both professionally and personally and I've seen real results. When life threw me a bit of a curveball, I was able to discuss this with Sami and work through the problems I was having. It would have been a much more difficult process without her support. I'm happy to recommend Sami to anyone who is looking to achieve more in life and not lose focus on the things that matter most to them.

Damian, Business Owner, Los Angeles, CA
Okay, confession: I'm one of those people who thinks that a "coach" only makes sense in the context of a basketball coach, a tennis coach, or maaaybe something like an acting coach. I'm naturally skeptical. Yet the session with Sami opened my eyes—she asked smart questions that had not occurred to me before, gently challenged me (in the best possible way), and gave me some concrete, practical "homework" that I am legit excited about. The meeting was structured, efficient, and purposeful. So even from a coach-skeptic...Highly recommended.

Jeff, Author of The Book of Joe: Joe Biden's Life, Ubud, Bali
I find happiness when I achieve my goals. Sami helped me get results a lot faster and with a lot more confidence. I think it's important for everyone to have someone like Sami help you with decision making, goal setting and accountability. She helped me grow my business by 100% through strategy planning and business guidance. Sami does a very good job and if I had to rate her skill level, I'd definitely give her five stars. A true professional!

Niels, CEO & Founder, Freelancer.nl, Amsterdam, Netherlands
I took the plunge to seek Sami's professional guidance at a time when my life was at a crossroad. It was one of the best decisions that I ever took! Before reaching out to Sami, I had just relocated to the UAE and I was feeling very confused, overwhelmed, disorientated and held a negative outlook on my life. I've closely worked with Sami for the past three months during which time I've learnt to re-discover my core values, my strengths & weaknesses and to assess what really matters to me. During our treasured sessions I've not only discovered a dedicated, committed and warm human in Sami but a mentor who successfully guided me to identify and re-focus on my values and long/short-term goals. With every passing week, I became more intentional and present in my daily endeavours and personal relationships. I've since rekindled habits and implemented new ones that help me to stay motivated, positive and focused. While I am still working on myself, the changes have not gone unnoticed – I've gained a tremendous amount of self-confidence, I'm less anxious and I stopped making excuses by adopting a Do-It-Now mind-set! Reaching out to Sami has been the best gift I've given to myself and if you are feeling like I was, Sami's knowledge and coaching will bring immeasurable benefits to your life. She is an attentive listener who will guide you to reach your goals through thought provoking questions, exercises and a positive mind-set, which rubs on you! I strongly recommend working with Sami as she has the skill and passion to lead you to achieve your objectives & become the best version of you!

Angele, Representation of Malta to the European Union, London, UK
I've been working with Sami for a few months now and I appreciate her passion for her work and her clients. She truly believes in what she does and it shines through. Sami is great at providing different perspectives on issues you may have been struggling to understand. She has a great ability to gently work with you to get to the real root of what is holding you back from living a more fulfilling life!

Jen D., FMCG Manager, Portland, Oregon
Initially I was skeptical of the idea of a career coach, but I must say I'm so appreciative of all the help Sami gave me and would recommend her to anyone who wants to jump start their career! Sami helped me think about my business differently. Before working with Sami, I was stuck. I had a lot of good ideas, but I didn't follow through on them for various reasons. I was working on a blog as a draft only and a business, but was reluctant to acknowledge it when people asked. Sami was easy to talk to; I felt comfortable discussing what was important to me and she helped me prioritize these items. By helping me set deadlines for my goals, Sami pushed me to take action. Now I have published 36 posts on my blog and my business is picking up. I would definitely do it again. Thank you Sami for all of your help!

Rachel S., Business Owner, Los Angeles, CA
I am self starter "know it all" who generally feels that I can see people's strategies a mile off. Hence life coaching was never going to be something I would naturally seek out or make time for. "I am busy and I know what is best for me...no one else can help me succeed or solve my problems". I went to see Sami as a favour to a friend who thought I would benefit. I got lucky I guess. Make time for Sami, she has a gift. She will will reset your focus and put you back in control of your whole life. I now have and continue to nurture balance in my life and I am experiencing more success at work and a general sense of gratefulness.........and I also sleep better!

Emerson L., Project Manager, Geotechnics, London, UK
COACHING TESTIMONIALS To get similar results your next step is to request a free consultation. Thank you and I look forward to connecting with you!

Below are testimonials from Sami's clients. This is what they have to say about her :
Sami is one of the easiest people to talk to that I have ever met. Hours can go by and you don't even feel it. She takes every situation and gives you the right tools and strategies to overcome them. She is thoughtful, empowering and a great listener! She always encourages you to being the best version of yourself! There isn't a mountain that she can't help you climb! :-)

Banah, Assistant Brand Manager - Fruity Confections (Skittles and Starburst) at Mars, Dubai, UAE
Sami is an outstanding coach. 75min of work with Sami were sufficient to make me shift into sticking to my daily routine that we've created together. Also Sami helped me envision and bring clarity to the direction I want to take in different areas of my life as well as the desired outcomes that I want to obtain in order to feel happy and fulfilled. She also helped me put into words the kind of partner and relationship I wanted to attract and manifest in my life. Shortly after, while at Burning Man I met the most incredible man that I could only dream of. By voicing my desired outcomes I more easily and quickly connected to them by recognizing and shifting my attention to them when they manifested. Sami also helped me identify and recognize my different inner voices and by doing so that allowed me to connect and dive even deeper into self love and self appreciation. Working with her as a coach was one of the best decision I've taken cause it was quick and definitive. Sami was committed to accompanying me on my journey and her presence and follow up after our session was very helpful. I highly recommend Sami as a coach.

Mariana, Executive Coach, Paris, France
Sami provided me a wonderful coaching session that allowed me to step back from my day to say busy schedule and assess my real professional and personal priorities. Her approach is both professional and deliberate as she primarily listens and led me to come to many of my own conclusions. I left the session refreshed and more focused on my top priorities. I look forward to future sessions together!

Marc, Managing Partner, Houston, TX
Sami helped me create an action plan on how to create a fulfilling business. She wrote me a life plan where I could envision my ideal future, with my relationship, family, business and self. She has a gift of connecting with people, and helps them feel that they can achieve anything if they set their minds to it. During our coaching sessions, I was able to release any doubts and gain clarity in my goals.

Hakeem, Entrepreneur, London, UK
I attended Sami's "How to Master Work-Life Balance" at the Rotaract Club and left feeling inspired and excited to evaluate and make positive changes to my life. Sami is a naturally talented coach with a contagious energy for life that makes you want to strive for your best self. Our exercises helped clarify the most important priorities in my life. Since then, I've been going to the gym and feel healthier and overall happier.

Amr S., Pharmacist, Dubai, UAE
Sami is an amazing life and career coach. She helped me get clear on my goals and create a plan of action to improve my personal and professional life. I have now switched careers and accepted a job I love. I also attended one of her workshops and gained a better understanding about myself and where I want to be in the next year. Thank you Sami!

Nil, Salesforce Manager, Dublin, Ireland
Sami Toussi is an angel on a mission. She will listen to your goals, understand your vision, and push you to chase your dreams. I'm so glad I had the honor I've being coached by such an empathetic and goal driven woman.

Sahar N. Entrepreneur, Dubai, UAE
Sami is wonderful. I completely agree with the sentiments below, within the first moments of speaking with Sami I felt comfortable, understood and at ease. I found our life coaching sessions incredibly beneficial. Not only is Sami authentic and genuine in her approach but she is able to relate to you... and to help you immediately pick out the areas of life to focus in on for growth. These aforementioned qualities are the reason why I was prompted to seek out coaching and why I recommend Sami as an excellent coach! Without giving too much away, Sami has exercises which I LOVE and find very helpful. I hope you enjoy your sessions and time with Sami!

Lea, Artist, Los Angeles, CA
Sami has a true passion and calling for helping others. She lightens up listening to your story, helping you reflect and assess the best action plan towards improvement. Her ability to connect with people is outstanding and made it very easy and comfortable for me to open up. Thanks to Sami I was able to identify the root cause of my obstacles and how to overcome them. Her dedication to clients doesn't stop after a session. She is great at following up to remind you of the positive exercises to apply in your daily routine and checks in for improvements. No matter what situation you're in, I'm confident Sami will be able to guide you towards the best version of yourself as she's done for me!

Adriana, VP Marketing, Los Angeles, CA
Sami is fantastic! She really hears what you are saying, and helps you focus in on what is important. It doesn't feel like a script, she makes her coaching personal and individual. I have spoken with many coaches in the past, but, Sami without a doubt is one of the best! Highly recommend her to anyone going through anything positive or negative. I am confident she will help guide you. I am looking forward to working more with Sami Toussi Coaching.

Craig, Senior Wealth Manager at Globaleye, Los Angeles, CA
I felt a connection with Sami straight away from day one. She is an extremely warm and passionate person. She has a gift in the way she can reach you and help you start living the life you want to lead both professionally and personally. Within the 6 sessions I had with Sami, my business idea went from being something in my head that I kept putting on the back burner, to something that is now on paper with steps, milestones and goals, so that with time I will realise my dream. After a number of setbacks in my personal life, Sami has helped me bring the things that are important to me into focus by recognizing and prioritizing my needs. I now have the tools and a tailor made plan so that I can experience my day to day life with a little less stress and a lot more happiness, which I am confident will provide the motivation and consistency I need to live life to the full. From the heart, thank you Sami for all you've done (and are still doing!) for me.

Julia, Fragrance Evaluator at Givaudan, Capetown, South Africa
Sami is and extraordinary person. My sessions with her helped me open my eyes and see the word from a third party's perspective. Sami is a friendly and comforting person, her ability to listen to and guide people helped me overcome some major obstacles in my social, relationship and professional life. Thanks Sami!

Jacques, Operations Manager, Dubai, UAE
Sami helped me with my residency interviews for the states. She gave me motivation, courage and let me see my unique value proposition in joining the school. After a few months of coaching, I gained the confidence to conquer my interviews and I'm now going to my dream school.

Christopher, Medical Student, London, UK
Thank you, Sami, for giving me the right words, confidence and tools to make this massive change in my career. Your guidance helped inspire me to make a change that was crucial in finding the right path for me in life.

Emile, Owner, Houston, TX
Sami helped me create an action plan on how to create a fulfilling business. She wrote me a life plan where I could envision my ideal future, with my relationship, family, business, and self. She has a gift with (use 'of') connecting with people and helps them feel that they can achieve anything if they set their minds to it. During our coaching sessions, I was able to release any doubts and gain clarity in my goals.

Roger, CEO & Owner, Los Angeles, CA
Sami provided me with the tools to make my relationship and career stronger, healthier and happier. Her motivation and positivity has made me a better communicator with my partner and at work, I now see problems as as opportunities to grow and develop. I am a better version of myself today because of the coaching I received from Sami.

Lisbeth, Account Manager, Dubai, UAE
Sami has been my coach for a few weeks now and I have already experienced a paradigm shift in my way of thinking and approaching life on a daily basis. She has a strong, positive, encouraging nature that has made helped me take control of my life and work towards my goals. I would highly recommend her as a coach to anyone who wants to achieve their full potential.

Nivs, Senior Media Executive Manager, Dubai, UAE
Working with Sami has been an incredible experience. She has been remarkably supportive and compassionate yet skillfully adept at helping me focus on what is really important to me, what stands in my way and what next steps I want and need to take in my personal and professional life. I was at first resistant to coaching, but Sami put me at ease and inspired me to design a life of my dreams. After our sessions I felt like I could do anything, there's nothing that can stop me. It's amazing to me, looking back at the process, how someone could help me cut through my doubts to be able to visualize some key goals. Thanks to Sami, I am now in the process of starting my own business, something I've been putting on hold for too long!

Padina S., Business Development Manager & Entreprenuer, Dubai, UAE