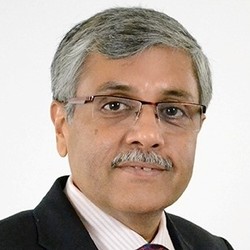 Sandeep Srivastava

New Delhi, Delhi
Executive Coach, Career Coach, Business Coach
BTech NIT K, MBA IIM L, TPC Transformational Leadership Coach, Marshal Goldsmith GLA 360 Certified Professional, Caliper Certified Assessor
If you're struggling with Career, Professional or Business issues and are finding it difficult to get the help and guidance you need, I would love to work with you to make you shine.
About Me
Are you struggling to get business, professional, or career advice/guidance from coworkers, managers, and friends, especially when you have to expose your vulnerabilities? I help people deal with their professional & career challenges by being a confidant, sounding board, and coach.
Look forward to engaging with people who want an open, non-judgmental dialogue to maximize their professional potential and/or significantly increase the value of the business they are associated with.
I have more than 30 years of corporate experience. Since 2008 I have been a career, executive, and business coach. Before that, for two decades I worked with several Indian & multinational companies in sales, marketing and executive leadership roles.
As a career coach, I have coached, mentored, and placed individuals (from students to CxOs). Helping them make appropriate career choices and coaching them through their job search process.
As an executive mentor/coach I have worked with company founders and senior leaders - helping them validate their ideas; providing critical feedback about their leadership style; having an open non-judgemental discussion; and brainstorming with them on their people and process issues.
As a business coach I have embedded myself with several small & medium businesses helping them address a range of issues from strategy formulation, organisation structuring, hiring, people development, business growth, etc.
I graduated in mechanical engineering from NIT Kurukshetra and completed my master's in business administration from the Indian Institute of Management Lucknow.
I am a TPC Transformational Leadership Coach; a Marshal Goldsmith Certified GLA 360 Professional; and a Caliper Certified Psychometric Assessment Professional.
Reviews
5 reviews (5.0)
I met Sandeep during an Executive Development program where we were in the same sub-group. It was a privilege to work with him for those two days. He is a natural "Leader". On business side, he is very knowledgeable, techno savvy, influential and trustworthy. He has great presentation and inter-personal skills. As a person he is warm, friendly and very helpful. In two days we managed to be good friends and even today continue to do so. Sandeep can add lot of value to organizations wanting to revamp and grow their business. I wish him all the very best!!

Manoj Pandit, Leadership for Utilities, Autodesk, Australia-New Zealand
Sandeep is a focused professional with in-depth knowledge and understanding of the industry. He has an excellent business networking and client engagement skills; an articulate professional with high level of energy. And his focus on customer responsiveness is truly commendable. He provided me with invaluable guidance that helped my research for a great career opening. A great person to work with…well connected, and a shrewd recruiter!!! Highly responsive and I wish him all the best.

Srinibas Patnaik, Senior Director – Business Development, SAARC Region, DigitalGlobe Inc
Sandeep is a result oriented person with a proven track record of meeting objectives and quotas. He has expertise in building businesses, companies, organizations and teams. He is an excellent presenter and public speaker. He can build and see the larger picture and also be hands-on when required. He has the ability to understand and grasp complex technical subjects in a short period of time. I found him very good at creating and implementing business and operational plans for geographical, product and channel business.

Anand Sirohi, Director Sales, Autodesk India
Working with Sandeep was a great experience. He was extremely professional & his clarity of thought was very good. His market understanding & perspectives stood out.

Sudha Kumar, CEO, Prayag Consulting, Bangalore
Sandeep has been extremely helpful in setting a direction to our vision. His valuable experience in the industry in terms of business potential as well as the financials associated with it gave us a great insight. He was very patient and was a deeply involved in understanding our business practice. His advice certainly helped us in improving a lot many issues at our end.

Sharad Hulji, Founder Director, Capricot Technologies, Mumbai