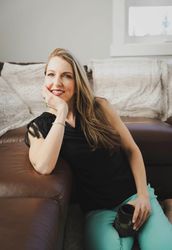 Sara Aloimonos

Yellowknife, Northwest Territories
Relationship Coach, Life Coach, Health and Fitness Coach
CTACC, RHN, CFN
As an experienced relationship and mindset coach, I help clients who are stuck in all types of relationships life hands them. I also help clients go from a fixed mindset to one of growth.
Details

Yellowknife, Northwest Territories X1A 3C2

8674456641

Send Message
Visit Website
Hourly Rate: $150 to $200 Canadian Dollars
Gender: Female
Training: Coach Training Alliance
About Me
Are you struggling in your relationship, wondering what the next step is after you've tried everything to make it work? You have given up so many times and gone back to the life you know and feel unfulfilled in? Your mindset is probably fixed on feeling overwhelmed, unsupported, and lost.
I know what the problem is. You don't have a strategic plan.
This is where I can help you. My complete understanding of what you're going through sets me apart from other coaches.
I've been there myself and have helped so many clients through tough situations. I've gained experience in teaching them and all are thriving.
I can help you in any relationship you're in whether you're looking for a partner, in the midst of getting married, are married or divorced, seeking more intimacy and/or passion, dealing with infidelity, or wanting to pursue a new life.
I have coached clients on recognizing, escaping, and rebuilding a fulfilling life after all aspects of toxic relationships whether in the workplace or with friends and family.
I have coached clients from premarital counselling all the way through until the birth of their first child. I have shown clients how to set boundaries, create new mindsets on limiting beliefs, and help rebuild confidence in themselves and their abilities.
My clients report an increase in self-confidence, self-esteem, and self-worth with the tools I teach them. Their jive for life reappeared, they were able to heal in a safe environment full of support and were excited for what lay ahead for them. Their mindset went from one of stagnation to flourishing growth!
I am also a Functional Nutritionist and help clients bridge the gap between their mindset and their nutritional goals allowing for greater success every time! Visit my website for more information and reviews.
Reviews
12 reviews (5.0)
I worked with Sara for about 10 months during a very hard and trying time in my life. What I learned and the changes I was able to make have been transformative and amazing. Im living a newer and better life thanks to the perspective she helped me gain. The best part is she didnt tell me all the answers.Like a true coach, she helped me do the work and figure it out with her guidance and encouragement. This is truly how I learn and remember things so it was a great approach with me. I cant recommend her enough. Thank you so much Sara!!!

Matthew Elliot
Working with Sara gave me the tools I needed to manage my nutrition before, during, and after training for an ultramarathon event. I gained knowledge that has allowed me to fuel my body properly and optimize my mental and physical performance on a daily basis. I am much more aware of my body's cues and how I respond to certain nutritional stimuli. Thank you, Sara, for guiding me and supporting me on this journey towards healthier eating habits!

Larissa Vassos
Sara has been amazing at helping me navigate my lifestyle changes while owning multiple businesses. She created a perfect lifestyle change plan for me which is easy to follow, takes into account my tricky schedule, and gives me challenges to face! She is the perfect coach for small business owners - I can't recommend her enough!

Hannah Eden
I first came to Sara for a gut health reboot, as I felt I needed to physically drag myself out of a pit of over-eating and despair. I saw her Gut Health Challenge advertised by another local business I follow on Instagram and decided to reach out. The plan was amazing and not only left me feeling renewed, but also really helped me to gain awareness of what I was putting into my body and the ways in which different foods could affect me both physically and mentally (knowledge that I will now keep with me forever). Since completing the Gut Health Challenge, I have signed on to regular sessions with Sara where she has supported me through my nutrition journey and has also helped me to overcome countless hurdles that are keeping me from living my healthiest and happiest life. She has helped me to better manage stress, to overcome my perfectionist mindset, to develop a curious mind, and to change my self-talk. I really enjoy working with Sara as I feel she has a deep understanding of the connection between mind and body. In our sessions, we often speak about nutrition and mindset interchangeably, which, for me, is the key to continuous progress and long term results. If youre looking to change your life in a positive way, I highly recommend working with Sara!

Melina
I knew Sara before we started with coaching. She didn't treat me like a friend as I expected. She challenged me and wouldn't let things slide. She was a huge support in what I was dealing with and kept things professional. She even offered her own experiences in what she had gone through and related her stories back to mine making me feel there was hope and we connected on a new level. I found it unusual yet unique for a coach to share personal experiences but this really allowed me to see the light and know I wasn't alone in my journey. I'm still in sessions with her and am excited to see how much more progress I'll make.

Anonymous
I sought life coaching for a relationship I was struggling to get over. With Sara's help, I recognized my attachment style and was able to see my traumas and start healing from it. This allowed me to view my last relationship as something I wasn't meant to be in and form new habits to attract someone who reflected my values. I haven't met anyone yet but Sara guided me down a new pathway of self discovery, self respect, and recognizing my worth which I know will be very important in a new relationship I'm patiently waiting for. Thank you!

Alex L.
Sara has a way of making me feel comfortable from the first call to when my emergency situations took over. She always made time for me and listened. I was going through a divorce from an abuser and Sara helped me understand that it wasn't my fault, helped me recreate the person I had lost when I got married, and plan a new path that I'm now thriving on. I'm now in a really good place and she has continued to coach me on my career choices, new relationship (that's very new still), and even my mindset around my worth. You need to see her if you're struggling with anything in your life! She has taught me freedom and to put myself first.

Mandy
Sara is magnificent human being and Life Coach. She is very passionate about helping others. She's knowledgeable, highly intelligent, genuine, kind, easy to talk to, compassionate and understanding. Sara is highly skilled and has the ability to help her clients explore a problem, find a solution and rise above any challenge. Sara has a positive attitude and energy. Are you ready to be empowered to change your life? Then I highly recommend hiring Sara. There is no better investment than you can make than investing in yourself. Investing in Life Coaching with Sara is an excellent choice.

Holly Grahn
I've often come to Sara for many personal relationship concerns and questions. She's always ready to listen, and asks detailed questions to show she's really interested in what I have to say. Many times, Sara has given me reasons to look at my situation from a different perspective when my head is lost in the clouds. After speaking with her, I always have a fresh outlook and the tools I need to make informed decisions. I would highly recommend her for any of your life challenges!

Laura J
Im dealing with the aftermath from sciatica and have a lot of complex things on the go as a result. After one session with Sara, she was able to help identify an issue Ive questioned since late 2021, that perplexed others. This has helped my recovery immensely, and I couldnt be more grateful. Sara truly cares about each and every client and takes the time to listen and get to the root of the issue. Shes able to offer various tools, tailored to your understanding and learning style when dealing with issues. I highly recommend Sara, she is truly a gem.

DP
You will always be in better spirits after talking with Sarah. She is an amazing coach and you never feel rushed.

Ken
After just one session with monarch life coaching I feel refreshed, invigorated, and already see a new path forming. Saras approach is strengths-based, kind, and intuitive. I felt like she really listened to me and asked the right questions to guide me though thoughtful and clear reflection. I am so grateful. I highly recommend reaching out to Sara to help you gain better clarity and direction in any facet of your life.

Nicole C.