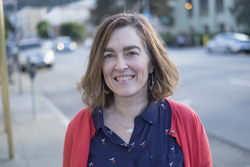 Shannon Cogen

San Francisco, California
Executive Coach, Leadership Coach
JD
I help leaders at mission-driven organizations hone leadership skills, achieve their vision and find balance. I can help you find your dream job or make your current role the job of your dreams.
About Me
I'd like to tell you that I was born to do this work — that as a small child, I facilitated meetings for my dolls and coached the family dog. While I was a weird kid in other ways, my actual journey was much twistier than that, and included waiting tables, practicing law, writing, and raising children. As a result, I know what it's like to be the only woman in the meeting, to balance work and family, and manage complicated teams. And with experience as a nonprofit C-level leader, board member, and volunteer, I understand the challenges of leading a mission-driven organization.
As a coach and a leader in San Francisco's nonprofit sector, I have had the privilege of working with diverse colleagues and clients representing a wide variety of perspectives, backgrounds, and passions. I believe that we reach our greatest leadership potential when we nurture that which is unique in and important to us — and that our organizations are better off for this diversity of cultures and perspectives. I approach every relationship from a position of empathy and cultural humility. Both inside and outside of the coaching room, I am continuously working to understand my own biases and regularly participate in workshops and trainings on allyship and anti-racism.
My most recent positions include: Chief Development Officer of Safe & Sound, Senior Director of Development at ScholarMatch and Director of Development at Jamestown Community Center. I am board chair of the Urban School of San Francisco and have chaired the board of the San Francisco Friends School. I am Vice-Chair of the Board of 18 Reasons, where I also chair the Development Committee and am on the Development Council of the Jamestown Community Center.
I live in San Francisco with my partner, two nearly launched daughters, and one not-very-coachable dog.
Reviews
3 reviews (5.0)
Shannon takes the time to deeply listen to her coaching clients, and she does so with compassion enough to challenge them when it would be helpful. She doesn't presume to know the answers or insist on a certain path toward a breakthrough, conclusion, or plan. She is really invested in helping people help themselves, so that they can build up their own skill set and learn to slow down, take a step back, and consider what would be the most helpful or most important thing to do next. One thing that stands out to me is a time when Shannon and I began to launch into a work-related topic that was important but not urgent. We dove in head first, and after ten minutes or so, Shannon gently interrupted the train of the conversation to ask if there was anything I had intended to talk about in this session or anything that was more pressing, since I had launched into the first topic without much intention or forethought. In fact, there was a much more urgent issue I wanted to discuss with her, but since it was stressing me out so much, I was putting off bringing it up. I felt grateful for Shannon's invitation to think again about what I wanted our session to be about, and I was able to spend the rest of the conversation with her talking about this more pressing (and more nerve-racking) need to set a strategy for my upcoming meeting. In more colloquial terms, Shannon, you are a warm presence and a skilled listener. Listening is a skill, and I so appreciate the work you have done to invest in yourself as a listener and share that practice with me. As a coach and member of the 18 Reasons family, you radiate generosity, and I appreciate the belief and trust you have in our staff. Thank you!"

Allison
Shannon's synthesis of issues and areas I share during our coaching session helps me get out of my head I need to stop and listen! Shannon's calm and thoughtful high-level summary gives me clarity on the one most important area that I need to focus and accomplish for the session. Shannon very seamlessly asks deep strategic questions to get me to do my best thinking, makes recommendations that are tailored to what I'm trying to accomplish and in a way that reflects me. I leave every session breathing a huge sigh of relief because I leave with a realistic and clear plan of action to implement immediately!

Nelly
Shannon really listens and provides the space to find the answers to questions you have without being told them directly. This allows for true ownership of your results. At the end of each session, I feel refreshed, energized, and ready to take on my professional goals. Through my work with Shannon, I gained the confidence and clarity needed to sidestep the career path I was on to get to a new path that will lead to the long term goals I have for my career and life. Shannon helped me formulate these goals through thoughtful questioning and compassionate reflection techniques. I look forward to continuing my work with Shannon to deepen and strengthen my career pursuits and satisfaction.

Ryan H