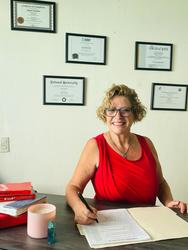 Sigrid Zandate

Placerville, California
Life Coach, Performance Coach, Family Coach
Master Hypnotherapist, Master NLP, SUD
My ideal client is someone who is at a fork-road, ready for a change and needs some guidance and clarfication in this moment in life. I love working with individuals who have non-psychological issues.
Details

Placerville, California 95667

323-273-9654

Send Message
Visit Website
Hourly Rate: $120 to $175 US Dollars
Gender: Female
About Me
Reviews
5 reviews (5.0)
Sigrid is a fantastic coach and hypnotherapist. I was going through a very difficult period of time and an acquaintance introduced me to Sigrid. Feel blessed to have found Sigrid. My father had passed away. I was the executor of the trust and my brother and two sisters came against me. It was an emotional trauma and Sigrid got me through it all. As a coach and hypnotherapist, I highly recommend her, she helps and guides you get over many, many issues.

Helen V. Seal Beach, CA. Financial Counselor
I met Sigrid when right before getting my AA degree, that's seven years ago. did not have a clue as of what direction to take, Sigrid is very insightful and with her sense of intuition she helped me sort out through many issues, the first and more insidious was the fear of success. We analyze my personality, aptitudes, skills, and my options. Now, after seeing her for a time and with her help, I am the owner of a successful business. I am so grateful for her guidance both as coach and hypnotherapist and most of all as a friend now that we became. She is just a marvelous person.

Kathy, Business owner in Sacramento
It was such a blessing to have worked with Sigrid, I met Sigrid when she was the owner of a popular restaurant in Norther California. My life was upside down at the time, I had so much in my plate, between my twin daughters of six year old and my very demanding work, it required a lot of traveling, and as a single mother, I thought that I was going to go insane. Needless to say, it was daunting. I was aware that Sigrid knew all about counseling, coaching, and hypnosis. So I utilized her in all those capacities, took all her good knowledge, wisdom, and great guidance. She helped me realize that I was one person trying to do it all. It was with her advice that I hired couple of good baby sitters, create sound, but flexible schedule for me and my daughters. After that, I even got time to date again. Sigrid is an amazing person an extraordinary coach, very insightful counselor and the best hypnotherapist. I recommend anybody to work with her, she can help you with all issues in your life, even the ones you didn't know where there.

Beatrice, IT CEO, Palo Alto, C.A.
After working with Sigrid for few months, I was able to work more focus, more efficiently, more diligent in creating goals for myself. The short -term goals she guided me into, was her best advice. She helped me managed my time better and accomplished those short-term goals they happened easily and seamlessly, which in essence after the accomplishing the various small goals, the big goals just began to happened. With her guidance, and coaching I was able to complete my dissertation and pass my exam. Not only she was with me all along my studies also she guided me into setting up my therapeutic-bio-danza studio. I feel very accomplished and am very grateful to have Sigrid in my life not only as a friend, also as coach and hypnotherapist.

Rossie, Social Worker, Los Angeles, CA
After seen Sigrid, I was able to do so many things. I don't even know where to begin. Before seen her my life was unmanageable. Then, after I was able to manage my life better; was able to stop some bad habits and give direction to my life. I had a bad temper, I guess. It was through her hypnosis that I made such big changes in my life. The biggest accomplishment was my indecisiveness of moving back from one country to another. We worked together for quite a while then with help I took the leap and moved. She is so good. We still meet on a more spread basis. I think that whatever your issues are Sigrid can always help in a big way.

Frank, P.V.