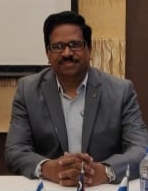 Subhash Babu V

Hyderabad, Andhra Pradesh
Executive Coach, Leadership Coach, Spirituality Coach
MBA, Mechanical Engineer ,Certified Financial Planner ( CFP CM) , NLP, Vedic Astrological Studies
I coach ambitious but stressed out executives. I partner with them to overcome performance and interpersonal hurdles. Ultimately my clients achieve their life goals besides their career objectives.
About Me
One of my core strengths has been to study and analyze people with my intuitive approach. This has vastly helped me to lead my teams with better understanding and inter personal balance. I have spent close to 3 decades in core engineering industries in areas like Operations, Sales, marketing, Project management and held senior Leadership positions, hence have coached several of my colleagues formally and informally to bring about positive changes in their behavior and performance. I have worked in multi cultural environments and I am used to different cultural backgrounds and sensibilities. Reading extensively on a variety of subjects helps me expand my overall perspective. Over the years, I have acquired qualifications to be an Executive / Leadership Coach, Certified Financial Planner and a Vedic Astrologer!
In my Coaching assignments, I have helped young executives to unlock their latent potential to grow in their roles in their organizational different functions. Few of my clients have overcome their personal issues that have blocked their fair assessment and also behavior. Close and sustained interactions have helped them overcome these blocks and unlock their minds for a better and healthy lives.
Reviews
3 reviews (4.67)
As a result of being coached by Subhash Babu, I have been more accepting of reality (acceptance of what is, and that which cannot change) and at the same time been more alive to my gifts and talents. This has provided me with freedom from anxieties and mind chatter, and also the inner push to take the action that needed to be taken. Subhash asked insightful questions which made me rethink and review my situation, lending me to draw my own solutions and answers, at the same time providing a space of neutral judgement and compassion , which was empowering.

Rashmi
I take this opportunity to share my thoughts and feedback about V Subhash Babu, I'm a mid Senior management finance professional from UK based in London. I work for a MNC and had an opportunity to connect with Subhash a few months ago in relation to financial planning. I know this sounds odd, for an executive coach, not only does Subhash d coach, he also does financial planning. I had the opportunity to avail both these services from him. Back in Nov 2019 and followed in 2020, I was in a state of mind where I was not not sure of some decisions to be made. I had multiple avenues and was held up in decision making, one wrong decision could impact not just my career but also my family. I discussed all my thoughts and plans with Subhash, back in November, and Subhash also spent quite some time understanding me and my thoughts. He helped me learn how to peal the onion . Subhash guided me, helped me assess all information I have and define priorities, , based on date Subhash helped me in prioritising what is first and what falls next. I learnt to be confident while I make any decision, defining priorities, mitigate risk, self assess based on milestones. This definitely has been a good couple of sessions in a span of 4-6 months for multiple topics I discuss with him. Today I feel, more confident while I take a decisions, glad I was introduced to you Subhash. Thank you again for your guidance and support

BK
It was a very interactive session had with Mr. Subhash Babu. He started discussion with what are my achievments in my carrer. What I feel the difference between others whom I will keep them as role models and what are their positive traits which i feel are lacking in me to improve my career progression. He listened all my replies and given me a very positive and what are the points to be focussed and practice the habits to improve my leadership/mangerial qualities. His feed back and the advice given to me is very encouraging and feel are true to improve my qualities. I said i will immediately start implementing the same. Overall it is very interactive session and the feed back is very useful .

Prakash Rao
The Smart Way To Find A Coach

1 Describe Your Goals

2 Get Matched

3 Free Consultations
Find My Ideal Coach Now