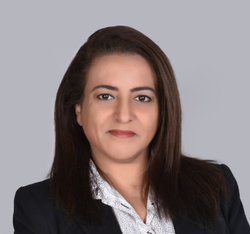 Suhair Alhaj

Riyadh, Ar Riyad
Executive Coach, Career Coach, Life Coach
Certified Career Service Provider (CCSP), certified Emotional Intelligence assessor, 360 assessments
I coach executives, entrepreneurs, employees and job seekers to help them overcome challenges, set goals and achieve them, develop their skills, and maintain a healthy work-life balance.
About Me
Certified Executive Coach, Certified Career Service Provider (CCSP), Emotional Intelligence assessor with over 14 years of experience in vocational training and in management.
I'm very passionate about empowering others and help them discover their strengths and skills and develop it further. I'm a strong believer of work-life balance and working smart not hard. I believe that in order to step forward, you need to look within and do some self discovery. I'm here to help you find your real interests and values and assists you to see the big picture, plan, organize and focus on what really matters to you and work towards achieving your short-term and long-term goals.
Everybody has a story to tell, and I'm a good listener who is willing to stand by you until you find your voice to tell your story in your own language.
Reviews
5 reviews (4.8)
It was great working with coach Suhair. She helped me a lot to look in some of my current issues in totally different view, which helped me to solve some of them. I accepted my personality more and I'll love myself more now.

Abdulrahman Taha
I had a very exciting time and experience, which showed me the road for better life and more positive energy. The Coach showed me my obstacles and opportunities that were away from my thinking. I like the results of this coaching, which enhanced my life. I hate my tears that were spilling during the coaching sessions.

Mohammad Saad
Koch Suheir was one of the best people that I met in my life. She was very kind, considerate, and a very good guide. I benefited from her experiences a lot in matters of family and business life. She was like a big sister & she was very honest to my personal secrets I wish her success and success

Abdullah Hussain
The coach is very understanding and prepares ahead from our meeting time to enrich the session. I personally benefit from her valuable directions when I felt lost in life's choices

Awsaf
Was my first time and was good experience

Maha