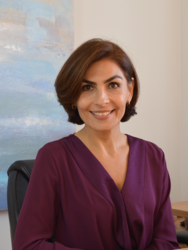 Talita Guida

Montreal, Quebec
Life Coach, Spirituality Coach
Life Coach, Spirituality Coach, ThetaHealing Instructor and Practitioner, Certified Yoga Instructor, BA in Marketing
You can change your life and finally make it happens. I can help you by identifying your hidden limiting perceptions and creating a winning mindset so you can feel confident to be who you mean to be.
About Me
I look at the person holistically to remove limiting perspectives, bring more self-knowledge and improve relationships with oneself and others.
If you are:
• Carrying feelings like resentment, rejection or regrets
• Having negative thoughts and behaviours
• Repeating patterns
• Afraid of trying and failing
• Feeling a lack of purpose
• In an abusive relationship (affective, family or work)
• Trying to get over pain or trauma
• Awaken to spirituality and feeling alone on your path
I believe that the solution to any issue begins with knowing oneself. Self-knowledge is the path leading us to our conscience awakening and self-love. We are incapable of loving someone we don't know; hence we need to know ourselves to love ourselves.
Life never stops teaching us, but this continuous learning doesn't need to be painful.
I've learned that our thoughts generate feelings that result in actions and that this, together, makes our reality. In other words, by knowing our thoughts and feelings, we have the power to create a new reality.
With this self-awareness, my clients:
• Find inner peace
• Regain self-esteem and confidence
• Enjoy healthier relationships
• Find a purpose in life
• Develop a prosperous mindset
• Reconnect with the Divinity within each being
About me:
I hold a degree in marketing and I was a bank manager for 10 years. None of my achievements back then was aligned with whom I really was, which made me feel empty and I had burnout.
I had to quit my job and start taking care of myself. I travelled to Canada, a country that eventually became mine. Immigrating to a new country immediately after a burnout made me feel vulnerable, with fears that appeared insurmountable. It was precisely at that moment of my life that I asked for professional help and dedicated myself to studying self-awareness and healing. Having learned a lot through this journey, my passion is now to help others heal, grow and become who they are.
Feel comfortable having a free consultation.
Reviews
4 reviews (5.0)
I have known Talita for over 10 years. Our relationship has included emotional health, well-being and business discussions. I found that Talita has a broad-based knowledge of many subjects and insights into my personal and professional growth that I was able to use and apply in my life. We were never short on topics, advice and comments for discussion. I would recommend Talita to anyone looking for personal growth and enhancement of their challenges and new directions in their lives.

Angela Kush - Board Certified Medical Massage Therapist California/USA
Talita insightfullness quickly guided me to where my blind spots were. She asked me the right questions that brought me instant clarity to the roots of my issues. Then, after experiencing her Theta Healing process I was left feeling much lighter and more balanced. Today I am in a completely different direction and lifestyle. Thank you, Thank you, Thank you!

M. Drienovsky
I met Talita two years ago, when I was at a chaotic moment in my life. Pandemic in full swing, a job I wasn't happy with, my 19-year relationship falling apart. I no longer knew who I was and what I wanted from my life… When a friend recommended Talita to me. Talita brought me peace, helped me to see where I can improve, to understand not only who I am and what I like but how I can change a situation in which the responsibility is also mine. Today I organize myself better, I solve my problems more easily, I realized what I like and what I don't like knowing that it's okay not to like something that doesn't do me good! It turned my professional side; I became a Flight Attendant into a phenomenal travel company, and I consider myself happy. In my relationship I can see where my flaws are and what I can do to be different. My life is much better now. Not to mention that I also took the course ThetaHealing with Talita, and it was enlightening, with an intense and transforming energy… it was 3 days with an incredible group. There is no possibility of doing coaching with Talita and continuing with the same limiting beliefs, or simply waiting for answers to fall from the sky. Thank you, my dear Talita, for this amazing journey.

Barbara Salema, Flight Attendant, Toronto-Canada
When I was first recommended to Talita by a physical therapist helping me with some major body aches, I first felt a bit in disbelief that talking to a coach would help me getting rid of my body pain. Talita helped me identify the unsolved emotional and spiritual challenges I had and how they were affecting my body. Most of the time we treat the body without understanding healing from "inside out" and in these cases, we could get our body better but the challenges will return. Through Talita's coaching, I entered a journey of healing my mind and soul first, and now I'm in the process of getting my body to feel as great! Today I feel strong and healthy to become the person I came to this world to be while enjoying this crazy road called "life"! I very much recommend Talita's work!

JA, Mother & Entrepreneur, Texas