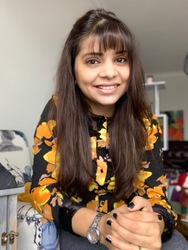 ViVi Verma

Burlington, Ontario
Relationship Coach, Life Coach, Spirituality Coach
Masters in Psychology
I coach individuals specifically males who are struggling with self-confidence, self-worthiness and want to get detangled from their current situation in life towards living a meaningful life.
About Me
I am a certified Life Coach and Hypno-linguistics Practitioner with an education background of Masters in Psychology and Human Resource Management that provides me with the scientific and structured tools to make the client rediscover their life purpose or life goals and ways to achieve them. I continue to improve, grow and hone my skills through continuing education.
My background and 10 years of experience in understanding human psychology plus being a victim of severe depression provide me with the ability to use exact tools and mindset techniques needed to identify the underlying cause of any life's issue. I help my client in the best possible and structured way by deep diving into their mindsets.
I specialize in a thought-based approach where we would be mutually identified roadblocks, creating paths to remove them and support clients in achieving their personal life and relationship goals.
My approach is an innovative blend of humor and spirituality. I always encourage two-way communication, connection, and clarity as clients access their own resources of power, creativity, purpose, and… joy!
Reviews
4 reviews (5.0)
Vertika conducts most amazing of the relationship counsellings. I had some serious trouble maintaining my professional and personal relationship due to stress. Having no control over situations made my life a mess. Vertika is a great listener and provides most amazing advices that seem small at first but make significant impact on life. In my humble opinion, she is great advisor and life coach. I endorse with my best wishes.

Sridhar Sharma
I am happy I found ViVi as my coach and got so relieved as she relates to people as real people and not clients. She is extremely professional yet a great mentor. She has provided me with mindset tools and strategies that I still find useful in my stable life. She understands that life is not JUST your career, relationships, or personal endeavors rather it is an integration of all of these which needs to be in sync. I truly appreciate her support and I highly recommend taking her session if you ever need help dealing with your life struggles.

Ayesha (Brampton)
After just a couple sessions with ViVi, I am feeling so much better about all my relationships in life. She has helped me uncover more about myself in three sessions than a therapist Ive have been for 2 years! I hope to continue to build my confidence and establish solid foundations with Coach ViVi to help me create the best relationships within my life and with myself.

Harwy (Toronto)
ViVi is an amazing life coach. She is very empathic and professional. My sessions with her helped me truly move forward with life. She has a versatile tool box that can help anyone gain clarity, transform their mindset, motivate to make a great change, and create next steps while having a supportive ear by your side.

Tammy