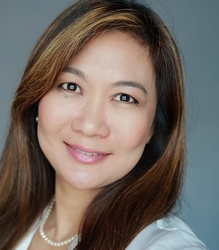 Wendy Wong Kuala Lumpur, Kuala Lumpur
Career Coach, Executive Coach, Leadership Coach
Transformative Coaching ACTP, Chartered Accountant (RMIT) Leading in Unprecedented Times (Harvard Exec Edu), Women in Leadership (Korn Ferry Inst)
Are you at a career-crossroad? Or would like to improve your impact as a leader? Whether you are starting out in your career or a senior leader, I can help you strengthen your own path that works.
About Me
I work with my clients through a process of deepened self-awareness to bring clarity and confidence to the choices they make at work. Through the 25 years of corporate experience, across different functions and countries, I have partnered many leaders in the development of their own journey. Now, as I full-time coach, I am dedicated to doing what I love - empowering others to be at their best.
Work with me to:
+ Strengthen your career goals and plans - through the years, I coached many on their career paths. Your journey is uniquely yours, let me help you make more confident choices through broadened perspectives. Working with me, we will tap into your aspiration, concerns, career advancement plans for peak performance.
+ Define your authentic leadership style - as a leader, we go through different leadership passages, from self-leadership to a first-time line manager, to manager of managers or a senior leader. Finding balance from one to the other can be hard. Let me help you with the transitions, letting go of what no longer serves, embracing new capabilities, yet staying true to your own core values.
+ Increase Team Engagement - I have worked with leaders to shift their team engagement from the lowest quartile to the highest quartile. As a leader of your team, I will help you explore ways to help your team with a shared vision and improve the ways of working.

In short, I walk alongside my clients to navigate, accelerate and celebrate their development journeys.
Reviews
Wendy has 7 reviews.
Wendy is passionate about helping others benefit from her coaching expertise, which she draws from her vast experience as HR corporate leader. Her strength lie in the ability to command the client's trust and respect to open up the coaching conversation, while applying the coaching techniques to eventually unlock potential.

I would recommend Wendy to anyone seeking her coaching.

KM Gan (ACC), Vice President L&D of a Financial Institution
Wendy is a coach beyond passion! She has the professional skills that will help people develop their potentials. I highly recommend her as a coach for her great transformative values.

Amanda L. Regional Director of Student Experience, University of the West of England, UK
Wendy is my coach from a peer coaching programme. Knowing Wendy's years of experience in leadership positions from global enterprises, I look to her as my sounding board for both business and personal development related issues.

As her coachee and a fellow coach, I must say that Wendy is definitely one of the finest coaches I have ever come across. There is an incredible calming quality about Wendy, which I believe comes from her inscrutable ability to listen deeply, so deeply she is able to get you grounded instead of fluttering about. And from there, she would draw out key insights and perspectives that many coaches would have overlooked.

Wendy is definitely a rising star and a force to be reckoned with in the coaching world. I would recommend Wendy anytime.

J. Lim, Conversational Intelligence® (C-IQ®) Coach, Singapore
Wendy is an excellent coach, professional, humble and with a great sense of humour. She enables coachees to tap into their full potential and helps them to perform with new insights, self-confidence and awareness. It is easy and fun to work with Wendy. She is flexible, creative, attentive and well-organized. We are proud that we won Wendy to represented Challenge Learning for a Train the Trainer of one of our global clients in the Finance Services Industry."

Vetter B., Managing Partner, Switzerland.
Wendy has facilitated several coaching sessions for me and each time we talk I take steps forward toward my goal. Bottom line -- she helps me move toward the results I want. She does this through a trustworthy process, her intuitive listening, and her positive, probing questions. The time I spend in conversation with her is always worthwhile, and I keep coming back for more. Thank you, Wendy.

B. Fulgham, Norwegian Refugee Council.
I worked with Wendy for almost 3 years in the South-East Asia / India Leadership Team and during that time was impressed with how Wendy as head of HR helped us in building a completely new team and a new business unit. I really valued Wendy's opinions on a broad range of business topics and admired her passion for people development which led to a step-change in the quality of leadership pipeline in the region. Wendy is a true HR professional and it was a pleasure working with her.

P. Lekawski, General Manager. (Mr. Lekawski previously worked with Wendy in a Multinational Corporation.)
Wendy was really helpful in my initial consultation with her. She can capture the essence of your character and your struggles very quickly and applied techniques that help you identify your wants and needs in a career as well as identifying what are the next steps of action to take. She is also very encouraging that by the end of the consultation, you do see light at the tunnel! Thanks, Wendy :)

Nadia, Health and Wellness, Malaysia