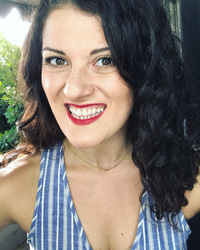 Zee Najarian

Glendale, California
Life Coach, Performance Coach, Leadership Coach
BS, MS, Certified Professional Life Coach
I coach overachieving and overworked women who want to work less and live more. I help my clients get over the "there has to be more to life" feeling & go from where they are to where they want to be.
About Me
Zee Najarian is a transformational speaker, Certified Professional Life Coach and an unshakable optimist. She teaches women how to discover and live a life that is authentic to who they are. She is well known for her expertise in vision boarding. She has taught her unique vision board workshops across the United States and virtually around the world. Zee has spent the past 15 years trying to get over the "there has to be more to life" feeling and after having different jobs, countless side gigs, getting multiple degrees, and serving on many nonprofit boards, she now uses her experience and expertise to help others build a life that they love.
Zee believes that living a life that you love doesn't mean you have to walk away from your current life and give up everything that you have. At the core of her teaching is how you can start living that life right now, from where you are, in whatever field you are in. You were born to do things your way and it's your cosmic right to live the exact life that your heart desires.
Reviews
3 reviews (5.0)
Zee understands that there is no one-size-fits-all approach; thus, she customizes her care approaches as per the preferences and needs of the clients what works for some may not work for others. Zee provides a safe space where one can express their emotions and process their thoughts. She also has run multiple self-care group sessions not just here in the US but virtually in the Philippines as well. The clients I worked with shared that their group session with Zee made an impact on their lives. It helps them see the bigger picture, embrace the changes in their lives, and appreciate the present. Truly, a conversation with Zee will create a ripple in your life.

C. Mosaic
When I came to Zee, I had no idea how or what I needed to change in my life. I knew that I was always working but never feeling satisfied. After working with Zee, I figured out what my dream life looks like and had a plan of how to get there. I recommend Zee to all of my friends who are trying to figure out how they can add more joy into their life and start living a life that feels authentic to who they are.

Mary
All I have to say is LIFE CHANGING! Working with Zee has been one of the best life decisions that I have made. I was hesitant at first because I had never worked with a life coach but Zee made the process so easy and I felt super comfortable. If you feel like youre just going through the motions in life and feel like youre made for more, Zee is your gal. She helped me figure out what exactly I wanted my life to look like and then helped me figure out what small steps I can take right now to work towards that life. Invest in yourself, you are worth it!

Zeynab N