Day 2: Send Holiday Greetings to Your Troops
I did this!

98
Posted on December 2, 2019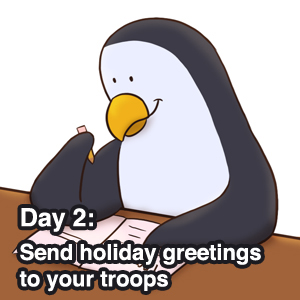 Day two's Act of Kindness is to send a holiday greeting card to an armed forces member. The best part of the holidays is spending time with loved ones! Many of us will spend the holidays with our families, but many of us will not. Troops from several countries are asking for residents to send holiday greetings to personnel who will not be able to spend the holidays with their families. You can send greeting cards to:
Any Canadian Armed Forces Member
P.O. Box 5004 Stn Forces
Belleville, Ontario
K8N5W
United Soldiers and Sailors of America
700 Pennsylvania Ave SE - Suite 2104
Washington, DC 20003
If your country is not listed above, check online to see if there is a way to send a card or email to troops from your country, or just send a greeting card to anyone who you think might appreciate it!