3 Reasons Life Coaching is NOT Like Plumbing (and What to Do About It)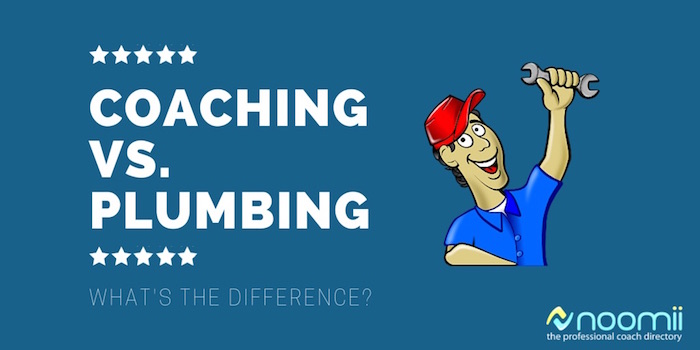 While you can ignore a small faucet drip for a while, it is hard to ignore a burst water heater. There's water all over your home and you can't have a hot shower, so it simply has to be dealt with right away. You know you need a plumber.
Coaching is unlike plumbing in that:
People KNOW what plumbers do - there's no question about it.

The buying decision of prospective clients happens quickly.
Not so with coaching, though. As a plumber you can wait for clients to reach out to you, ready (and sometimes even desperate) to buy. As a coach, you need to more actively market your services and when someone calls, there's no guarantee that they are going to buy. They may talk to two or three coaches and not hire any of them.
Why is that?
Because people don't necessarily know what coaching is. People have misconceptions about coaches being something between a motivational speaker, lifestyle consultant, and a "glorified psychologist". That's why 99% of people who could benefit from coaching haven't yet experienced coaching.
When someone is struggling with their goals, whether that be in their career, business, or personal life, do they know that coaching is the solution? Even if they do, are they willing to invest their hard earned money for such a luxury? Not necessarily.
Coaching is viewed as a nice-to-have, rather than a viable solution that they will seek out at all costs.
In this post, we're going to talk about how to overcome the non-plumbing-like qualities of coaching to get more clients to hire you and thereby together, we can expose more and more people to the power of coaching.
Here's what you can do to change the perception:
1. Offer Recognizable, Value-Added Services To Get Your Foot In the Door
Value added services that offer tangible, understandable, recognizable solutions can help potential clients see the value in your coaching services. Here's an example.
My wife recently signed up for a 30-day "lean and clean" group - a group that gets together a couple times a week to workout, talk about better eating habits, and measure their progress. The thought of hiring a wellness coach never entered her mind even though she is married to a coach. Similar to my wife, many people who want to get in better shape look for solutions to address the symptoms of not exercising enough and eating poorly. What they don't think about is talking to a life coach to overcome the psychological barriers that inhibit them from naturally maintaining healthier habits. In other words, the coupling between the problem (want to get in better shape) and the solution (hire wellness coach) is weak but much stronger for a related service (facilitated group workouts).
What about offering both services? Host workout groups (something most people understand and want) to get people in the door and then roll in more comprehensive work on mindset, habits, work-life balance, and limiting beliefs (something most people don't know they need) to ensure that they maintain healthier habits.
2. Concretize Your Coaching Service
Often times, coaching is described as this nebulous, on-going, never-ending process where the client brings to the session whatever they need to work on. Instead, says executive coach Kim Ades in our recorded teleclass Sales Can be Breeze, it helps to have clients be able to imagine themselves going through the beginning, middle, and end of the coaching engagement.
One way to do that is to create a coaching package, as Emma-Louise Elsey and I discuss in our teleclass recording on practical business building tips. It helped her get 12 paying clients in two weeks which was a major financial and confidence booster.
An effective coaching package can communicate what-the-heck you do in coaching. It can include information about your program such as the duration of the program and a weekly breakdown of topics covered. Be sure to include the specific outcomes a client will see at the end of the program so they know what to expect.
Bottom line, you need to make the results as tangible as you possibly can.
3. Focus on Building Long-Term Relationships With Prospects
Many coaches fall into the trap of thinking that a lead is a bad lead if the lead doesn't buy right away. That's foolish. If you think of your business as a retail store, would you expect every person that walks in the door to buy? No, of course not.
All sorts of marketing research confirms that people need to see a marketing message over and over again before they buy. That is especially true with coaching because, as I've stated above, people don't always know what they're getting and when they do, it can be deemed a luxury. In other words, unlike someone with a leaky faucet, expect that it will take time for your leads to convert.
Try to build a relationship with any lead that comes across your desk. Keep those leads warm with regular follow ups. Put a system in place to ensure that you follow up after a month, six months, or a year. Don't consider a lead dead after the first "no". Some sales people insist on using the rule of five "nos".
People are busy and need to be reminded several times about the benefits of coaching. At the minimum, invite them to subscribe to your newsletter - you have one of those, right?! It is one of the most effective online marketing methods.
Bottom line - you need to keep in touch with your leads in order to build their trust and to educate them about coaching and what it actually is. If you succeed in that, you will be at the top of their minds when they realize that they need a coach.
By adding recognizable value added services, concretizing your coaching, and regularly following up with prospects, your business will flourish like the lives of your clients.
Any comments or questions? Leave 'em below.