7 Archetypes to Create Captivating Personal Stories That Engage Readers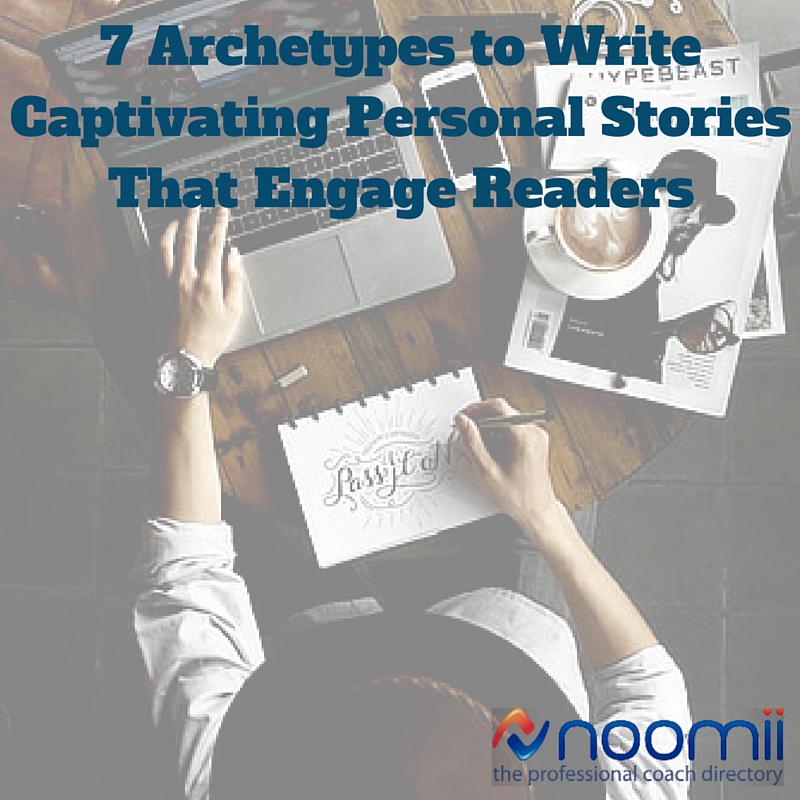 This is a guest blog post written by Ayisha Amatullah. Want to contribute? Check out the 2016 publishing calendar.
Are you having trouble writing blog posts? Perhaps you are having trouble connecting with your readers. If so, the problem may be that you are not giving your readers what they want.
Readers come to our coaching blogs to help gain a better understanding of their problems and learn ways to overcome them. They want to read real-life stories about how you or your clients have overcome obstacles and grown, so they can feel confident about your abilities. Hearing about others success will also give them hope that they can also acheive their goals and overcome obstacles.
Build rapport through storytelling
In order to build rapport with your readers, you have to write blog posts that speak to them on a personal level. Your audience (ideal client) should be able to read the blog and feel a connection to the stories. It should make them want to keep reading because they want to find out what happens at the end and gain some valuable insight from your stories.
The best way to do this is by telling your own personal success stories or sharing the success stories of your client's in your blog posts. It can be a little daunting to divulge personal information about yourself, but there are ways to offer up stories in such a way that you won't feel like you're revealing all. Also, when it comes to telling the stories of your clients, it is important that you ask for their permission and in some cases, change their name and location.
A very creative way to do this is to use the "7 Story Archetypal Themes."
The 7 Story Archetypal Themes
Overcoming the monster
Rags to riches
The quest
Voyage and return
Comedy
Tragedy
Rebirth
The 7 themes are best explained in the book called "The Seven Basic Plots: Why We Tell Stories" by Christopher Booker. In this article, I provide a brief explanation of each theme and offer up advice on how you can use them to write your blog posts.
Overcoming the monster
In this type of story there is a bad guy and a hero. The hero must destroy the bad guy in order for there to be peace in the world.
In a personal story, this could translate to someone battling weight loss, fighting limiting beliefs, beating an illness or anything else that requires something to be defeated for the hero to win.
As a coach, you could tell a story of when you were a hero yourself, or when you played the role of the sidekick to a client and stuck with them to the very end; helping them overcome their problems and defeat the "bad guy."
Rags to riches
This story takes a modest and oppressed character from crisis to success. An example of this would be the Cinderella story.
In a personal story, this could translate to anyone who has a desire to break through and be successful.
As the coach, you could tell the story about a time when you were the once-oppressed-character-turned-success. Or as the coach that guided an oppressed client and showed them they have the tools they needed to get to the right place.
The quest
In this kind of story, the hero is often accompanied by a sidekick and they are on a quest to find some type of treasure. Throughout the quest, the hero and sidekick have many setbacks that prevent them from attaining success. They battle the bad guys, defeat evil, beat the odds and get the treasure.
In real-life, many of us have been on a quest for some type of treasure, often with many setbacks along to way. The quest is usually more of a long-term story than an overnight success and can, again, relate to either your own personal experience of overcoming obstacles to reach an ultimate goal or how you helped a client do so by being their sidekick on their quest.
Voyage and return
A voyage and return story is about a hero who boldly explores the world. The main character wanders into an unknown world and experiences a series of great adventures. They likely meet a lot of strange people and overcome danger along the way. "The Wizard of Oz" or "Alice in Wonderland" are good examples of these.
When using the "voyage and return" theme in your blog, you might tell a story of someone who goes through life without any goals or action plan, coping as best they can with whatever life throws at them. It can result in a meaningless existence that is filled with many regrets in later years. It can also be carefree and relaxed.
If you've had this type of experience in your life, share it with your readers.
Comedy
Comedic stories see the protagonist go from confusion to enlightenment. The character often goes through a great deal of confusion before they get to where they want to be or who they want to be.
In a personal story, this could translate to a person who can't seem to get out of their own way. They have many setbacks that are preventing them from attaining success.
If you have had an experience like this that relates to your niche, share the story with your readers. Otherwise, take a look at how you've helped clients who were confused with their life and experienced setbacks due to this and how your coaching helped clarify things and as a result, led to their success.
Tragedy
Usually, in a tragic story, the character is on the road to success and then some tragic event stops it.
If you've had a tragedy in your life that set you back greatly (and feel comfortable writing about it) you could tell the story as the character yourself. Or you can write about a time you had to help a client get through an extremely difficult time and how you helped them move forward in their life and attain success after coping with a tragedy. However, as previously noted, it is important that you ask your client for permission to share these details, as they might not want their story our there for all to read.
Rebirth
The rebirth story is about finding the personal light. The main character is often not aware of the bad habits and the underlying behaviour that is ruining their success. The character may also be corrupted and misguided by someone else. Some examples of this could be movie characters such as Felonius Gru in Despicable Me, Daddy Warbucks in Annie, or even Scrooge in the Christmas Carol.
You can tell a personal story about your own rebirth or as a coach, when you used tools and techniques to bring forth the rebirth process to create awareness for your client. Maybe you helped your client see they were sabotaging their own selves and helped them discover how their habits were ruining their chances of success or helped them overcome limiting thoughts that had been keeping them down.
Extra tips
When you are telling your personal story to your audience, write conversationally. Also, use occasional metaphors to engage your audience. Create a common enemy that people can relate to something or someone in their life. And include a happy ending.
Telling stories using The 7 story archetypal themes will help you connect with your readers and position you as a hero and coaching expert. So which one of the themes above will you use to create your next blog post?
About Ayisha Amatullah
Ayisha Amatullah is the owner of Universal Coach Institute, The School of Coaching at Universal Life and Business Institute. She is a certified coach trainer, life coach and business coach to coaches. She teaches coaches how to get results, establish themselves as an expert, leverage from multiple streams of income within their businessas and create coaching products and programs. Connect with Ayisha through her website or Twitter.
Check out these related articles: