Webinar RECAP: How DiSC Will Transform the Way You Coach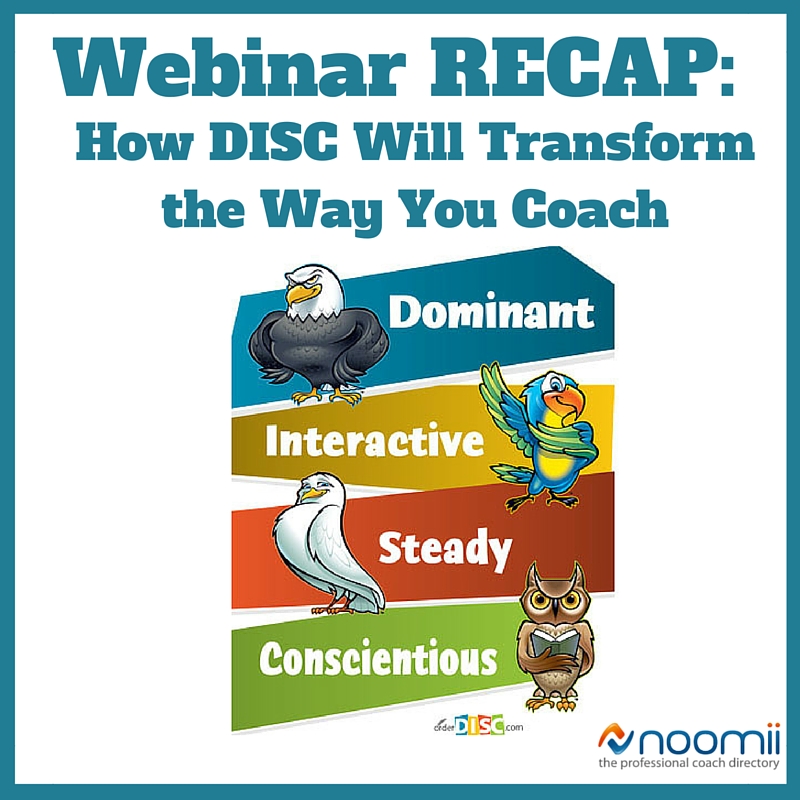 On Tuesday, Noomii co-founder Stephan Wiedner hosted the free webinar, "How DiSC Will Transform the Way You Coach," presented by guest speaker Dan Silvert, global DiSC expert and president of Velocity Advisory Group.
In an hour-long presentation, Dan shared an approach to reimagine the way that you use DISC so that it is memorable, fun and deeply relevant to your clients.
"Let's take a look at the four basic drivers of behaviour and instead of DISC, which I'm sure many of you are familier with (D stands for dominant, I stands for influence, S stands for supportive and C stands for conscientious), we are going to talk about eagles, parrots, doves and owls instead. The reason is the birds are intiutive and they're vivid. What you'll find is once you get this it is going to become so obvious to you and you will be able to use it and also be able to comminicate it to other people rather effortlessly," said Dan Silvert.
The birds at a glance
Each of the styles has a central organizing principle.
Eagles are all about results. They are results-oriented, direct in how they comminicate, decisive in their decision-making and they want to cut to the chase; for eagles the bottom line is synonymous with clarity.
Parrots are all about fun. To a parrot, fun isn't something you wait for. They believe the more fun we have, the better we work together and we are getting things done. It's about the experience that they are in. They are social
"It won't be difficult to get a parrot client to network, but it may be harder to get a parrot to network systematically," he explained.
They are almost wildly optimistic. They will avoid conflict and avoid difficult situations because they are not accustomed to addressing stress head on. In a lot of ways that gets them in trouble. They are also very motivational.
Doves are all about harmony. A dove's central organizing priciple is to create harmony in all relationships because dove's belive to their bones that when we are in harmony, we are respecting one another, we are creating a harmonious environment.
They are empathetic and patient, which combined makes them a wonderful listener. "They are also very sincere; when they say something, they mean it."
Owls are all about accuracy. It has to be correct, because if it's not, for owls it's a big problem. They are very detail-oriented; they like to dig deep and really understand the fine print. Once they get all the details, they like to organize it and analyze.
Like doves, owls make wonderful coaches because they are very inquisitive, they like to ask questions and collect a lot of data.
Most of us are a combination of the styles. There are very few of us that are just an eagle or just a dove. It's important to be able to understand, not just someones primary style, but their secondary style.
"An eagle-parrot is a very different creature than an eagle-owl, they are a very different person," Dan said. "If you've got an eagle-owl, it depends on the mood they are in at that moment and the conversation you are having with them right now. Are they in eagle mode or are they in owl mode? Sussing that out is really important."
Understanding how the birds communicate
After getting a better idea of the personality traits of the different birds, Dan talked about their comminucation style, specifically each birds listening skills.
While an eagle is typically not a great listener and find it hard to sit there and listen for an extended period of time, a dove can listen for hours and be very patient throughout. Parrots listen, but tend to try to build rapport through relating their experiences. Dan warns that while parrots may think they are creating a connection through sharing, it can often come across as one-upmanship. Owls can be great listeners, but typically only when the conversation revolves around data. They tend to disconnect from any emotional conversation and often have to remind themselve to validate emotions while conversing.
"Listening is a critical skill that most coaches appreciate but are blind to when it comes to their own preferences. It's important for us to look in the mirror and really understand what are strengths and challenges are from a listening perspective and then apply it to our clients. Because they are going to listen based on their style," he said.
How the birds react to change
"When you are trying to get someone to join you as a client, you are asking somebody to change. You are asking them to write a cheque to you that they otherwise wouldn't have written. How they approach change is how they will approach you."
Eagles have no emotional attachment to change. If you will benefit them in their goal, they will go for it. You have to show them what's in it for them? If you have confidence in your execution, they will have confidence in you.
Parrots love change. They love to experience the new, even if it's not as great as the experience they had, it's new. They like an optimistic approach to change. Directing the parrot is a challenge.
Doves have built psychological safety around the status quo. To get them comfortable with change, it is important to demonstrate how you have helped other people, testimonials are very helpful for this. Doves boldly go where others have gone before.
Owls ask a lot of questions. Why should I change? Why should I hire you on as a coach? Why should I take on a coach at all? If they are interested they want to know what the plan is. To an owl, if you don't lay out a plan, that is multi-staged, they won't trust you. Owls trust process.
How the birds manage time
How you manage your time, in many ways, determines how successful you are going to be as a business owner. And to the extent that you have a peek into how your clients manage their time, you will have a sense of what they do between calls.
Eagles are all about prioritizing. They will prioritize and re-prioritize based on new tasks that come into play.
Parrots are all about what is fun. To get a parrot to sit down and work on their resume is a difficult task. They don't like tedious tasks and they are easily distracted. They will put those things off. They like to multitask.
Doves don't manage time. Doves manage commitments. When they make a commitment to do something, time ceases to exist. They are committed to getting that things done. First in, first out.
Owls are exceptional at planning. Owls will lay out a detailed, long-term plan. They struggle with deviating from the plan. When coaching an owl, you have to focus on being flexible and not getting too rigid in assuming you know what's going to happen.
Know your clients by knowing which bird they are
Understanding the different birds can help you get a better feel for your clients and potential clients, as you will learn to read them quickly and decipher which bird they are.
Being armed with this information can help you sell them on your services in a more effective way that speaks to their personality type. Then once the professional relationship is established, it will help you better communicate with them, creating better outcomes.
Sales tips
When selling to an eagle:
Be decisive
Be direct
Focus on results and benefits
Be confident
Agree or disagree with the facts, not the person
Give them wins/point out they are correct
Move quickly
Don't over-promise
Don't joke around too much
Yes or no answers, no maybes
When selling to a parrot:
Have fun and joke, if appropriate
Emphasize exciting benefits that make them look good
Give them recognition and appreciation
Allow them to talk, but keep them focused
Use compelling stories to illustrate complex concetps
Provide lots of follow up
Appreciate their feelings and ideas
Don't flood them with details
When selling to a dove:
Show sincere interest in him or her
Be friendly, personal and trustworthy
Give them the facts relevant to their job
Solicit and proves the assurances they request
Concentrate on the long-term return on their investment
Be authentic
Only close when you feel you have their trust
Give real-life examples that illustrate human value
Patiently probe their concerns
Give them as much time as they need - no pressure
Provide follow up
When selling to an owl:
Encourage them to ask questions
Focus on fact, not experiences or concepts
Provide the pros and cons to illustrate thoughtfulness
Focus on step-by-step explanations
Provide as many details as you have
Provide proof/verification of your statements
Be friendly, but minimize small talk
Silence if good: Allow them plenty of time and space to think
Don't pressure them to make a decision on the spot
Don't ask personal questions unless they choose to volunteer that information
Click here to listen and view the slides for the Webinar: How DiSC Will Transform the Way You Coach