Valuable Tips and Takeaways From Our Profile Review Friday Webinar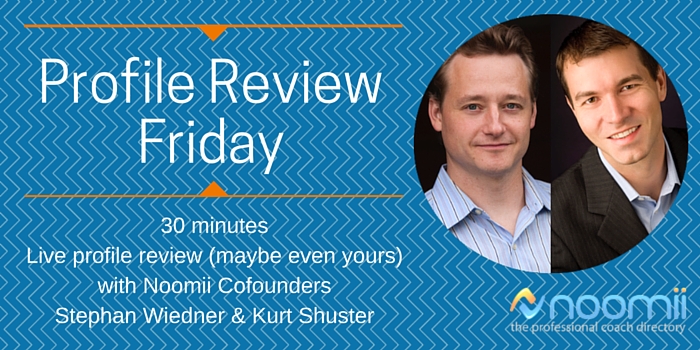 Having an outstanding profile is important to us here at Noomii. We want to ensure that all of our coaches put their best foot forward on theirs and have put some great tools into place to help them do so. One great service we offer is our coaches is the Profile Review Friday webinar. On the first Friday of every month, together with those who join the call, we look over the volunteer's profile (a coach who's looking to improve their profile) and offer valuable feedback.
"When you're working on your profile, it's easy to get caught in your own head, in your own thoughts and sometimes it's really nice to step outside of yourself for a minute and look at other people's work," Noomii cofounder Stephan Wiedner explains. "It's sometimes easier to critique or give feedback to other people than it is to yourself. But going through the exercise of reviewing someone else's profile is really useful and will hopefully shed some light on the work you are doing to present yourself to the world as a coach, whether it's on your Noomii profile or your website. The work that we are doing here today won't just help you with your online presence but elsewhere too."
The other reason that we host these calls is that Noomii is a little bit like a dating site, everyone has access to the exact same platform, yet some people get more messages and clients than others. So we want to inform you about some of the things our best coaches are doing in our network to gain the most interest from potential clients.
For those of you that haven't had a chance to join us on one of our Profile Review Friday webinars, here are some valuable tips we've learned during recent calls.
A good picture is important
Your photo is the first thing that people will notice when they come to browse our directory of coaches, so you want to ensure you have a nice one. Use a professional headshot if you have one (Groupon often has deals for getting those done) and make sure it is cropped nicely around your face.
When choosing your photo, make sure that it is:
Clear and in focus

Cropped to your face

Portrait-style layout

Welcoming - choose a shot where you are smiling, looking into the camera
Your "Ideal Client Summary" needs to be eye-catching
The snippet at the top of the profile really makes a difference. It's the first thing potential clients will look at, so you want it to include strong, attention-grabbing language that speaks directly to your ideal client.
Here are a couple pointers:
Include questions that identify your potential clients pain (eg: "Are you feeling unmotivated at work? Do you feel like you're stuck at your current job with no way out?")

Paint a picture of how you can help them (eg: "I work as an accountability partner for professional women who want to make a career transition, but don't know where to start.")
Your "About Me" section isn't all about you
Your "About Me" section shouldn't just explain your whole story. Those visiting your profile want to know how you will benefit them. So, instead of just going through your experience, training and approach, bring the focus back to your potential client. Tell your potential client how your perspective, process and approach will benefit them, why working with you would help them and how your experience relates to their own goals and challenges.
The client wants to know how you can help them and they be able to get an idea of your style of coaching through your written profile.
Some things to keep in mind when writing your "About Me" section:
Who is your ideal client?

Why have you chosen to work with this type of client?

How do your skills and experience relate to what your clients are going through?

How can you help them?

How do your values and beliefs help you with your coaching? How do your beliefs benefit your clients and their experience with you?
PRISM is a great tool
Having a structured approach to writing your profile can help you stay focused and send the right message to potential clients. We have a great method to follow when doing this called PRISM. PRISM is our five-letter proprietary acronym for the key elements of your marketing message.
These elements are:
P - Pain - the pains/problems your clients experience
R - Reason - the reason your clients are struggling with their pains/problems
I - Insight - the insights you have about your client's pains/problems
S - Solution - the solutions you can offer your clients to help them deal with their pains
M - Major outcome - the outcome your clients can expect to get after working with you
Use these five key elements to write your profile, always keeping in mind who your ideal client is.
Testimonials are golden
Most consumers (a whopping 90% in the US!) rely on reviews to choose products and services, so including testimonials on your profile to backup your coaching services is a great way to bring in more potential clients.
If you have testimonials from former clients, copy them onto your Noomii profile to catch the eye of individuals visiting the site.
Don't have any client reviews/testimonials?
Asking for feedback from your clients, either throughout the coaching process with them or after you've finished working together, is a great way to learn and sharpen your coaching approach. They also function as great marketing tools for your business. If you feel comfortable asking former clients, reach out to them and get feedback about their experience with you. Get into the habit of asking clients to offer feedback. Developing a form to send them following your coaching is a great option.
Audio interviews add another layer
Another service we offer Noomii members are audio interviews. Having a recorded audio interview on your profile offers your potential clients more insight into who your ideal client is and how you can help them. Hearing your voice also gives potential clients a better feel for who you are and adds another layer to your profile. They are also a lot of fun to do!
Schedule an audio interview with our editor Kristen by clicking here. Not sure what to say? You can find information on how to prepare for your audio interview here.
We offer personalized profile reviews too
If you want additional help writing your profile, we've got you covered. Get a personalized view of your profile by one of our co-founders for just $199.00.
Sign up and you will receive two 30-minute phone calls with Kurt or Stephan. Your first call will cover your profile from the perspective of clients who come to the site looking for a coach. Once you have made the changes, your second call will cover the updates to your profile to make sure you are maximizing the number of leads you receive. Time permitting, we may also review your personal website as well.