Why E-Mail Marketing Is Critical for Getting Coaching Clients (And 6 Strategies To Help You Do It Right)
The is a guest blog post by Sarah Schwab, the Content Creation Coach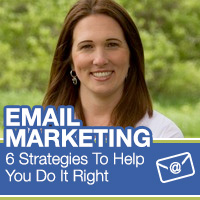 How do your clients learn about you before they hire you? How do they build the trust that is necessary for them to become a paying client? If the answer is from a couple of paragraphs on your website, that probably isn't doing the job.
As you may know, the amount of time it takes for someone to make a decision to become your client is pretty long. Weeks, months, maybe longer. It is important for you to stay in front of those prospects during that time.
How do you do that? By sending regular, valuable e-mail communications. It's a critical part of your business, and here's why.
Related Note From Noomii: Join us for a free teleclass with Sarah Schwab, the Content Creation Coach (on Tue Jul 14 @ 9:30am Pacific, 12:30pm Eastern) to kick-start or improve your e-mail marketing.
You must be following-up with your prospects regularly and providing value to them. It isn't about selling to them over and over again. It's about building a relationship by sharing your passion, expertise, and message.
E-mail marketing means creating valuable content. You can't have one without the other.
The most common way of sharing such value is through written articles. Articles can be posted on a blog, sent in an e-mail, linked to on social media, and more. There are other forms of valuable content as well, including video and audio, which require additional skills and technology. So I'm going to focus on written content here.
Many small business owners have all kinds of excuses around why they can't produce content for their e-mail marketing regularly. "It takes too much time." "I'm not a good writer." "I don't know what I would write about."
But here's the deal: Marketing means writing, period. It's part of operating and growing a business. It's a skill that can be learned and improved with practice. You may see yourself as a coach, which is true. But you also have another role as a small business owner in charge of getting your message and your service out to the world. And in that capacity, you must begin to see yourself as a content creator.
It's time to get past the fear and the excuses. Here are six strategies to help you get started:
Set long-term goals
When you are just starting out creating content, it is slow. Content is most effective when it has depth and consistency, and that takes time. People who focus on each individual article, often give up before they have established enough content to make a real impact.
So set a long term goal. Perhaps you want to publish and send 10 articles by the end of the year. Or 25 pieces by next summer. Keep your eye on that long term goal, so that every time you sit down to write, you are getting one step closer. Don't judge your progress by any single article. If you keep at it, you will start to see results.
Connect To Your Passion
When I work with small business clients and begin to ask questions and draw out their passion, they often go on and on. They can talk about it for hours!
When they realize that e-mail marketing is really about being able to express their passion and talk about the things they feel strongly about, suddenly creating content isn't so tedious. In fact, it's kind of fun!
Write Your Ideas Down
There is nothing more frustrating than feeling like you have to write something, but not having any idea what to write about. If you wait to be inspired in order to write, you will most likely never do it.
To avoid this frustration, I recommend creating a Topic List. Before you even write your first article, brainstorm ideas for topics that you could write about. Jot down a couple of sentences about each one to capture the inspiration. Keep adding ideas to your list as they come to you. Ideas have a way of slipping away if we don't write them down! This way you don't have to stare at a blank screen ever again.
Practice
Just like everything else, creating content gets easier and better with time. Your skills will improve with practice. In fact, that's exactly what it is – a practice! Your first article won't be perfect, and for some people that causes them to never start. But here's the thing. This isn't written in stone, it's not a book that will be published (yet!). Online content does not have to be perfect.
Set aside time each week to write. I suggest at least 1-2 hours. Don't worry about being perfect, just write about your topic for that week. Find your voice. Get into a rhythm. By the time you reach your long-term goal, you can look back and see how much progress you have made as a writer and content creator.
Use Your Strengths
The most common excuse I hear from small business owners is that they aren't good writers or don't like to write. I have two reactions to this.
First of all, everyone I have encountered who runs a successful business, especially in the online space, creates a substantial amount of written content. It is a critical skill that can be learned and improved.
However, I also don't want this hurdle to prevent someone from becoming a content creator. So, rather than getting stuck on what you aren't good at, find a way to express yourself that you are good at.
Do you like speaking in front of groups? Talking on the telephone? Taking pictures? Have you always wanted to be in a video? Or maybe when you consider the other options, writing doesn't seem so bad!
Find a way to communicate your message by leveraging your strengths.
Get it in front of people
Get your content in front of people. A long term goal will help get past the initial inertia. But unless you feel like all your hard work is being seen and used by others, it will be difficult to maintain for the long run. It is important to build your list and send your content out to them, link to it through social media, even submit pieces for publication on other blogs or media sources.
Soon you will get to a point where people are waiting to hear from you. Talk about motivation!
Are you ready to get started attracting clients and building your reputation through valuable communications? Join us for a free teleclass: E-mail Marketing Magic For Coaches With Heart. Don't wait anymore! Get started today.
See you there!