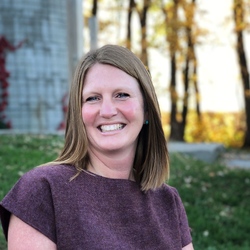 Life Coach, Leadership Coach, Team Coach
BA, MBA, Certified Integral Coach, Certified Yoga Teacher
Are you a leader who struggles with confidence, conflict, or overwhelm? I will help you develop new competencies and weaken your inner critic for long-term success.
About Me
I'm Amy Klous, a Certified Integral Coach specializing in developmental coaching. I work with you from a whole human-being approach to personal and professional growth and development. Cultivating our capacity for self leadership helps us be better leaders for others in the process.
Does any of this sound familiar?
Stress and overwhelm having you spinning. You're searching for purpose and meaning. Lacking confidence. Feeling lost in looking for results in your life or career and can't seem to get through it on your own. Relationships need improvement. Going through a change in life and need outside guidance. Stuck in indecision. Limiting beliefs keep holding you back from being your best. Strong inner critic is defeating. Wanting more respect. Need work/life balance. Afraid of speaking up and your voice heard. Wanting to be seen as a leader. Desire to step more fully into life.
It doesn't have to be that way. I will be your guide in this journey to develop balance, resilience and confidence to move forward in your own unique power while quieting your inner critic. Developing self-leadership helps you be an even better leader, embody leadership presence, lead a more fulfilling life and become more resilient during set backs.
My clients tell me that they have new-found confidence and motivation where they had previously felt held back. They see more possibilities for themselves and are better able to handle stressors. My care and compassion with each individual client leaves them feeling seen, heard and transformed. The work we've done lays the foundation for continued growth and development.
I work with you where you are at in your life and bring in practices to help you embody a new way of being to make the shifts you're looking to achieve.
Individual, group and team coaching options available. Please reach out to discuss for more information and if we are a fit.
Serving Leaders in AEC Architecture, Engineering and Construction and Manufacturing.
Reviews
7 reviews (5.0)
I was given the opportunity to be coached by Amy this past year and was apprehensive at first because I had never had a coach in my professional career. Prior to working with Amy, exploring and trying new things was not something I would have regularly done I was content staying in my lane. Amy helped me with working to get outside my comfort zone and really examine why I was opposed to committing myself to trying new things. Roughly one year after working with Amy I accepted a new job that I may have previously passed on and have implemented daily practices that have helped me manage stress around work and getting outside my comfort zone. Amy has been a great mentor and ally and I would recommend anyone seeking a coach to work with Amy.

Mark Foster
I have found Amy's mindfulness group to be very helpful for me. Her practices have helped me find ways to ease my anxious mind and ground myself during these difficult times. With all of the stress and worry in the world right now it is so important to practice self care. Amy helps you navigate through these difficult times with exercises and practices that you can use anytime you need. The breathing exercises have been helpful for me to focus on when I begin to feel anxious or overwhelmed. It has been so nice to take a break from all the worry and stress, to take some time for myself to regroup and relax. I would highly recommend Amy's services to anyone! She is compassionate, caring, and wonderful person to be around!

Jess
Amy Klous does a fantastic job of providing an exceptional experience so that we can implement a practice that includes specific tools at home on our own. She shares a variety of topics/tools such as breathing techniques, body movement techniques, inspiring poems, etc. What I appreciate the most about Amy is that you can feel that she really cares about you and your well-being. I always leave the session with her feeling refreshed and rejuvenated.

Elda Dorothy
I had the best experience with Amy as my coach. She is thoughtful, patient and an active listener. From the beginning, she was able to sift through all the information I was sharing and put together a plan that involved not only mindfulness and meditation, but she introduced me to somatic movement, something I was not expecting but was my favorite discovery through this journey. She armed me with such great tools and this put me on a path for sustainable change and advancement towards my professional and personal goals. Thank you, Amy!

Jessica
I am very grateful for the work we have done together. Starting is always the hardest part. Now, at the end of this process, I have a new goal for myself that I can achieve. When I think about where I started, I was thinking of it being as 'stuck in a rut'. But it was more like I was in this muddy pit where I couldn't find a way out. Since I was struggling with so many things, and feeling like the biggest things were out of my control (husband's health, uncertainty at work), I had settled into a routine. Not a good routine, but it allowed me to survive. While I consider myself to be good at helping others, it was overwhelming to think about how to reboot myself. Now after coaching, I feel like it will be harder to go back to where I was than it will be to keep moving forward with my progress. It feels really good to have a "SMART" goal to be working on at the end of our coaching!

Jenna, Executive Assistant
Amy came into my life at a time when I needed it the most. After 10 years of marriage and two kids I felt like I completely lost my personal identity. I forgot who I was and what I wanted out of my life. During my coaching experience with Amy I found myself again. I learned what I needed to make myself happy. I learned valuable coping mechanisms for my stress and anxiety. Most importantly I learned that investing in myself is not a waste of time or money. I am worth it. Thank you Amy for helping me rediscover myself!

Sherry
My wife and I started participating in Amy's "Mindful Coffee Breaks" as a way to help us cope with the stresses the pandemic and other events have caused. We are both self employed and were greatly effected by the events that have taken place. Amy's ability to help teach us grounding techniques in itself was worth the participation. But, outside of that, we've been able to connect with others that are also dealing with the struggles of today's challenges and it helps to know that you are not alone. Amy also opens up discussion with the group on challenges and ideas to share with everyone on how he/she is still working to achieve their goals despite the current climate. Being able to have this 20 minute ZOOM meeting with Amy and others every week provides something to help break up the monotony of the daily grind as well as a way to reset yourself for the remainder of the week. I would highly suggest participation, even if it was to try it one time, to see for yourself. The actual practice of Amy's teachings can help sooth the mind of even the most high strung of individuals!

Erich Heitman
The Smart Way To Find A Coach

1 Describe Your Goals

2 Get Matched

3 Free Consultations
Find My Ideal Coach Now