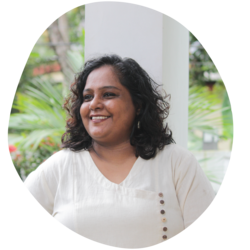 Indu Nandakumar

Kochi, Kerala
Life Coach, Relationship Coach, Leadership Coach
ACTP, Past Life Regression Therapist, Certified NLP Practitioner
My ideal client is a millennial (Age 25-40), someone who wants to find a work-life balance, resolve conflicts, evolve professionally, Overcome past trauma or just become a better version of themselves
About Me
I'm Indu, a Life coach, NLP Practitioner & a Regression Therapist.
I am happily married for 25 years and a mother to 2 beautiful daughters. I have a background of over 2 decades of building business and developing people, in the corporate sector.

I have always been spontaneous to respond to anyone in distress. Life lessons learned from both my personal and professional journey has been my precious possession and has helped me shape up as a Life Coach. I can converse in English, Hindi, Malayalam, Gujarati or Tamil languages.
Being able to add value to someone's life and make a difference in my own small way is my journey.
All sessions are currently online for clients living outside Eranakulam.
Reviews
7 reviews (1 verified) (5.0)
When I first approached Indu and decided to start my life coaching with her, my life simply turned around. Before life coaching, I was in a crossroad in my life and I was not sure which path to take. She not only helped me with taking some important decisions but she has also helped me in improving my self confidence. She is a good listener and has helped me in seeing positive side to all my problems. Thank you Indu for being such a good mentor.

Sneha Banerjee
Indu is a great listener! I immensely appreciate her continuous efforts to help me understand myself and to realize that even in the direst of circumstances, I always have a choice.

Aparna
Indu mam was introduced to me just at the right time. Through her coaching, I was able to relieve pain from the past that was underneath for years which indeed helps me now to build myself everyday at present.From being a person with bad temper , to now being able to 'Label' my emotions in accurate and responding accordingly I have come a long way for which I am proud of myself.This is possible only because of Indu mam.No doubt that I am going back to her again and again to grow personally and professionally :-)

Reethu
When I reached Indu for help, I was having a tough time on taking the decision to move from my current role as a Senior Engineer in the company that I had been associated for the last 14 years. After the session with Indu, I gained a lot of self assurance that I could take a decision on my own. The ability to stay focused and be mindful about what is really important for us, what makes us happy becomes necessities while taking big decisions that which involves values and materialistic goals. After the session, clarity dawned in slowly, I was able to see what I could not see before. I became aware of core values that drives me. This helped me not only to take a decision but also gave me the brevity to execute the same. Thanks Indu for your patience, time and effort. God bless.

Anuradha
Before session with Indu Nandakumar, i had lot of clouds and was struggling for clarity in relationships, the way I looked at myself and the world. After going through the multiple sessions with Indu, the transformation which happened in me can only be described as "Quantum Leap" I wish I met her, many years back. I am continuing to work with Indu Nandakumar, on various aspects and have been referring her to my family, friends and well-wishers. I would strongly recommend anyone who needs transformation and clarity in life to work with Indu Nandakumar.

Vimalesh
Being coached by Indu means the overall experience to find the path to become the best version of you and to clarify your goals,doesn't matter which field you feel you are losing control in it - career, love, selfesteem-. Being coached by this professionality means learning to listen and understand your inner needs, track your progress and LEARN. I sincerely recommend this approach which is life-changing in terms of wiseness and open-minding perspectives.

Letizia Artioli, architect
About 5 months back - i lost my loved one and my life changed upside down. That's when I reached out to Indu, she could completely understand what i was going through and she worked through with me to find my own strength and gave me the courage to fight it out. I could confide with her all my worst fears and the situations that i was dealing with. She made me retrospect my own thoughts and feelings very well. She has been more than a friend, whom i have been able to reach out to.. Her support has been of a immense strength to me. Even today I feel - there is someone whom I can reach out to and who will help me to find my own way. She has certainly been more than a friend or a family member. I feel we all need a person like her in our life - when we are in cross roads of our lives. best wishes

Geeta Kumar