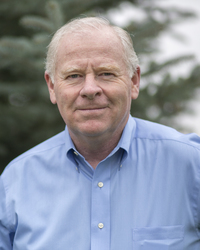 John Griffin

Louisville, Colorado
Life Coach, Career Coach, Business Coach
My ideal client is either in a life transition or is dissatisfied with one or more areas of their life. They are ready to do the work and to directly face issues that will bring positive change.
About Me
The central theme of my life has been the pursuit of diverse experiences personally and professionally. I have been a sales engineer, a deck officer on a surveying ship, a bed and breakfast owner, a founder of a non-profit, a treehouse designer/builder and a father. This diverse background enables me to effectively adapt my coaching style to a broad spectrum of personality types, ages, careers, stages of growth, economic situations, and goals to meet my clients with empathy, compassion and commitment.
I am trained as a CTI and 4 Gateways coach, And am certified through CTA. I help people identify and achieve their personal goals by coping with the issues that are causing them distress, anxiety, and stress. I take great pride in the progress and success of my clients, and look forward to helping you.
I am a skier, bike rider, hiker, woodworker, and bird watcher. I also like to write poetry mostly as a form of journaling. Through many years of gratifying and sometimes terrifying work, I have dealt with my own childhood trauma and have found power, peace, forgiveness, and acceptance. I am a better coach for having it in my past.
Reviews
6 reviews (5.0)
I've never been guided out of a more stuck place (career wise) so masterfully then when I worked with John. When I finally reached out to him, I had been gigging for a few years (struggling financially) as I was single parenting my high-school aged son during the pandemic while successfully wrapping up a high-level mental health based custody case. Needless to say, I was running on fumes without a compass looking for direction and inspiration. John was that for me. John listened to my entire story (personally and professionally) and skillfully and gently drilled down on my BS, identifying the causes and conditions of my resistances that were preventing me from reaching my goals. Together we devised a course of action that got me unblocked, motivated and gainfully employed in a relatively short period of time. John is a kind and big hearted guy who also happens to be one hell of a life & career coach. I highly recommend reaching out to him if any of the above resonates with you. Not taking action is an action, so, if you're really ready to switch it up, then call John!

Scott Leakas
Working with John, I became clear about the underlying nature of an issue, and I no longer felt trapped. He then steered me to investigate my values, and I was able to gain clarity and take action. John brings effective techniques, intuition and clarity to his coaching. I highly recommend him.

Anonymous
He asked insightful questions that helped me come from a place of overwhelm and despair to hope and empowerment.

Anonymous
John's compassion, reassuring words and insights have led me to take important and decisive actions in critical areas of my life.

Anonymous
John is a good listener and always seems to have insightful questions that lead me to my self truth.

Anonymous
John's gentle and compassionate nature has allowed me a safe place to explore challenging situations in my life.

Anonymous