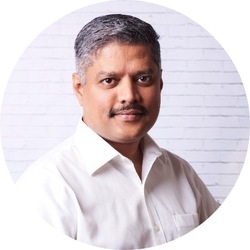 Johncey George

Bangalore, Karnataka
Executive Coach, Leadership Coach, Career Coach
Management Education in IIMB, Harvard, ISB
I help INTROVERTS become SUCCESSFUL Leaders. I am a leading Leadership and Career Coach for Introverts in India. Featured among Top 10 Best Life Coaches & Top 10 Promising Business Coaches
About Me
Are you an Introvert?
• Have you hit a roadblock in your career?
• Are you struggling to communicate better?
• Are you ignored for promotions?
• Do you struggle to speak up in meetings?
• You hate networking and struggle building relationships?
• Want to build a high performing team?
• Want to figure out your inherent strengths, values, life purpose?
• Want to achieve your dreams / goals?
If any of your answer is YES,
Get coached 1:1 by Coach Johncey and break away from your "stuck".
Coaching Benefits as an Introvert:
-----------------------------------
Typically, Introverts think internally and process a lot of information before speaking up. Introverts have unique strengths that Coach Johncey brings out during his coaching sessions and help them become successful.
1. Build on the ability to communicate strongly with the team, while thinking internally.
2. Reduce the struggle of networking socially
3. Unique strategies to make networking easy and comfortable for Introverts
4. Ability to Speak Up in meetings
5. Develop Assertive Communication
6. Become influential in the organization
7. Develop your own ways of working with extrovert managers, team members and stakeholders
Other Benefits of Coaching
------------------------------------
1. Discover your core being and your purpose in life
2. Achieve tangible and intangible goals
3. Experience a sense of purpose and deep sense of fulfilment like never before!
4. Reduced stress
5. Heightened awareness levels
6. Ability to say a "Positive NO" and still feel great
7. Develop excellent alignment with colleagues
8. Strengthen conflict management skills
Johncey George had a corporate career of over 23 years as COO, Director and Board of Director of MNCs. A BE graduate, management education from IIMB, ISB, Harvard.
His article on Introverts was featured in Forbes India Magazine.
He is featured among one of the Top 10 Best Life Coaches by CEO Insights and Top 10 Most Promising Business Coaches by SiliconIndia.
Reviews
5 reviews (1 verified) (5.0)
I had a good experience. He is really helping and apart from coaching he gives very good advice.

Ravi
Coach Johncey's sessions are simple and easy to understand with practical suggestions which one can take back and implement on a consistent basis. Through the workshops and thanks to Coach Johncey, I have come to understand the importance of a coach for which I am in a much better place. I strongly recommend Johncey's coaching programmes. There is an abundance of knowledge and experience that a coachee can bank on and learn from.

Krishnan
Coach Johncey's Coaching program has most definitely been life changing. Here are some great results after I went through the program. 1.I lost over 15kgs of weight, which was one of the goals I set. While I followed an awesome weight loss program by another consultant who Coach suggested, it was the motivation, ideas of being consistent which I received in the Coaching Program which helped me get started and reach the goal. 2. The programs helped me to be a better doctor because of the proactive approach I have taken in my profession after having a mindset change, which happened during the program. 3.The programs helped me gain financially too because of my professional growth. Apart from this: a. I learnt what was success and what it meant to me, rather than an open-ended undefined definition. I find happiness because of this. b. This program conditioned my mind to think positively and more importantly to do that consistently to a point where I noticed changes in my life which were positive. c. This program made me think about the things that matter and more importantly the things that matter to me. I highly recommend Coach Johncey's Coaching Programs. This program can help you do what you need to do, to get what you want from life, irrespective of your circumstances. Some may have to work harder and some people will take longer but everyone's goals aren't the same. That is were Coach Johncey's guidance is key. Progress is inevitable. Dr. Naveen Mathew A Practicing Medical Doctor

Dr Naveen
At the outset, what impressed me on day 1 is the 'Self-Discovery' exercise which took close to 2 Hrs of intensive grilling. I felt a bit exhausted mentally, but the outcome was just awesome.. It clearly painted a beautiful picture of what I wanted to be, which I was unaware till that day.. All the goals, strength, weakness which were hiding in my subconscious mind came out jotted in an A4 sheet, which is now a career bible me. As an affirmation, I read that page daily before starting my work.. It also reinforced my goals and gave me the confidence to achieve it. He also coached me well about 'Sleeping hours/Work time, Quit smoking, How to say a NO etc etc, which helped me work professionally and saved a lot of time in a day, which has definitely contributed to the growth of my company to 125% even in pandemic times. Coming to the finer print...A personal note about Coach Johncey What I liked in him is his absolute honesty, outright straight-forwardness, & his humility... He is a very very humble person, personally. Thank you Coach Johncey

Simon L
The initial self-discovery session got me hooked. Coach Johncey helped put together pieces of me which were scattered around in my head, to form the clearer picture of who I am. He makes you think deep and has the ability to bring out the best in you. He helped me accept the person that I am and showed me how to bring out the strengths which I didnt know I had. He is a patient listener and it was very comfortable communicating with him. Attending his coaching sessions has rekindled a fire in me to be better and I feel truly motivated to pursue my dreams.

Achu Vinod Thomas