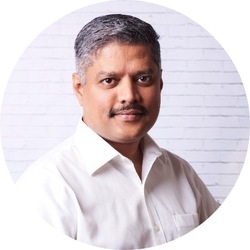 Johncey George

Bangalore, Karnataka
Career Coach, Executive Coach, Life Coach
Management Education in IIMB, Harvard, ISB
Featured among the Top 10 Best Life Coaches of India by CEOInsights Magazine. I help Introverts become Successful Leaders. I am a leading Leadership and Career Coach for Introverts in India.
About Me
• Have you hit a road block in your career?
• Struggling to achieve your dreams / goals?
• Struggling to build a high performing team?
• Are you an introvert struggling to communicate better?
• You hate networking and struggle building relationships?
• Want to figure out your inherent strengths, values, life purpose?
If any of your answer is YES,
Get coached 1:1 by Coach Johncey and break away from your "stuck". Create habit changing actions and enjoy the journey of career and life.
Benefits as an individual:
------------------------
1. Discover your core being and your purpose in life
2. Achieve tangible and intangible goals
3. Experience a sense of purpose and deep sense of fulfillment like never before!
As a Leader:
--------------
1. Reduced stress
2. Heightened awareness levels
3. Ability to say a "Positive NO" and still feel great
4. Develop excellent alignment with colleagues
5. Strengthen conflict management skills
6. Stronger relationships with own team members
7. Significantly higher delivery of goals and objectives
As an Entrepreneur:
---------------------
1. Manage anxiety and lay out clearer paths of progress
2. Remove loneliness
3. Manage insecurity and self-doubt
4. Inspire yourself
5. Discover new possibilities and opportunities
6. Increase your revenue multi-fold
As an Introvert:
-----------------
1. Typically, Introverts think internally. Sometimes this leaves the extroverts feeling alienated. Build on the ability to communicate strongly with the team, while thinking internally.
2. Highlight your achievements to various stakeholders
3. Reduce the struggle of networking socially
4. Become influential
5. Develop your own ways of working with extrovert managers, team members and stakeholders
Johncey George had a corporate career of over 23 years as COO, Director and Board of Director of MNCs. A BE graduate, management education from IIMB, ISB, Harvard.
His article on Introverts was featured in Forbes India Magazine.
Reviews
1 reviews (1 verified) (5.0)
I had a good experience. He is really helping and apart from coaching he gives very good advice.

Ravi