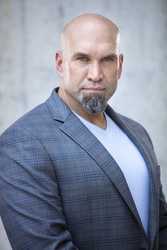 Phoenix Marcon

Dallas, Texas
Life Coach, Health and Fitness Coach, Business Coach
18x Book Author, 2x Key to the City Recipient, International Humanitarian Award Winner, Multi-Business Owner
I assist people in moving forward by setting personal and professional goals that will give them the happiness and fulfillment they want to achieve in life, fitness and business.
About Me
When I decided that I wanted to become a coach, mentoring individuals who were ready for a change - I knew the path I had to take. I committed myself to earn a master's degree with a focus in relationship counseling. I realized the more I could learn, and the experiences I grow from, the more I could offer as a resource for others. Adding nutrition, fitness, economics, business, and literature all a specific focuses. I began shaping the mentoring I felt would be the most effective and widely applicable. My desire to become a coach grows from an Impulse to want to help others achieve their goals to share in an adventure constructively and productively. I've always been a proponent of personal discipline. Having it instilled in me as a child growing up under the parentage of a drill instructor and later as a member of the United States Air Force. Now, as a veteran, I still feel that the critical ingredient in any success story is this fundamental sense of discipline. While it is not the only essential component for successful change, it is crucial, and far more rare than you might imagine.
My experiences don't have to be your experiences for us to take that journey of change together. Change starts with being able to make a plan and sticking to it. That takes more than discipline.
Overcoming obstacles and getting past the problematic periods at the beginning of any effort to change, that takes focus and commitment, vision, and discipline. You have to see what you want and set a path to the goals you want to set. Then you have to persist, even when you feel like surrendering to the struggle.
Nothing is easy or simple about changing things in your life. Even when obstacles are few and far between. As your coach, your mentor, and your friend, I will work with you to define your vision, reinforce your key factors, and encourage your journey. You will not be on this trip alone. I'll be the right there with you.
Reviews
6 reviews (5.0)
Phoenix helped me focus on my goals and build a plan. I wanted to start a new career, find a new apartment, and buy a new car. All that and I had no budget to work with. Now, I'm taking classes online, working in the field I hope to build a career in, and I'm driving a new set of wheels! Phoenix is the real deal! Rags to riches isn't a joke with this guy.

Cindy Ornal
I lacked vision and struggled with self esteem and depression. Phoenix showed me how to use my diet and exercise to change my mood and increase my motivation. Baby steps became walking. Now I'm off the couch, eating healthy foods, and finding things that challenge me. Phoenix focused on my self esteem issues and help me find a way to build myself up. Funny enough, it all started with voluntary a few hours a week at the local animal shelter. I would have never imagined it. Thank you Phoenix!

Bethany Udira
It is very inspiring to discover a chef who is generous with his knowledge. Phoenix is a private chef who offers an extensive range of classes about cooking and nutrition. We are especially excited about the in-home cooking lessons. My husband and I purchased his romantic dinner package and added his Knife Skills segment, as we each have our own knives he has Aritsugu carbon steel knives, handmade with wood and bone handles and I have a hand-me-down cleaver and a sharp and shiny Shun knife (I dont use his knives, and he doesnt use mine). Phoenix demonstrates and explains the techniques to julienne, chop, cut, bone, as well as the proper way to sharpen knives. He passed around knives so that we could feel the difference between a knife that is of excellent, good or poor quality. He discussed cutting boards and how to wash them thoroughly to prevent contamination. Phoenix encourages questions and is very engaging. He stepped out from behind the counter to check our efforts as we practiced on the fruits/vegetables with the supplied knives and board. We highly recommend his cooking lessons for those keen to learn from a real expert. We strongly recommend Phoenixs classes. Recently, we took the International Foods class, and we were very inspired! Phoenix walks you through several amazing dishes, alternative options and provided taste samples of many products and final dishes. He is extremely well-informed on all the products on the market and many not even yet on the market. We are privileged to know him, and I know and can see many positive changes in our culinary skills.

Stephanie Matthews
Coaching with Phoenix has truly helped redesign my life. With his techniques, he not only showed me where I needed change to improve and reach my goals and how to achieve it... but most importantly to me... why I was doing the things I was doing. I was on "repeat" in life & without knowing why, I definitely would have just continued down that same path. Now, as things come up in life, I recognize the patterns ahead of time to stop the cycle and its so empowering. For the first time, I finally feel in control of my life. And sure, some things are easier than others to correct, but they are getting better & better for me. Thank you, Phoenix!

Jamie McCarty
Working with Phoenix has been an incredibly rewarding experience. I've seen results in the way I think, process, and feel on a day to day basis due to the motivational tools he's given me. I recommend Phoenix as a life coach, culinary coach, or culinary coach to everyone in the Dallas area!

Samantha Welborn
I was introduced to Phoenix by another client of his. I was reluctant at first, but I saw their results and I thought I could do it as well. I was a mess. I had no direction and did not really have anything I was passionate about. Phoenix within just a few sessions gave me a new life practically and allowed me to see things I was missing. My life has been a complete turn from where it was a year ago. Phoenix is one of the few people that actually cares about his clients. I have always looked forward to our sessions because each time I manage to get something beneficial out of it. Thanks Phoenix!!

Eric Marascio
The Smart Way To Find A Coach

1 Describe Your Goals

2 Get Matched

3 Free Consultations
Find My Ideal Coach Now